Molo works to create safe spaces at school
Molo's dreadful experiences with teachers in high school lead them to a career to become the teacher they always wanted to have.
At just 17 years old, molo moved from California to attend Lewis and Clark University. They began teaching in 2006 at David Douglas High School, then started working here in 2018.
Before molo had known what kind of teacher they strived to be, they knew what teaching methods to stay away from. 
They recalled their first instance with a teacher who they passionately disagreed with.
"She was my junior year English teacher, and she was the worst teacher I have ever had," they said. 
They added that because of their teacher's unwillingness to help students with their work, molo did not value the class. 
As molo has spent more time working within the education system, they discovered their distaste for the system they are a part of. 
"I never expected to love the job and hate the system I was in at the same time," molo said.
For junior Luce Brown, having a teacher like molo was a culture shock as they have recently moved here from Louisiana. 
Brown is a first year student of molo's and has grown very fond of them. He described molo as genuine, kind and supportive.  
"I have never had a teacher who identifies with non-binary pronouns and heteronormativity in general and the way that they teach and grade is so fair and understanding and cool," Brown described. "I've never seen that kind of stuff before." 
Brown admires molo's hard work and dedication to making the school feel like a safe place for students. 
Like Brown, sophomore Cass Carpenter has known molo well since the start of this school year. 
"They're the best teacher to go to if you're ever just feeling sad," Carpenter explained. "They just lift up your mood." 
Carpenter noted that what makes molo stand out from other teachers is their attitude and hair. They agreed with Brown's statement that molo puts in lots of effort to make learning fair for all students. 
"They just make sure that everyone is able to understand," Carpenter said.
Students being able to retain the information taught in class is not only rewarding for students, but for molo as well. 
"The most rewarding part of teaching is like those moments when kids actually get it, it's pretty rad," molo said, "and also feeling like I'm actually doing something important when I'm selling my labor to capitalism."
Molo strongly believes that having gay teachers is important for all students to experience. 
"I think that when we look at homophobia and transphobia and violence against queer and trans people, especially queer and trans youth, visibility of those communities is one of the biggest ways we can prevent that violence," they explained. 
Molo added that to have an easier time understanding their humanity, it is important to have someone in your life that is queer or transgender. 
They emphasized the importance of students being able to see themselves in positions of power and leadership. 
"It shows students that anything is possible if you inhabit a queer or trans body," molo said.  
Molo's wife, Becky Blumer, noted that molo fights for social justice outside of their classroom by volunteering, protesting and spending money on small businesses. Even though Blumer knows molo mostly outside the classroom, she still understands how important it is for molo to provide queer representation to students. 
As well as representing the queer community, molo also believes that they obtain the best job in the whole school: teaching Senior Inquiry and Gender Studies. 
"I think that students really crave relevance in their education and like we talk about racism, we talk about gender oppression," molo stated. "We talk about how to figure out who you are and how to live within the constraints of American cis-hetero-patriarcal capitalism and racism." 
Identity and presentation is a priority for molo, and many are witnesses to that.
Biomed teacher, Darshanpreet Gill, has been a good friend of molo's for three years. Gill has definitely taken notice to molo's unique appearance. 
"That hair is always a conversation starter. And also all those tattoos, I've never seen them go around and not have someone talk to them about it," Gill explained. "They also wear a lot of very noticeable slogan t-shirts that people have to comment on." 
Blumer described molo's appearance as loud. 
"Sometimes I ask them, 'Do you feel seen?'" Blumer noted. "They don't go through the world trying not to be seen." 
In molo's opinion, they're somewhat of a real-life cartoon person, which is perfect for Blumer, because she says she loves cartoons.
The expectations of professionalism is not something that molo aligns with. 
"I just have never taken the idea of professionalism seriously–or adulthood. I think they are both stupid made up concepts, so I just never really wanted to do that," molo explained. 
Adulthood is something that molo has continued to reject, as they have other things. Both Gill and Blumer have been impressed by molo's courage to talk about certain topics that may make others uncomfortable. 
"[They] are really, really good at kinda cutting to the core of a thing in a way that I think some people don't have the courage to do," Gill noted. "And they get away with it." 
Like Gill, Blumer also admired molo's ability to speak their mind. 
Blumer mentioned their favorite thing about molo is their exuberance for others.
Aside from the challenging parts of the job, molo's advice to other teachers is to take yourself less seriously. This mindset will make teaching high schoolers much easier.
Leave a Comment
About the Contributor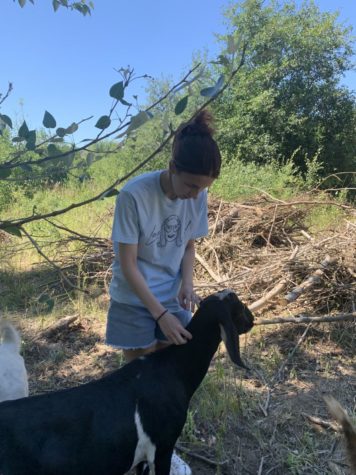 Lilly Santangelo-St. Martin, Online Associate Editor
Lilly Santangelo-St. Martin (she/her) is a senior, she is passionate about her job, friends and family. People describe her as witty, smart and compassionate. She loves being a journalist because she likes to report topics in creative ways, not just through writing.