Maleigha Canaday-Elliott ties state meet record for triple jump, lands in nationals
Many are buzzing about what happened at the OSAA State Championships on the weekend of May 25. The event happened at Hayward Field in Eugene. This excitement is surrounding a certain person: junior Maleigha Canaday-Elliott. Not only did she do something remarkable at the championships, but she hopes to do even more in the future. 
Canaday-Elliott, who has been doing track for six years, broke her school record of 39' 2" for triple jump and placed first at state. It was there that she achieved a personal record and tied the state meet record for 6A Girls' Triple Jump. Her PR was 40'6.75." 
Artem Hoffman, one of her teammates, explained that after she broke the record she was smiling a lot and was extremely happy.
"The crowd was really excited," Hoffman said, "and there was a lot of cheering as soon as her name got on the billboard."
Canaday-Elliott explained that in the process of training for the state championship that she worked on a lot of the same things. 
"We actually got a springboard, so I used the spring board a lot more and focused more on my landings," she said.
Head track coach Zoey Trask saw the work ethic of Canaday-Elliot and all the effort she was putting into training.
Trask has been coaching at McDaniel for seven years, and she herself was once a student at McDaniel and graduated in 2016.
  She explained that coaching Canaday-Elliot was always fun. According to Trask, Canaday-Elliot kept things light but put in the work when the time called for it. 
"During this season we focused on landing form in both long and triple jump, making sure she's finishing every jump," Trask said. 
When working on the specific things, Trask explained that the triple jump was a technical event, and for Canaday-Elliott, the focus was on the small adjustments. 
According to Trask, some challenges popped up along the way during the process of training and working towards state.
"We had a shorter season than in the past years in terms of meets, which was difficult overall," Trask said, "but it pushed everyone to compete as hard as they could at districts and the team as a whole did great!"
Canaday-Eliott described what she hopes to accomplish in the future.
"I want to make it to the Olympics or some high elite level like that," she said.
After such success, Canaday-Elliott stated that the people who helped to support her on her journey included her parents, coaches and some of her friends. 
Her distance has increased by 1"4.75." Canaday-Elliott explained what she's most proud of as a result of that achievement.
"[I'm happy with] the progress I've made this year," Canaday-Elliott said. 
Trask also explained that she was most proud of Canaday-Elliot for how she balanced track and other activities, along with her determination.
"During track events, Maleigha was also playing soccer," Trask said. "She had a lot on her plate and still managed to compete to the best of her abilities in all her events."
After state, there are some other important events that people should look out for. Canaday-Elliott explained that she will be participating in nationals on June 16 and 17. Trask said the two are practicing a couple days a week. She hopes to see Canaday-Elliot make it to finals in nationals and anticipates an exciting competition. 
All in all, Canaday-Elliott continues to work hard and put in the effort, despite already having achieved such a feat as a result of her dedication and determination.
Leave a Comment
About the Contributor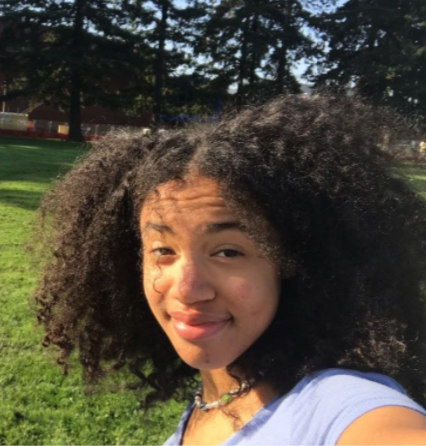 Odessa Berry, Opinion Editor
Odessa Berry (she/her) is a junior who enjoys playing soccer, baking and hanging out with friends. She is a journalist because she likes reporting on important stories and sharing information and ideas with the community around her.