Peters Spotlight: Remaining a forever student, always learning
Native Portlander Paul Peters spent five years as a school social worker for the Personal Responsibility Education Program (PREP) grant. In February, he moved here to serve as a Qualified Mental Health Professional (QMHP). 
Working with youth is Peter's passion, his first job being a lifeguard at Matt Dishman Community Center. From that position, he went on to work more around youth. 
"I've worked with youth in different aspects, in community centers, juvenile justice, I've worked in a residential group home and now in the school system," Peters said.
According to Peters, compared to the schools he has served in the past, McDaniel has a lot more going on, including clubs, sports and theater productions. The amount of activity encourages Peters to engage more with the community. 
 "There's kids everywhere in the building," Peters said. "It feels like never a dull moment, which I think is awesome." 
Peters has a personal connection to the building, as his great uncle is Leodis V. McDaniel. He took his relationship to the school as a sign to apply for the QMHP position and begin his journey here. 
Before his position working for the PREP grant, he worked for the Save Our Youth (SOY) program advising adjudicated youth. SOY is intended to show kids their choices and where their choices might land them. 
"It was a four-week program and basically what it was, was to help people to see different kinds of choices," Peters explained. 
He emphasized how intense the program was, showing kids violent visuals from gang and street violence as well as suicidal ideations. 
Peters recalled SOY's summer extension taking kids and exposing them to different experiences. 
"One in particular that I remember was a sweat lodge, I don't want to butcher it, but it was like a ritualistic thing, we're in this teepee type thing and there's these hot coals and they pour water on it, it's super, super intense heat," he explained. "You're sweating all the toxins out, used for meditative purposes…it was an extreme learning experience to take kids from the inner city, me being a kid myself. It was very, very important." 
Despite the amount of stairs he has to climb on a daily basis, he has loved his time with his new community. 
"I'm meeting random kids that have nothing to do with what I do, and because I'm a new face in the building, a lot of kids are like, 'Hey who are you? What do you do?'" Peter explained. "I'm getting all these different interactions and conversations which is cool. Learning more and more about what goes on here is cool." 
Peters mentioned how he loves to see students he has worked with graduate. 
"Being in the school system, the thing that I did not expect was the joy and proud moment of seeing kids that I work with graduate. In those other programs, you don't necessarily get to see that moment," he said. "In Save Our Youth, they graduated from that program, but it's different, but to work with a student and get them to see their own strengths within themselves and see them work hard and to see them achieve that goal, there's nothing like it." 
Even though he has gone through many years of school, Peters still finds it important to learn and understand that not every person has the same kind of support system to help them in their life.  
"Understand that everybody's got a story, and it doesn't end just because certain things happen and that there's much more to be written," Peters said. "Working with youth, it just teaches me to keep myself open. Somebody told me, if you really want to continue to grow and change and elevate yourself and be able to elevate other people, remain a forever student, remain curious." 
He tries to always keep that ideology in his head, as he applies what he learns from his work to his personal and work life. 
Peters is currently working in the Special Education department, helping students with their social and emotional learning. His goal is to become embedded in the community.
Although he has yet to get his own office, he can usually be found in room 233, or around the halls talking to other students and community members.
"I'm easy to talk to, approachable, I think that's the first step. Then you can build your relationship how you see fit," Peters said. 
He wants students to know that if they see him in the hall that they can always come up to him to start a conversation. 
View Comments (2)
About the Writer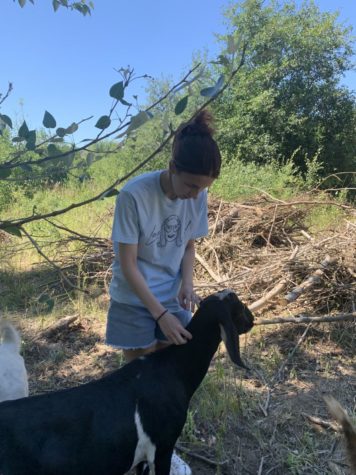 Lilly Santangelo-St. Martin, Online Associate Editor
Lilly Santangelo-St. Martin (she/her) is a senior, she is passionate about her job, friends and family. People describe her as witty, smart and compassionate. She loves being a journalist because she likes to report topics in creative ways, not just through writing.