Trinity-Knox stomps, debates, writes her way to the top
More stories from Grace Gaddy
Senior Trinity Stutsman-Knox has little hesitation in taking on challenges and leadership roles, especially within the McDaniel community. As a varsity debater, captain of the cheer squad and editor-in-chief of The Constitution, she motivates her peers to be their very best. With hopes of a future in criminal law, Trinity has a passion for social justice and advocacy. 
Trinity adds that she finds herself arguing with a lot of people about climate change and Black Lives Matter.
"I argue with people about it and it brings me such joy to know that I have the power and the privilege to hopefully educate these people," Trinity says.  "Because a lot of people, the people that the fight is for, unfortunately, they don't necessarily have that privilege." 
If there was anything she would want to be remembered for, it would be her impact on the American justice system. 
"
"Even when faced with serious challenges or even more serious opponents, she never backs down and maintains a smile while she does it.""
— Derek Heath, Debate Coach
One of Trinity's biggest supporters within school is Derek Heath, debate coach and social studies teacher. 
The two met during Trinity's sophomore year, which was Heath's debut teaching at McDaniel. At the time she was just one of the kids in another teacher's history class. It wasn't until the next year when he noticed Trinity's shining talent of argumentation.
In seventh period Speech and Debate she practiced cheer drills alone in the back of the class, seemingly ignoring Heath's instruction. Luckily, she is not one to slack off when there is an argument to prepare.
"The drills that she was doing had in no way inhibited her from committing all of the tricks and ideas that we had been discussing to memory," Heath says, "and she unleashed a blistering series of arguments on a pretty unsuspecting class." 
He then "guilted her mercilessly" into representing the school in the upcoming debate tournament, something Trinity couldn't be more grateful for today. 
"Out of all the friendships that I've made in high school, I feel like the friends that I made in debate are gonna be the ones that stick around for years after, just because of how much time we had to spend together," Trinity says. "We just formed an amazing bond, and I would so recommend getting debate friends. We're the best." 
Before high school, Trinity had almost no experience in cheer besides a cheerleading kit from when she was five years old. In sophomore year, she tried out for the team on a whim.
"It was like an impulse thing," Trinity says. "I was a really girly child, and part of me definitely thinks that's why I did it. That subconscious child in the back of my head was like 'do it, do it!'" 
That was when she met Sharlivia Slaughter, head cheer coach. At that time Trinity was very shy and reserved, qualities which are very unlike the Trinity we all know now. Cheer has helped her learn to express who she really is, even if that is someone more stereotypically "basic".
 "In middle school I was definitely like the edgy kid who thought I was really cool…When I got to high school I kinda grew out of that and became more myself," Trinity remembers. "I guess I became more basic and really happy because that's who I actually was."
Slaughter can attest to this, as she has witnessed Trinity's growth first-hand.
"Trinity has truly blossomed from the first time I met her," Slaughter says. "The Trinity I know now is so confident and embraces her gift to be a great leader. [She] is a show stopper in the make up game and knows how to show out when it's time."
Ever since middle school, Trinity has enjoyed writing for herself. She joined the newspaper staff as a freshman, and at one point considered journalism as a future career. Now she writes as a hobby, and as editor-in-chief, supports both beginning and continuing students in their writing practice. 
Lincoln Wheeler is a freshman and member of the editorial staff who worked closely with Trinity last semester. 
"It was always a good experience to work with Trinity. She always brought a positive attitude that I think spread and kept morale high," Wheeler says. "She was very humble and good at making shyer students more comfortable, because sharing writing takes courage."
While Trinity will be graduating with the class of 2021, her legacy within the communities she influenced will remain. Both as a team member and leader, her actions will inspire future writers, athletes and debaters to persevere through difficulties, and never leave anyone behind. 
In the words of Derek Heath: "Even when faced with serious challenges or even more serious opponents, she never backs down and maintains a smile while she does it."
Leave a Comment
About the Contributor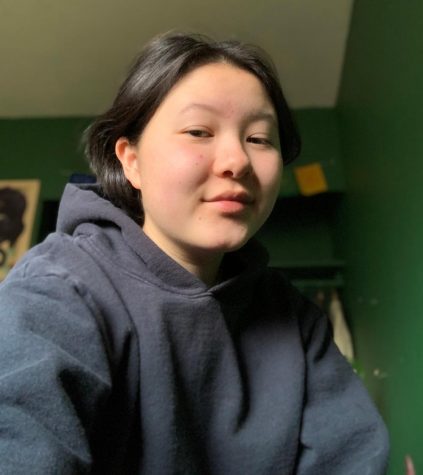 Grace Gaddy, Column Editor
Grace is a junior whose interests include trees, indie comics, and the history of marginalized peoples. Some people describe her as passionate, free-spirited and creative. They love being a journalist because they get to share stories from the community and have their voice heard.