Portland youth successfully organize climate strike for fourth year in a row; sound off on city government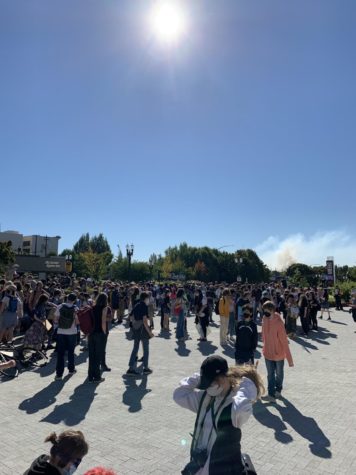 Students from all over Portland gathered at the Oregon Convention Center to begin a 1.7-mile march to City Hall, on Friday, Sep. 24, demanding that local policymakers expedite carbon neutrality and restorative climate justice. 
In the face of Covid-19 and a bumpy transition for many to in-person learning, the turnout of the Portland Youth Climate Strike was remarkable.  This generation of climate activists has thoroughly proven themselves to be resilient and dedicated, continuing to mobilize themselves throughout the pandemic and successfully doing so on this large of a scale. 
"You join the crowd, and then it just happens. I mean, there's strength in numbers. It just feels better to be with a bunch of people who share the same goal as you," is how sophomore Greta Boelling puts the feeling of attending the strike. 
The strike was organized by the Portland Youth Climate Strike organization, a chapter of the Oregon Youth Climate Strike, with input from community members via an open Zoom call. 
They explicitly stated that the march was peaceful and that participants should not talk to police officers if they were approached or questioned. The official demands of the strike were read aloud, and were also shared in an Instagram post beforehand. They go as follows: 
"Portland leaders reflect racial justice in climate justice policy"

"A total switch to green infrastructure"

"An accelerated deadline for Portland to be 100% carbon-neutral by 2035"

"The city cut down on the importation of fossil fuels as soon as possible"

"The city prioritize a rapid and just decarbonization of our region's transportation system"
The first demand is specifically in reference to a study conducted by Portland State University researchers, which found that traditionally redlined communities are nearly 13 degrees Fahrenheit hotter than their majority-white counterparts. Exposure to the effects of climate change in urban settings is disproportionately heavy on marginalized communities, and addressing this inequality has become a priority for youth climate activists. 
Climate and racial justice, each being essential for the achievement of the other, is a fact that was honored and reflected throughout the event; from the cardboard signs and flags held high above the marching crowd to the impassioned speeches of students at City Hall.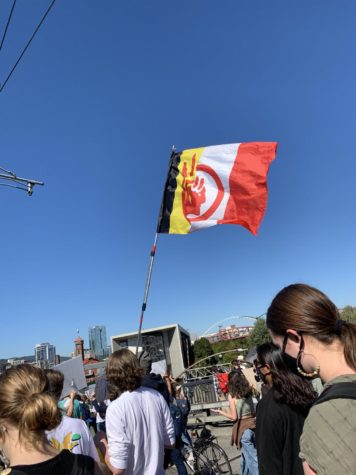 Grant HS student Danny Cage, who is the youth committee chair of the Portland chapter of the National Association for the Advancement of Colored People (NAACP), made a speech to the crowd on the erasure of BIPOC activists in the climate justice movement. 
"We must remember that white climate leaders are constantly being centered to the front of the movement," Cage said. "Stuff that nowaday climate leaders are saying about our environment being destroyed, is stuff that people of color and Indigenous people, not just in America but across the world have been saying since forever."
Cage went on by demanding that individuals decolonize their activism. 
"If your environmentalism does not include Land Back and Indigenous sovereignty, you are not an environmentalist. If your environmentalism does not include anti-racism and environmental justice, you are not an environmentalist,"Cage said.  
Except for Cage's call for ideological change which addressed more of a culture of performative activism than individuals anyway, there was no admonishment of personal choices. The vast majority of youth climate activists have realized the ineffectiveness of blaming individuals for making small, unsustainable choices. 
Because of this, local and global organizations are spending their time and energy putting pressure on the powers whose actions have the greatest repercussions to the future of our planet, government and corporations. As it states on the Fridays for Future website: "The goal of the movement is to put moral pressure on policymakers, to make them listen to the scientists, and then to take forceful action to limit global warming."
The Oregon Department of Transportation was fiercely called out by multiple speakers at the strike, most of which represented Sunrise PDX. The Sunrise Movement is a youth-led climate organization that has organized weekly demonstrations outside of the ODOT headquarters in response to the 1-5 Rose Quarter Freeway expansion. This project promises to "soothe traffic flow" by adding auxiliary lanes and shoulders to a portion of the Interstate 5 freeway, which runs almost directly under the schoolyard of Harriet Tubman Middle School, located in the historically redlined Albina neighborhood. 
Speaker Adah Crandall, an organizer with Sunrise PDX and Tubman alumni, has been one of the leading voices of the moratorium of freeway expansion. In her speech, she relayed the message made in the fifth strike demand, a sub-point of which called for the local government to "publicly push a more pedestrian open narrative into the city."
"We must stop expanding freeways," Crandall said. "It is time to stop making room for cars! It is time to stop promoting vehicles that emit dangerous emissions into our atmosphere. It is time to make public transportation accessible for every person in Portland. It is time to invest in pedestrian and bike infrastructure. It is time!"
The exact number of students present at the march is unclear; estimates from various news sources range from a few hundred to more than a thousand. The vast majority of these students were from PPS, especially Grant, Ida B. Wells and Cleveland High Schools, as posts by students from these schools, sharing specific public transportation routes and plans for walking out, were spread widely on social media, resulting in crowds of students pouring out of buses and trains coming from those neighborhoods.
Five chairs were set up near the podium with the names Mayor Ted Wheeler and city commissioners Jo Ann Hardesty, Carmen Rubio, Mingus Mapps and Dan Ryan. Organizers claimed to have invited all five city officials to attend in support of the students, nonetheless, all the seats remained empty.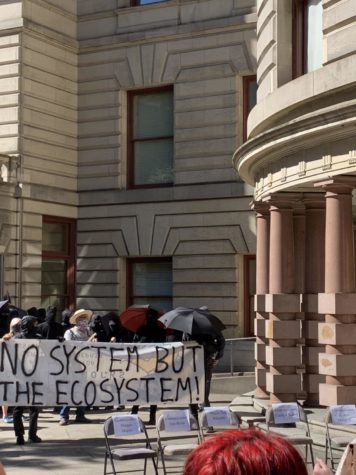 After the strike, Hardesty responded to disappointed students via Twitter: "I wish I could have been at the Climate Strike w/ our youth."
Adding later, "I did send my staff out to participate, listen, & accept the list of demands. We must follow the lead of the generations most impacted by the harm caused by climate change."
In a letter sent out to PPS students and families, the district acknowledged the strike, stating that, "PPS is not sponsoring this event, but we do recognize students' constitutional right to freedom of expression." Students who planned on attending the strike were expected to make arrangements with teachers and athletic directors in order to receive an officially excused absence and to not be penalized for missing any sports activities that day. 
A legacy of the Portland Youth Climate Strikes is building, and until the climate is stabilized and environmental justice has been won, it will continue to do so.
Leave a Comment
About the Contributor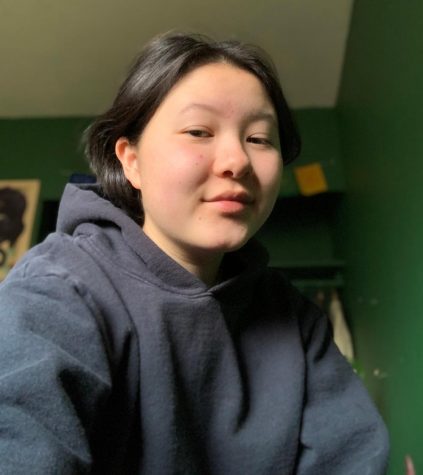 Grace Gaddy, Column Editor
Grace is a junior whose interests include trees, indie comics, and the history of marginalized peoples. Some people describe her as passionate, free-spirited and creative. They love being a journalist because they get to share stories from the community and have their voice heard.