McDaniel's first Climate Justice class pushes students to be active in community
The Climate Justice class was new to the McDaniel curriculum this past school year. The goal was to teach possible solutions to the climate crisis and inspire a new generation of climate activists to prevent climate change, something that the past generations weren't able to do.
This class didn't pop up out of thin air, there were many steps involved to get it up and running. The first was to get Resolution No. 5272 passed. This resolution created a district commitment to teaching evidence-based climate justice to teach students how to be better social and environmental activists, while learning about possible solutions to the climate crisis. 
This didn't get put into motion overnight though, it took the occupation of the front of the PPS admin building during a 2019 climate strike to get the district leaders to commit to the curriculum. 
Hannah Doty, a Franklin student who attended the occupation, says "Although it was just a bunch of teenagers, it finally felt like someone cared. We were all there for the same reason, desperate for someone to do something, but it was beautiful."
Once that hill was crossed, someone needed to push for this class to be added into the McDaniel curriculum. Chemistry and Climate Justice teacher, Treothe Bullock (or Mr. Tree), decided it was time to get it done. 
"I took the initiative and went to the admin team, and Mr. Skyles was supportive of us having the class, so I went ahead and wrote up a description and took it to the Climate Justice Committee," Bullock stated. 
There was still one more step that was taken before the class was ready to begin. Students and teachers had to come together to make the official outline of the course. The McDaniel climate justice team came together with other teams around the district to create and finalize the outline together.
The main goals of the outline were making social connections, such as which frontline communities are affected the most by climate-related disasters, and to study the science behind it all to find possible solutions. As the class played out, the outline was continuously revised as students expressed their interests in different climate justice aspects. 
Student voice is very important to Mr. Tree as he teaches the class, saying, "Youth voice was included in making the class and it's really what we're seeking to empower." 
Bullock also makes it a point to offer up opportunities where youth voices can be heard within the community to help shape climate justice policy.
Senior Rae Blackbird says they liked how the class kept up with the news and was particularly interested in learning about how much longer we have to alleviate the climate crisis, saying, "We kept up a lot with climate news in the nation and in Oregon specifically. Also learning about the IPCC's climate report on how long we have left until our climate fate is sealed, I think that was really interesting."
Since the climate justice class, Blackbird has been active in the community, organizing youth lobby days to speak to lawmakers about climate policy and participating in the OurClimate Oregon fellowship. 
"I was a part of organizing and doing the lobby day across Oregon where youths from around the state all came together, virtually, and spoke to lawmakers about climate policy and getting that passed and the importance of it for our future and for our planet's future," Blackbird says.
To say the least, the creation of this class took hard work, but it's paying off with the activism the students have been doing since taking the course. From planning climate teach-ins to leading Eco Club this class brought many strong students into the spotlight at McDaniel.
Mr. Tree's words say it best, "This is bigger than anybody can understand or solve and it requires us to be a community, and it's just a beautiful thing to see that positive community unfold and express itself." 
Leave a Comment
About the Writer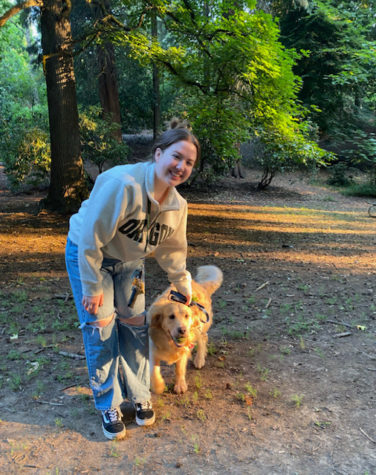 Eva Andrews, Print Editor-In-Chief
Eva Andrews (she/her) is a senior and her favorite things are live music, print newspapers and rain. People describe her as thoughtful and compassionate. Eva loves being a journalist because she likes interacting with and writing for the community.