Rep. Tawna Sanchez perseveres in the long fight towards justice for missing Indigenous women
According to the US Department of Justice, Indigenous women living on some reservations are 10 times more likely to be murdered than the rest of the US population. The rates of Indigenous women who experience gender-based violence are also significantly higher.
This is neither a coincidence nor a new problem. This pattern of missing and murdered Indigenous women and girls (MMIWG) is a result of 500+ years of historical and intergenerational trauma inflicted upon Native communities, and the failure of the U.S and Canadian governments to take accountability for it. 
On May 5, the Portland City Council issued a proclamation acknowledging the day as the MMIWG Day of Awareness. This proclamation was also part of a week-long awareness campaign around the city.
PBOT set up four message boards in various locations, which displayed the StrongHearts Native Helpline, a gender-based violence hotline that caters to Native women, and the message "No more stolen sisters". 
The campaign included lighting the Morrison Bridge red, the official color of the MMIWG movement. 
"I think the lights on the bridge were an amazing opportunity, although it wasn't necessarily as out there as it could have been," says Oregon State Representative Tawna Sanchez.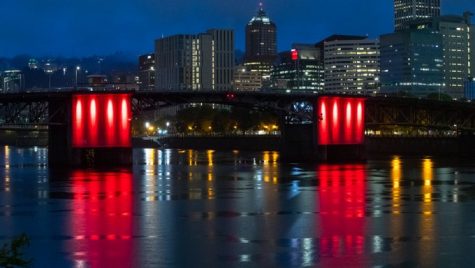 Indigenous activists and leaders, like Sanchez, have been pushing for systemic change in our local and federal governments to address this crisis, and while the red lights may not have been the most productive action, they may represent the change that is coming to Oregon.
Tawna Sanchez is of Shoshone-Bannock and Ute descent, and has represented Portland's 43rd (north-central) district since 2017. From the state capital, she advocates for reform in child welfare, affordable housing, and the criminal justice system, and as an Indigenous woman, she defends tribal sovereignty and cultural visibility.
Thanks to House Bill 2526, which was co-sponsored by Rep. Sanchez, this fall Oregon will become the 11th state to cross off Oct. 11 as Columbus Day in favor of Indigenous People's Day. 
Another bill that Rep. Sanchez has co-sponsored is House Bill 2625 (HB2625), which would help protect Native women by requiring the Oregon State Police to conduct a study on how to increase protective and investigative resources in tribal communities. This would include meeting with Oregon tribal leaders and police forces, specifically to increase activity and investigation on cases of missing Native women. 
According to a recent Street Roots interview with Sanchez, state police have since met with the Umatilla, Warm Springs, Burns-Paiute, and Klamath tribes, as well as Oregon State and U of O affinity groups. 
Besides better communication between police and the tribes under their jurisdiction, this type of legislation could hopefully lead to the creation of a federal database for cases of MMIWG. The logistics of running a nationwide program like this seem to be unprecedented, but Sanchez believes that it wouldn't be anything we haven't already seen. 
"You think about it, we have a national missing children's hotline, and how does that work? It works that people can put information into a central database about a particular child that might be missing…," she says, "getting past the problems or the issues of people's implicit bias about who those people are is really the issue." 
The fact that police officers have implicit biases against people of color is a fact Sanchez has never shied away from, even on the floor of the House, amongst her more conservative colleagues.  
"When the white woman goes missing from this small, rural town, it makes the news. When the brown woman goes missing on tribal lands, it doesn't make the news," Sanchez says. "It doesn't matter who that person was, or what they did… truly, that race issue mattered there and then."
When people in positions of authoritative power are not taught to put aside their prejudices, it leads to the devaluation of vulnerable people, "which is sometimes oh great, brown woman who may have been on drugs or may be having a mental health crisis, okay she's missing," Sanchez says. "They devalue that person so much that finding the perpetrator, or kidnapper or killer becomes less of an importance to them. And that's the sad part." 
While communities can't go back in time to try and fix what's already happened, they can take action today to fix the issues that have harmed people in the long run. Sanchez believes these actions can begin in the classroom. 
"I think schools have a lot of responsibilities, not just to Indigenous students but to all students, to really teach the truth," Rep. Sanchez says, encouraging us all to look back on our country's history when we ask, Why are Native women missing?
Leave a Comment
About the Contributor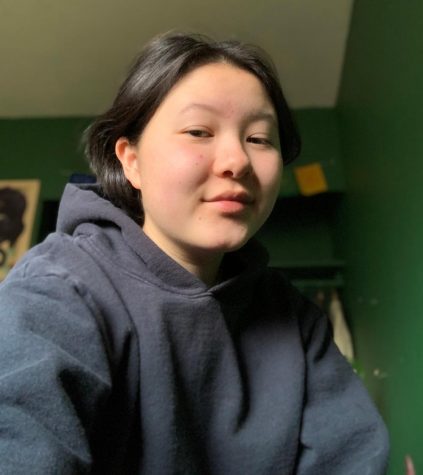 Grace Gaddy, Column Editor
Grace is a junior whose interests include trees, indie comics, and the history of marginalized peoples. Some people describe her as passionate, free-spirited and creative. They love being a journalist because they get to share stories from the community and have their voice heard.