The menu for Oregon's outdoors
Plants are everywhere, from the huge douglas fir forests to the cement sidewalks of the city, and some of those plants are edible. Food is at your fingertips just outside your door, especially with our dense forests and beautiful flowers that seem to grow even in the hardest of times.
Appetizer
Dandelions
The easiest of these plants to find is dandelions: the insufferable weeds that keep returning no matter how many times you rip them from the dirt. When young, they are sun yellow, but transform into fluffy seeds that look like stars. Their leaves though taste great on a basic salad. 
I like it with cabbage, kale, and dressing. The leaves have a bitter and earthy flavor, though bitterness can be avoided if you eat the leaves when they are younger. The whole plant is edible except the stem. 
For years, dandelions were used in medicines and meals, but with modern medicine the glorious dandelion was demoted to a "weed" despite its abundance and usefulness.
Dinner
Morel mushrooms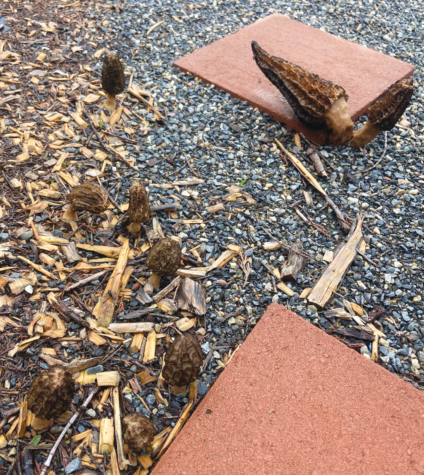 A rare but widely sought after plant is the foragable morel mushroom. They are brown with a honeycomb-like cap; the fungi is hollow inside. If it isn't hollow, don't eat it! Some mushrooms are poisonous, so it's really important to verify with an experienced forager. 
I like to sauté these mushrooms with olive oil, garlic, chives, lemon, vegetable broth and soy sauce. Then I put it on pasta. The taste can only be described by the scene in Ratatouille when he eats the cheese and the strawberries and colors explode. This dish is absolutely amazing–the mushrooms perfectly absorb all the flavors but still stand out boldly. 
This has become a surprising new favorite of mine.
Dessert
Mint
My favorite food as a child was the mint that grew in a plethora around my neighborhood. As I walk to school, I can grab the leaves by the handful, throwing the little green leaves into my mouth. 
It's still one of my favorite plants, especially in homemade ice cream, which is easy to make. All you need is condensed milk, sugar, milk, vanilla extract, salt and heavy cream. You put the ingredients in a zip lock bag before filling a bigger one with ice. All that's left is to put the smaller bag inside the big one and shake! I like to add mint leaves because it adds a refreshing, summery taste.
Though these plants are some of my personal favorites, there are so many more just in Oregon. If you go foraging, just remember to stay safe and do your research. Travel Oregon.com is a perfect resource for beginners.
Leave a Comment