Lucy Gragg wins statewide photography competition
Senior Lucy Gragg was only a child when she got her first camera as a birthday gift from her parents. It was a toy, but served as the starting point for a passion that would slowly grow within her.
"We bought her a pink toy camera, but it could take digital photos," Lucy's father Chris Gragg said. "She'd use it to take pictures of flowers and bugs and other things she saw in the backyard, and she brought it with her and snapped pictures when we went out for hikes, or to the beach, or on vacations."
As the years passed, art remained a pivotal point in Lucy's life, drawing and painting when she wasn't outside. Coming from an outdoorsy family, it was no surprise that she took interest in the natural world and as she grew older, a love for hiking formed.
While spending time in the wilderness, her interest for photography was rekindled when she found her mother's camera over the start of the pandemic. Soon Lucy would combine these interests as she began to take the camera out on hikes. She would experiment with photos and the camera's settings. The ability to keep snapshots of her favorite sights quickly captivated her.
"It's just really cool to get to take those things home with me," Lucy explained.
When Lucy went to Alaska over the summer of 2021, she was welcomed by a refreshing change of scenery to explore and document. While in Alaska, Lucy met someone whose sister was also a photographer, and both of them encouraged her to submit her photos to a contest.
When Lucy came home, she would end up finding the Oregon Wild Outdoor Photo Contest and submitting a photo taken over Memorial Day weekend.
"I'd seen results from last competitions with Oregon Wild, and I thought it would be a good idea," Lucy said.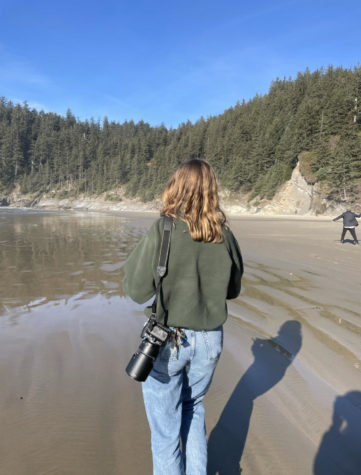 Lucy was surprised when in October, she was named a finalist in the contest's "Social" category. She shared the news with her father.
"One day Lucy told me she was thinking about entering one of her photos in the annual Oregon Wild photo contest," Chris said. " I encouraged her, because why not? About a month later, she told me she was a finalist, and we thought that was pretty cool. She said something like, 'I know I'm not going to win, but at least I made the finals.'"
Lucy was even more surprised when she found out her photo was named the "Social" category's winner.
"Finding out I won was really exciting for me," Lucy said, "because I guess I hadn't thought that much before about sharing my pictures, and it made me feel like I was actually doing sort of a good job as a photographer."
The photo Lucy submitted was taken just off the Elk Flats Trail in Nehalem, Ore. on a stormy day while on her way back from Manzanita on the coast. She made her way down the trail and captured a shot of a bird perched on a steep outcrop surrounded by crashing waves, not knowing where that photo would lead her shortly after.
Lucy's friend Siena Mrazik said Lucy is especially good at capturing water in her photos.
"Water is something that is difficult to capture with photography," Mrazik said, "but Lucy always ends up taking photos that are really beautiful and look professional too."
Lucy's accomplishments extend beyond the Oregon Wild competition, however. She has been very active in climate justice as well, leading the Vision Project, a project that attempted to secure a $100,000 grant for a climate justice-centered curriculum. She has also worked with Sunrise Movement PDX, a group of local young people fighting to make addressing climate change a national priority. Sunrise Movement PDX led a climate march in spring, which Lucy was a photographer for.
In the future, Lucy plans to stick with photography and is looking into studying environmental studies or environmental science after high school. For now, she is working at Staccato Gelato to finance her photography and travel.
"I'm excited to get to save up to go places that I can take pictures and share them and maybe apply to more contests," Lucy said.
Lucy is currently working on a website where people will be able to view her work.
Leave a Comment
About the Contributors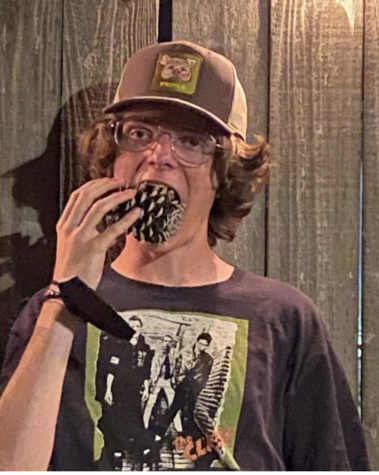 Lincoln Wheeler, Online Editor-In-Chief
Lincoln Wheeler (he/him) is a junior and his favorite things are guitars, online newspapers and the beach. People describe him as friendly and cheeky. Lincoln loves being a journalist because he likes bringing new ideas and perspectives to people.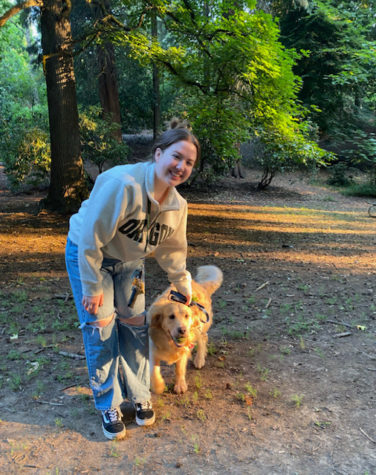 Eva Andrews, Print Editor-In-Chief
Eva Andrews (she/her) is a senior and her favorite things are live music, print newspapers and rain. People describe her as thoughtful and compassionate. Eva loves being a journalist because she likes interacting with and writing for the community.