Lexi Skinner cheers her way to the top
From JV cheer to varsity in one year, Junior Lexi Skinner has worked hard for her place on the cheer team, supplying everyone with her positivity and smiles while also working extremely hard.
Skinner started cheerleading here her freshman year, missed a year because of Covid-19, and returned this year for the varsity team.
"Being able to put on a show for people and making the football games even more exciting!" Skinner eagerly said, explaining what she likes most about cheerleading.
Skinner became interested in cheerleading in 8th grade. Her team here has given Skinner a great experience. In her opinion, the most important things that make a successful team are unity, support, respect and positivity. 
Cheer coach Sharlivia Slaughter, who has been coaching here for five years now, talked about how Skinner adds to the team.
"What's super unique about Lexi is that she's really solid as a cheerleader. Meaning like she gets the moves really quick, she asks a lot of good questions when she doesn't know anything, she's ready to learn, she's always there," Slaughter says, praising Skinner.
 It did not come easy though. In the beginning, she had to learn 35 plus cheers in two months for basketball season. She said it was difficult, but you get used to it.
Skinner mentions how having confidence is the most important thing you need for cheer. It took time for her to build up her confidence in cheer, but once she did, she said how her performance has been 100 percent better.
"I think what I see in Lexi overcome is the fact that she missed a whole year in our program," Slaughter explains, "and she started on JV, and then missed an entire year, and then came back and was able to make the varsity team… she overcame the obstacle of having not cheered a whole year, by just working really hard to remember what she did have".
Slaughter speaks of Skinner with pride, saying how she goes to her classes and maintains her studies while also coming to all the practices and working hard. 
Varsity cheer captain Olivia Robles, expressed her contentment with Skinner; she loves seeing her grow into an amazing cheerleader.
"Lexi brings laughs, smiles and positive energy," Robles said.
Slaughter shares similar ideas on what makes Skinner a good cheerleader. She's positive, helpful, asks for assistance and likes the challenge. Slaughter talks about how Skinner as a junior sets a good example for freshman cheerleaders. 
Both Slaughter and Robles seem proud of how far Skinner has come as a cheerleader and how she has grown as a person through cheerleading.
"I loved to see her grow into such an amazing cheerleader! She's gotten so much more confident and loud," says Robles.
Skinner uses her skill of cheering and positivity to be the best cheerleader and person she can be for her teammates, coach, and herself.
Leave a Comment
About the Contributor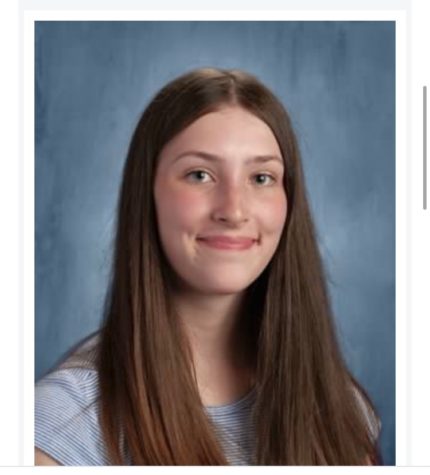 Olivia Oliver, Feature Editor
Olivia is a junior and she is passionate about reading, being outside and history. People describe her as kind, thoughtful and hardworking. She loves being a journalist because she can express her thoughts and ideas through writing, then share it out with the community.