Maya and Elizabeth learn to balance their new life in Italy

More stories from Macey Pine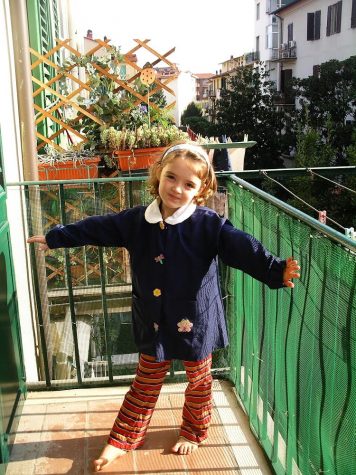 Maya Bilyeu-King, a confident soccer player and media editor for The Constitution, still remembers being a shy kindergartener in an Italian classroom. 
In the fall of 2009, Elizabeth, Maya's mom who both then and now teaches 
art history at PCC, got an opportunity to teach in Florence, Italy. She decided to accept this opportunity because of how great she thought it would be to expand her knowledge on Italy and get the experience of teaching abroad. Maya was getting ready to attend kindergarten in Portland at this time, but because classes were full at the school in Italy, she started as a first grader. 
Maya admits it was hard in the beginning but felt she adjusted well and had made some friends by the end. 
"It was definitely hard with me being shy because I'm coming into an already built community," Maya says.
Meaning at her school in Italy everyone already knew each other and had established relationships.
"But by the end I had friends, and I had fun exploring the different places!" Maya shares.
While Maya was there she took time off school to go on fun trips with her family. They would explore historic sites and try new foods, taking in all of what Italy had to offer. 
The experience was both fun and stressful for their family, with Elizabeth needing to manage both her work life and helping her family adjust. She had to plan field trips to places she had never been while visiting museums and sites. 
"It was pretty exciting in terms of I had to revamp my curriculum," Elizabeth said. "but it was also really hard because I felt pressure to not only think about my teaching plans and prep, but also I had to find an apartment and figure out transportation and find a school for Maya to be in." 
Elizabeth remembered struggling to find an apartment, school and transportation for Maya. Not only this but she worried about how the adjustment would be for her.  
"It was definitely a shock for Maya," Elizabeth says, "She would cry everyday going to school." 
But Maya was young and new, making her shy and nervous to make friends. Maya says she didn't talk to teachers much and stayed quiet most of the time. 
Maya often looks back on her time in Italy in her adventure book she started when she first arrived. It's filled with momentos of the places they visited while they were there like Rome and Venice. The fond memories of Halloween when she dressed up and went trick-or-treating around the apartment because Italy doesn't celebrate the holiday. 
When the semester was over Maya and her family returned to Portland in December, she said she was relieved to hear English again and started kindergarten at Vernon Elementary. 
Eleven years later, Maya leads on the newspaper staff and plays soccer for McDaniel High School and thinks she wants to play in college as well. She enjoys traveling and wants to go to a bigger university that's further away, choosing new adventures like her mother once did. Possibly to study things like political science, psychology, education or sociology in the future.
Leave a Comment
About the Contributor

Macey Pine, Copy Editor
Macey is a sophomore, and she is enthusiastic about volleyball, music and trying new things. People describe her as funny, kind and outgoing. She loves being a journalist because she gets to share her opinions and help people get the information they need about their community.