A misinformation pandemic hits amidst concerns about the coronavirus
More stories from Enriq Fernandez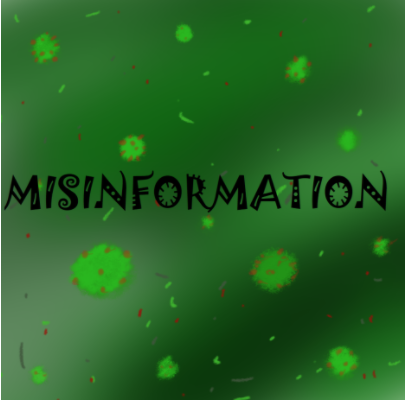 Months after President Donald Trump did a press conference on Apr. 23 addressing the COVID-19 pandemic by discussing the use of disinfectants to combat it, many Americans are still confused about what exactly he said concerning COVID-19.
Misinformation concerning Trump endorsing the use of Lysol as a solution for the coronavirus is rampant around the internet and social media. This is likely due to the president's unclear wording during the press conference.
"So, supposing we hit the body with a tremendous, whether its ultraviolet or just very powerful light…supposing it brought the light inside the body, which you can either do either through the skin or some other way…And I then I see the disinfectant, where it knocks it out in one minute, and is there a way you can do something like that by injection inside, or almost a cleaning…But the whole concept of the light, the way it goes in one minute, that's pretty powerful," Trump said. 
There is no direct evidence of Trump ever saying to drink Lysol or Bleach. In fact, much of the presidential briefing centered primarily around the suggestion and possibility of using ultraviolet radiation as a means to deal with coronavirus after a report by the Department of Homeland Security of coronavirus dying to sunlight. However, his misinterpreted briefing sparked a spread of misinformation across the internet. The result was misinformation about ingesting bleach and other disinfectants as a solution to treat coronavirus in afflicted persons.
As a result of the misinterpreted briefing, Reckitt Benckiser, the company responsible for Lysol, advised its customers against the usage of its products to deter COVID-19.
"As a global leader in health and hygiene products, we must be clear that under no circumstance should our disinfectant products be administered into the human body [through injection, ingestion or any other route]," the company stated in a press release on the Reckitt Benckiser Group website.
The company urged that Lysol products should only be used for what they were made for and that the warning label should be read by users.
Lysol's reaction is only a fraction of the dissent that Trump's press conference drew out.
Chemistry teacher Tim Kniser said that one should be careful in how they read the president's words about cleaning products and COVID. As a person with years of experience working with chemicals, Kniser's reaction to Trump's briefing was that he was disappointed that Trump did not rectify his errors concerning the misuse of the terms sanitize, disinfect and sterilize. 
Kniser added that the misinformation is "extremely dangerous coming from a position of authority."
This view echoes the outcries of many elected representatives and experts within the medical field who say that no one should take this to heart and that no one should recommend this to others as a way to treat coronavirus symptoms.
Kniser shares advice of how people can make safe decisions when hearing new information. 
"The idea is if something invokes a strong emotional response and makes you want to act right away… slow it down and check the source," Kniser said.
Should one be experiencing such indications of COVID-19, it is best to contact your trusted doctor and check into a hospital.
Leave a Comment
About the Contributor
Enriq Fernandez, Reporter
Enriq Fernandez is a senior, and he is passionate about video games, reading, and tinkering and repairing with broken things. People describe him as studious, diligent, and supportive. He loves being a journalist because he is able to research into things that he is passionate about and finds journalism as a separate branch from the typical school writing course for which he thinks would provide a...