Top 10 Greatest NBA Players of All Time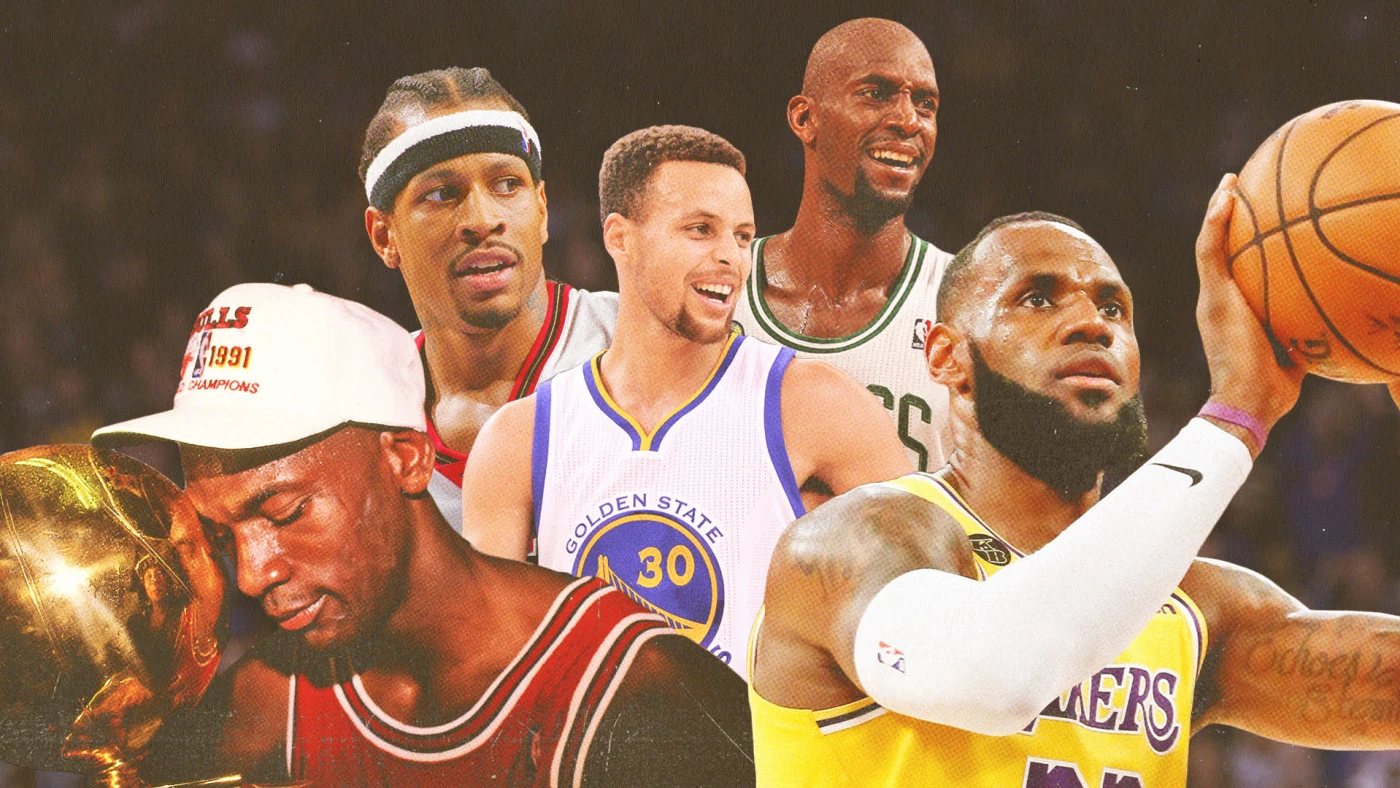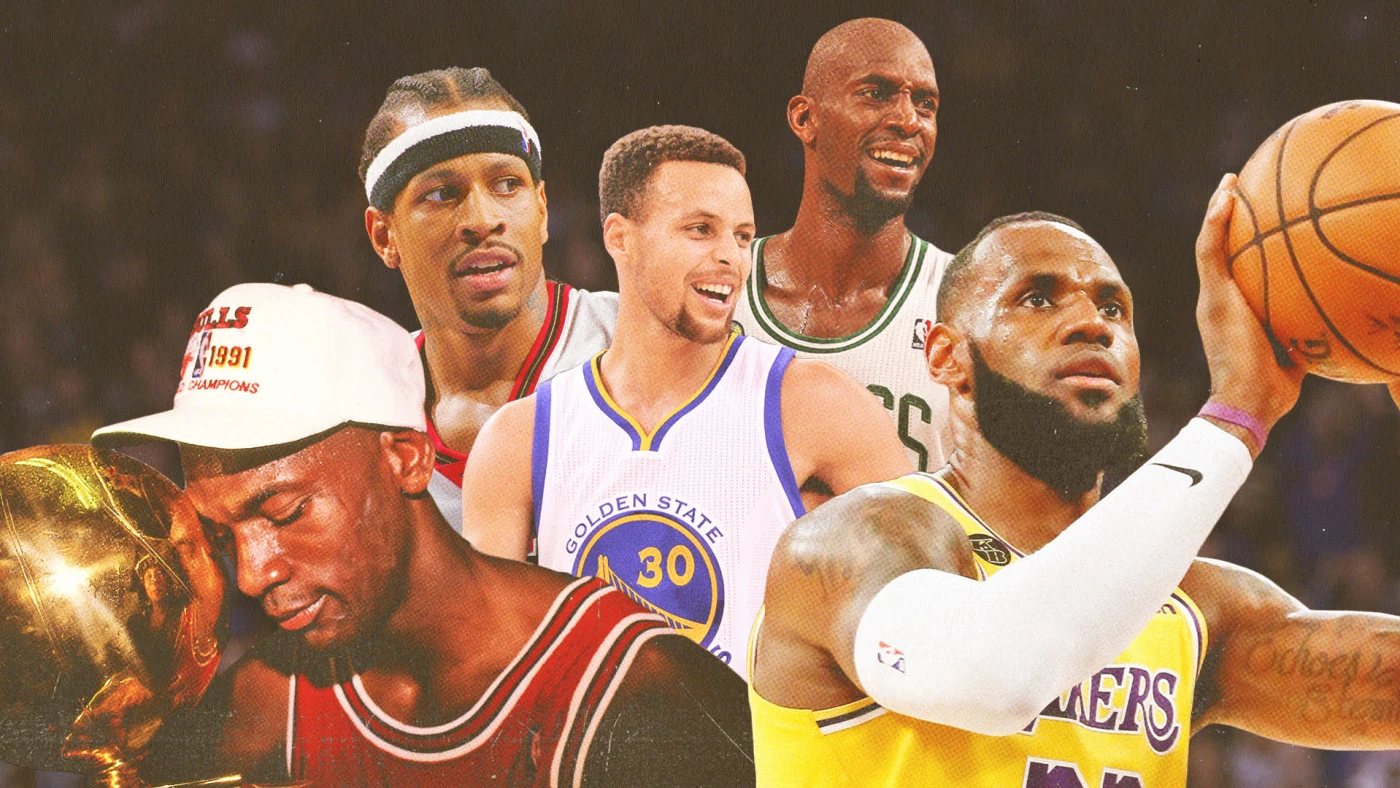 Greatness in the world of sports holds many meanings. Some people rank players on straight accolades, or some do it straight on skill. To me it's somewhere in the middle. Greatness isn't something you can define with a single stat. It isn't something that will be universally seen as the truth. Everyone has their own criteria as to how they view the Greatest Of All Time (GOAT) debate. 
The way I will be able to rank these legends is by a few metrics. One is by the eye test. This may hurt a few legends' cases, because I wasn't able to grow up watching Wilt Chamberlain, Bill Russell, Kareem Abdul-Jabaar, Michael Jordan, etc. I will also be taking into consideration the context of their accolades. This means that some players who dominated their era will still be highly ranked, but some players who didn't have the roster to win MVP or a championship won't be penalized that hard. And lastly, I will be ranking these players off of their skill. These players are all so close to each other that one of the best ways of picking one over the other is to just choose who I think is the better basketball player.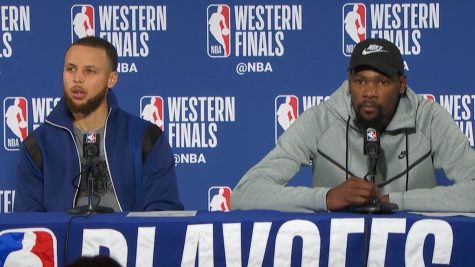 I would like to start by giving some honorable mentions to the players that didn't make the top 10. Those players are Kevin Durant, Stephen Curry, Kevin Garnett, Dirk Nowitzki, and probably most shocking, Bill Russell. Steph and Kevin are in the same boat as where they have an insane amount of accomplishments, but the value of some of those accomplishments are needed to be looked at. The 2017 and 2018 NBA seasons many already knew the champion on July 4, 2016 when Kevin signed with the Warriors after blowing a 3-1 lead to them. However, give them a few more seasons and I can see them cracking the top 10.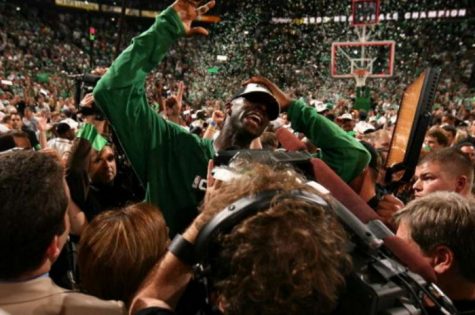 Kevin Garnett had a fantastic NBA career and had one of the greatest individual seasons of all time in 2004 when he should've won unanimous mvp. His impact on the offensive end of the court and defensive end is incredible. The thing that holds him back for me is that he only has one title and that's on the stacked big 3 Celtics in 08'.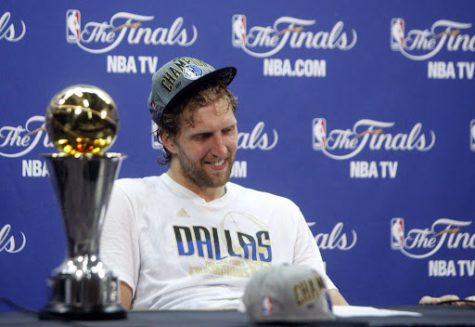 Dirk was one of the best offensive PF's the league has ever seen. He was efficient from basically every area of the court and was a monster. However, his loss in 07' getting beat by an 8th seed when he won MVP was very bad for his legacy. I do think he had made it up with his insane 2011 run which is worth so much to his career. Still needed a bit more postseason success to crack the top 10.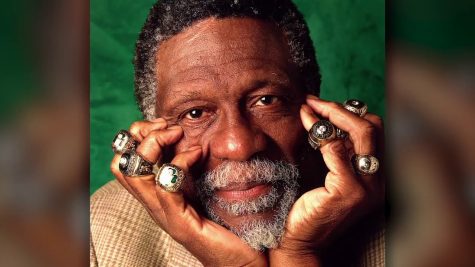 And to get into Bill Russell. You would think that the man who anchored the best defense of all time and led the Celtics to 11 rings should be in the top 10 right? Well I think context is needed for those rings. He played in a league with only 8 teams and basically only played 2 series every post season on route to every ring unlike now there's 4 series you have to go through. The league back then was very different as there was no 3 point line so it forced players to go inside for an easier shot but having a defensive monster like Bill he was able to dominate back then. I have no doubt Bill would be a good to great player in today's game, but context was needed to see how he accomplished all his achievements and if they truly stack up against the others. With all that out of the way, let's get into the top 10
Shaquille O'Neal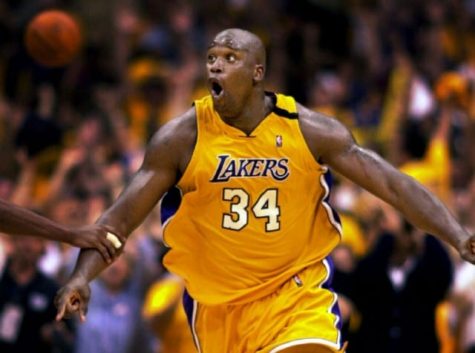 To say Shaq was a freak of nature is a gross understatement. Shaq was the most dominant player in the history of the game. Shaq when he came into the league was 7'1 294-pound center who was very quick for his size, dominant in the paint and was a great defender. When he came to 2002 at the end of his 3-peat, he weighed 340+ pounds. That basically traded all of his defense for even more dominant scoring on the inside. He was still pretty agile for that weight and height which was very unusual. 
For his career, Shaq averaged 23.7 points, 10.9 rebounds and 2.3 blocks per game on 58.2% from the field. However, it gets even crazier when you look at Shaq's first finals appearance with the lakers. In a 6-game series against the Pacers in 2000, Shaq averaged 38 points, 16.7 boards on 61.1 percent from the field. That is regarded as one of the greatest finals performances in NBA history. Shaq in his career is a 4x NBA champion, 3x Finals MVP, 8x 1st team All NBA selections and a 1x regular season MVP which should've been unanimous. Shaq had the potential to be a lot higher on this list. 
Senior Albert Cooper had this to say about his potential: 
"If Shaq had the same mentality as Kobe Bryant, there's no doubt he would be the GOAT," Cooper said.
Although Shaq had that immense potential, he still wasn't disappointing by any means.
Wilt Chamberlain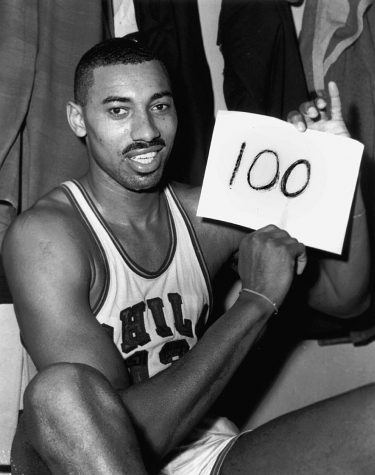 If you thought Shaq was a freak, wait till you hear about Wilt. Wilt Chamberlain was 7'1 285 pound center that had so many insane and unbelievable stories. Just to name a few, Wilt has an alleged 48 inch vertical which is the highest vertical in NBA history being tied with Michael Jordan and Dennis Smith JR. Michael Jordan is a 6'6 shooting guard and Dennis is 6'2 point guard. Just to reiterate, Wilt Chamberlain was a 7'1 285 pound center. Him having a vertical that high is ridiculous and feels unbelievable. 
The one knock on his legacy would be his lack of success, but I believe his insane amount of statistical dominance combined with his skill propelled him to this placement. Wilt was a 2x NBA champion, 1x finals MVP, 4x MVP (three in a row), 7x scoring leader and had 10 All-NBA Selections. The thing about his era was that steals and blocks were not recorded. So he could've averaged a triple double with blocks and there is a rumor he put up a quintuple double (double digits in the five major statistical categories). 
Wilt has so many records; it's impossible to go over all of them. To name the three things, I think are close to unbreakable would be his points average in a single season (50.4), most rebounds in a game (55) and minutes per game in a single season (48.5, more than regulation time). 
Senior Amari Shearer was amazed by Wilt's career. 
He had this to say, "To even think about Wilt being able to score 4,000 in a single season is ridiculous and will never be done again." 
Wilt was another freak of nature and there will never be another.
Hakeem Olajuwon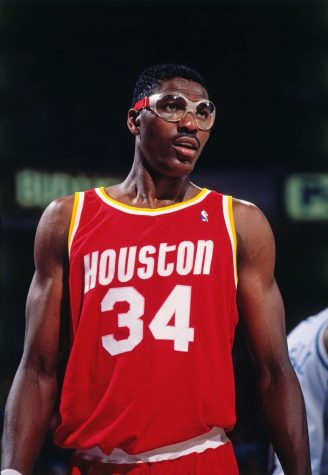 Hakeem "The Dream" Olajuwon was a 7-foot, 256-pound center who spent all but one season as a Houston Rocket. He was drafted 1st overall in the stacked 1984 draft, two places above many consider the GOAT. Despite that fact, nobody says the Rockets should've drafted Jordan because Hakeem made one hell of a career for himself. 
Hakeem for his career is 2x NBA champion, 2x finals MVP, 1x MVP, 2x DPOY, 11x All NBA selections and 9x All Defensive selections. Now his accolades on paper don't really compare to those I've listed, but the context of these accolades outweigh the others. In 1994, Hakeem became the only player in NBA history to win MVP, Finals MVP and DPOY in a single season. He destroyed many legends en route to that championship such as Clyde, Barkley, John Stockton, Karl Malone and Patrick Ewing. In the following year, he was the 6th seeded team and was able to win a title. He won this title beating players in the west such as Malone, Stockton, Barkley and the MVP, David Robinson. Then in the finals he swept Shaq and Penny Hardaway to claim his 2nd NBA title. These two titles were some of the most difficult titles in NBA history. 
Hakeem is highly regarded as the greatest or 2nd greatest defender of all time. Hakeem has such nice and shifty footwork as a 7-footer, so it's pretty easy to see why he was able to be such a dominant center.
Tim Duncan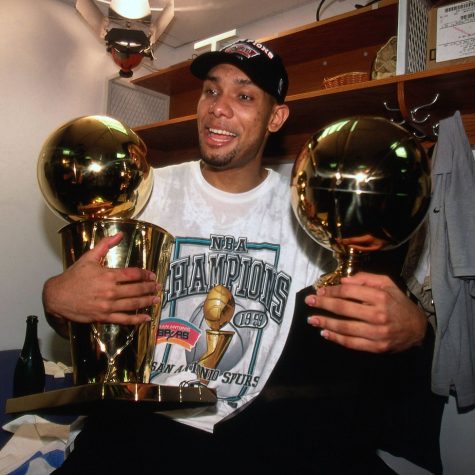 The Big Fundamental was a 6'11, 250-power forward who played his entire career with the San Antonio Spurs.  Drafted with 1st overall pick to a franchise that already had a dominant bigman, Duncan's career was already set up for greatness. And he followed suit making All NBA First Team as a rookie and winning a title in his 2nd season.
 For his career, Duncan is a 5x NBA Champion, 3x Finals MVP, 2x MVP, 15x All-NBA selections and 15x All-Defensive selections (most in NBA history). With a career this stacked, Duncan has a longevity most players wish to have. His insane dominant performance in which he won MVP and finals MVP was insane. In the 2003 finals, Duncan averaged 24.2 PPG, 17 RPG, 5.3 APG and 5.3 BPG. He also had an unofficial quadruple double in the finals where the officials gave two blocks to David Robinson which should've been Duncan's. 
Tim Duncan's greatness attribute to his game is his unselfishness and his defense. He took many pay cuts so his teammates can be happy and get less touches which makes his stats look worse than his actual impact. It's a shame Duncan never won a DPOY as he is now the best defender to never win the award.
Larry Bird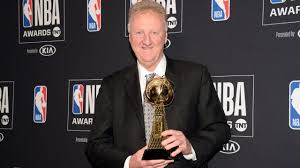 Larry Legend was a 6'9 small forward drafted to the Boston Celtics and produced greatness for his entire career. Larry is most known for his shooting ability, so it should come to no surprise that he has two 50-40-90 seasons under his belt and just about averaged 50-40-90 for his career. I have no doubt in my mind that in this league where you can shoot as many threes as you want that Bird can be even more dominant. 
Bird in his 13-year career is a 3x MVP (three in a row), 3x champion, 2x Finals MVP, and 10x All-NBA selections. I think the way he dominated the era statistically and individually puts him ahead of the others mentioned. His dominance is only replicated by a few in NBA history, and it's crazy how underrated Bird is as a player. 
Shearer described Larry in one of the simplest ways you can.
 "One of the best white guys to pick up a basketball," Shearer said. 
For some to even question if Bird can even play in the modern NBA due to his lack of athleticism where there are players like Luka and Jokic thriving is silly. 
Magic Johnson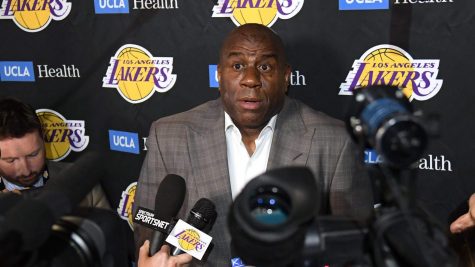 To start off the Top 5 we got Earvin "Magic"Johnson. Now I know this has absolutely nothing to do with his greatness as a player, but for your nickname to become your most commonly known name is pretty legendary to say the least. Magic is most known for his high tempo style of play and the way he runs the fast break. He was able to do this extremely well due to the personnel he had at his disposal and his skill set being a 6'9 point guard in a league with shorter guards being able to see right over the defense. His speed combined with his all time great level passing ability made him the greatest passer to ever step on the hardwood. 
In his 13-year career with the Los Angeles Lakers, Magic was a 5x champion, 3x Finals MVP, 3x MVP and 10x All NBA Selections. Magic and Bird had a rivalry throughout the 80's and it was expected, playing in opposite conferences and always meeting up in the finals. What sets Magic apart from Bird to me however is his accomplishments. He did have better help, but his help also just better fit his play style to help him be as great. It really is a toss up as to who's the greater player.
Kobe Bryant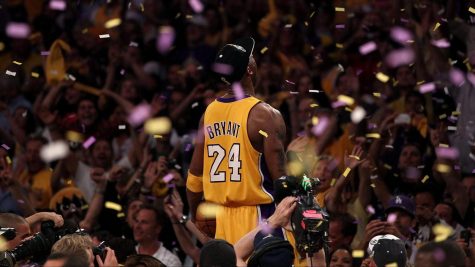 Kobe Bean Bryant was a 6'6 shooting guard who spent his entire 20-year career with the LA Lakers. You don't see that kind of loyalty anymore. Kobe emulated his entire game off of Michael Jordan's, and he got pretty close to his greatness. Kobe was a dominant 2-way scorer who can lock up the opposing team's best perimeter player and drop 40 on your head the same game. Kobe was a different animal. 
Kobe in his career was a 5x NBA champion, 2x Finals MVP, 1x MVP, 15x All-NBA selections, 12x All-Defensive selections and was a 2x scoring leader. Kobe played in arguably the most difficult era and conference in basketball where some teams with 48 wins, wouldn't make the playoffs. That's absurd to even think about. 
Kobe and his "mamba mentality" helped him become the great player is known as. Shearer shared his thoughts on Kobe and his mamba mentality. 
"Kobe's mamba mentality struck fear into his opponents and is a big reason why he has so much respect," Shearer stated. "The mamba mentality also far outreaches basketball and can be applied to the personal lives of whoever." 
Kobe's mamba mentality and strive for success was truly once in a generation. He was the hardest worker the league has ever seen. 
Kobe's best known attribute is his scoring. He had ridiculos scoring stretches or his most infamous 81-point game. Kobe scoring 60 points in his final game was a fitting end to his legendary NBA career.
Kareem Abdul-Jabbar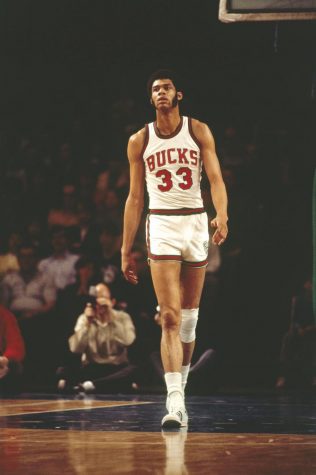 Kareem was a 7'2, 225-poundcenter who played for both the Bucks and Lakers in his career. Kareem probably has the most decorated career out of everyone on this list. In his career, Kareem is a 6x NBA champion, 2x Finals MVP, 6x MVP (most in NBA history), 15x All-NBA selections, 11 All-Defensive Selections and two scoring titles. 
Kareem is most known for his scoring being the all time leading scorer for a little over 30 years now. Kareem had the most unguardable move, the skyhook, which only managed to get blocked a few times in his career. Kareem's ability to get a bucket whenever he wanted is pretty crazy considering his skinny frame playing in a physical era, but he made it work. The only reason Kareem isn't any higher on this list is because of the era he played in. That's truly the only knock on his career.
Now I know you're probably waiting for the placements of 1 and 2, but they're so close together that it is impossible to decide who is the greater player. So I have our 1A and 1B placements.
1A: LeBron James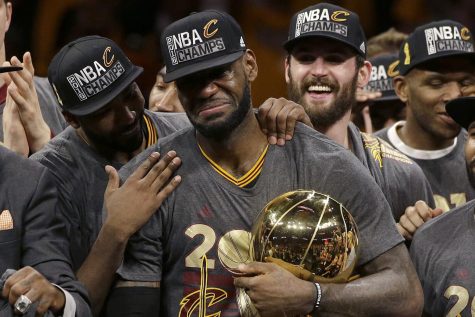 LeBron James, a 6'9, 250-pound small forward from St Vincent-St Mary high school in Akron, Ohio. LeBron in his high school games had all the legends I've shown before being played on a highlight reel basically saying that LeBron will be as great as them. To have that much expectations on you as a kid is insane, but the fact he surpassed them is even more impressive. 
LeBron in his career is a 4x NBA champion, 4x Finals MVP, 4x MVP, 16x All-NBA Selections, and 6x All-efensive selections. LeBron is truly a freak of nature, as he is so strong it's impossible to stop in the paint combined with his speed and hops, but if you sag off of him, he can hit the jumper. Scoring isn't even his best quality; it's his passing. He can get his teammates open with attention he demands and can make them get easier looks. 
The single most important part of LeBron's legacy was 2016. Being down 3-1 against the Golden State Warriors, a 73-win team (most in NBA history), many already had him written off from being the GOAT. LeBron was actually able to do the impossible and with the help of Kyrie Irving became the first team to come back 3-1 in the NBA finals. That single series made many people rethink their GOAT and put LeBron over Jordan. 
I know people will point to his losing finals record, but is it really his fault? In 2007 he went against the dynasty Spurs led by Tim Duncan at just 22. He wasn't meant to win that. In 2011, it was all his fault though. He choked when he was needed most. In 2014 though, his teammates weren't what they used to be and he had to carry a harder load. In 2015 all of his teammates were hurt, and he was still able to take a 67-win team to 6 games averaging 36 points. And in 2017 and 2018, we knew LeBron wasn't going to win since he was going against a 73-win team who added the 2nd best player in the game (at the time) in Kevin Durant. LeBron's finals record is vastly overblown. 
What made LeBron the stand out GOAT in Shearer's eyes was his unbelievable play at an old age and how ages like fine wine. 
"Playing at an all-star level still at 36, while also being in the MVP conversation as well," Shearer said, "If that's not greatness, then idk what is." 
LeBron's insane longevity is truly what makes him stand out amongst the NBA's greatest.
1B: Michael Jordan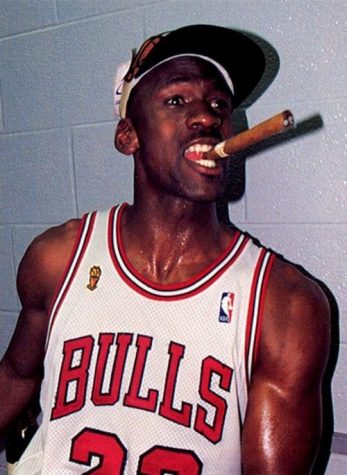 Michael Jeffery Jordan. Commonly known as The GOAT for quite some time now. LeBron made the debate actually closer, but they are neck and neck. Jordan was a 6'6 shooting guard who played all but two seasons with the Chicago Bulls and helped put them on the map for basketball. 
Jordan is most known for his scoring ability, so it shouldn't come as any surprise that he has the most scoring titles in NBA history with 10. He to me is the greatest scorer ever due to his ability to score from everywhere anytime. 
Also in Jordan's career, he is a 6x NBA champion, 6x Finals MVP, 5x MVP, 11x All-NBA selections, 1x DPOY and 9x All-Defensive Selections. Jordan's career is so decorated in a short amount of time compared to Bron, but Bron's longevity surpassed MJ's. MJ is the only player in NBA history to have two 3-peats with Finals MVPs. 
Jordan was such a different player, and he was able to use his killer mentality to absolutely dominate his era from the jump. Senior Justin Dungawin had such high praise for Jordan's killer mentality he stated that he can go into kill mode at any second. 
"If he thinks about dunking on you or scoring from a fade away, then he'll do exactly that," Dungawin said.  
His killer mentality is very reminiscent of Kobe which makes sense because Kobe idolized Jordan. He was called the greatest player when he was in college. That doesn't happen very often. MJ was just a different breed.
That just about rounds out the top 10. No hate or disrespect was meant towards any of these legends. They all are still some of the greatest players to ever play the game and will always be looked at as such.
Leave a Comment
About the Contributor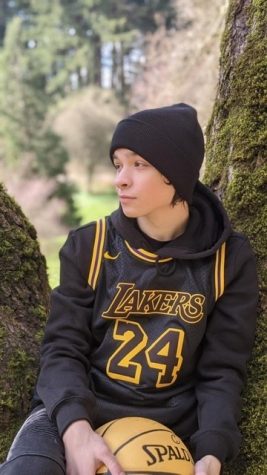 Kaeden Giles, Social Media Manager
Kaeden is a senior, and he is passionate about basketball, video games and fashion/clothing. People describe him as kind, funny, caring and wise. He loves being a journalist because he likes to talk about his opinions on any topics, but mainly basketball. Basketball has been around him his entire life so to talk about it is always fun.