Damian Lillard: The Dark Horse MVP Canidate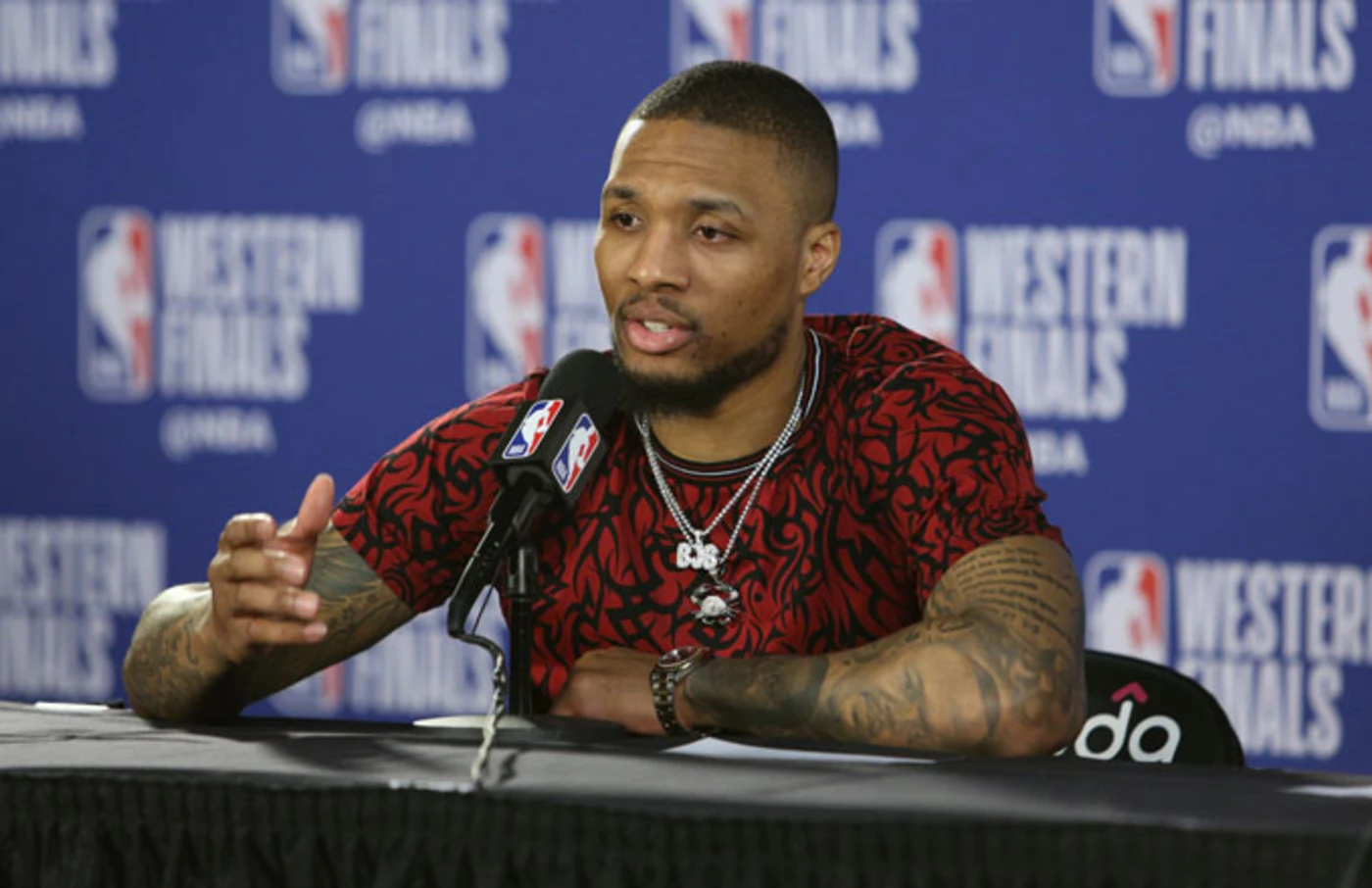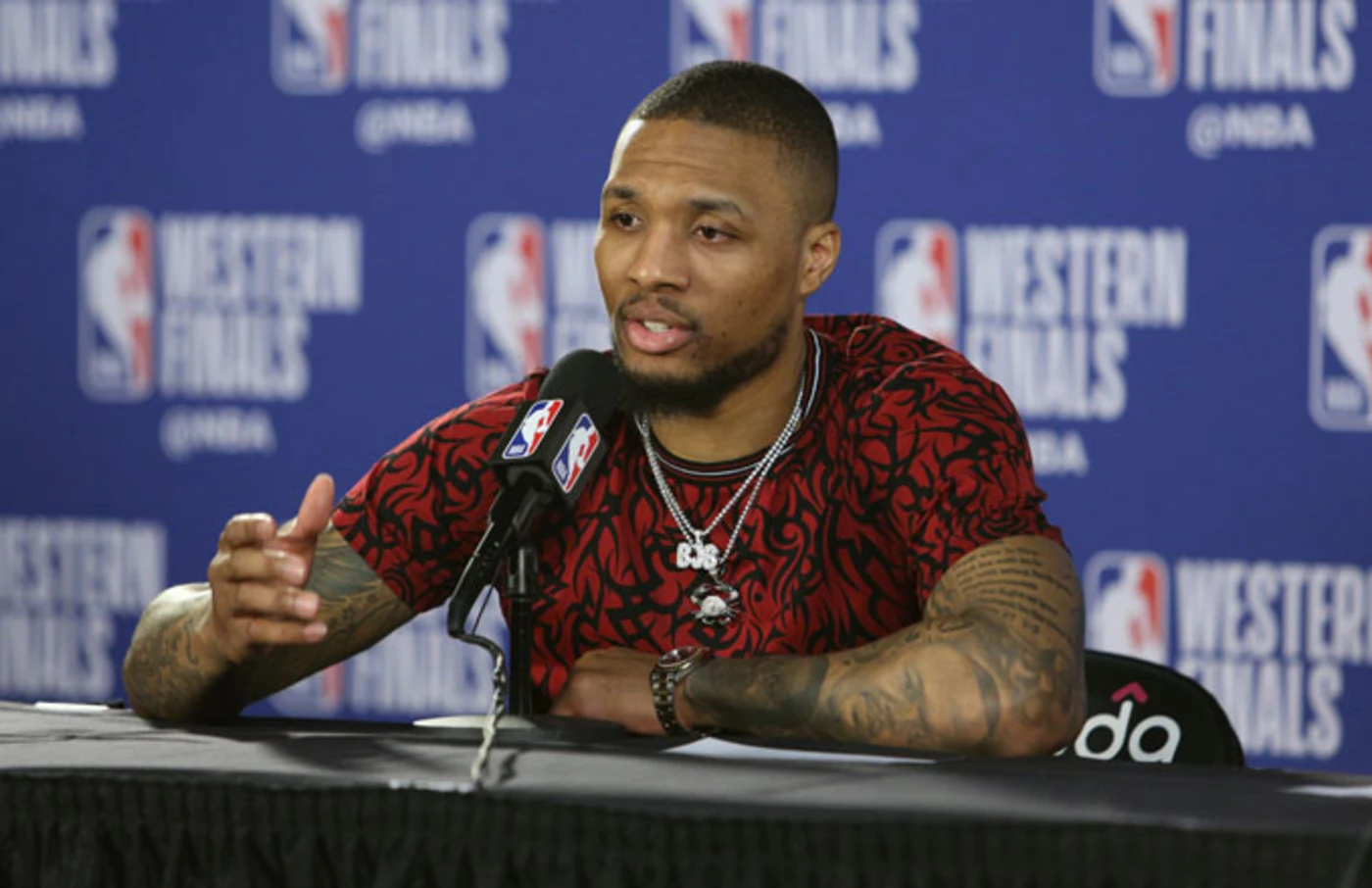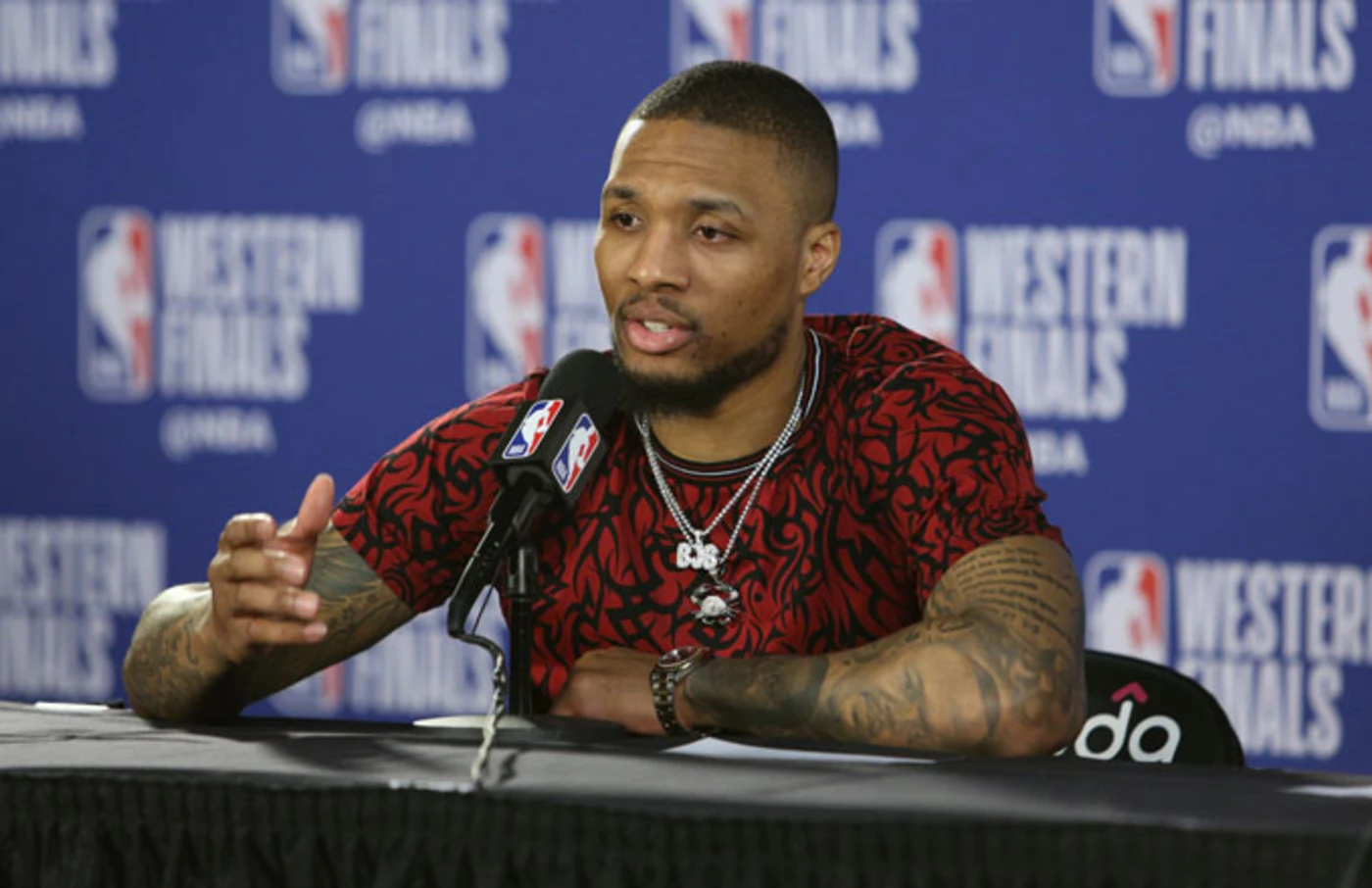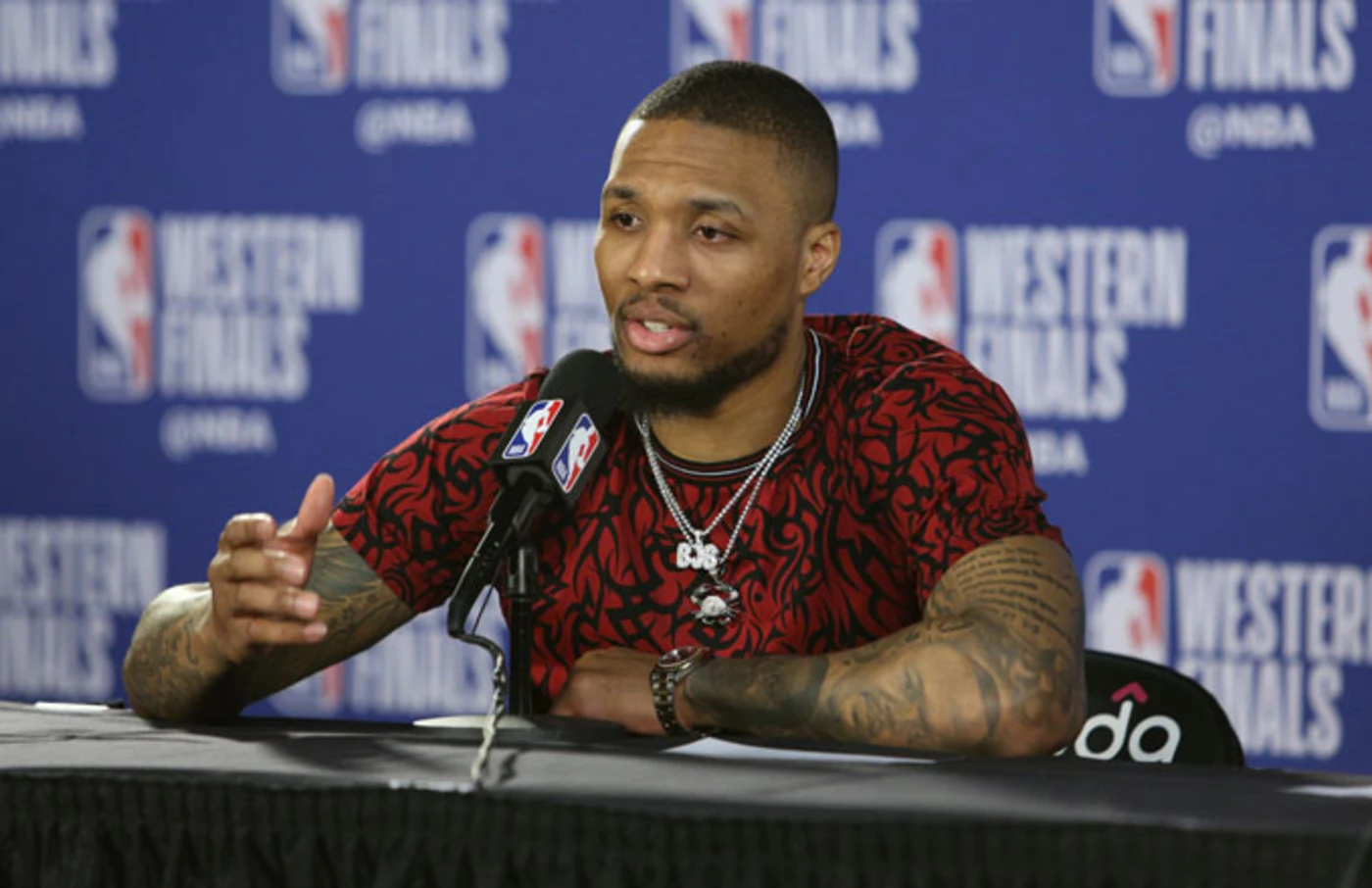 In the NBA, there are many awards that carry much weight to a player's legacy. There are all NBA selections, Defensive Player of the Year, and championships. One award that strikes controversy every season is the MVP award. This award is handed out to the player that media voters deem to be "the Most Valuable Player." It seems like this is another season where Damian Lillard puts up the numbers, but doesn't seem to get his name thrown in the conversation as other players. 
First let's talk about what the MVP award is. Many NBA fans have their own takes on what the award truly means. Some will take it literally, and say it should go to the most valuable player. Some will say, "If you take X player off of X team, they'd be out of the playoffs" as their reasoning as to why they should be MVP. Others would say it should go to the player with the best stats. Then there will be some to say it should be the best player on the best team. The answer lies somewhere in the middle, and off to the side.
The MVP since its creation in the 1955-56 season has been given to a player on a top four seed all but six times. Those times were Russell Westbrook in 2017 when he led the OKC Thunder to the sixth seed and tenth best overall. However this season is mainly an anomaly, due to the fact he had the storyline of his teammate Kevin Durant leaving him to join the Golden State Warriors after blowing a 3-1 lead to them in the playoffs in 2016. He went on to average a 31.6 point triple double and broke Oscar Robertson's most triple doubles in a season record set a little more than half a century ago in 1962. Since Westbrook was such an anomaly, it shouldn't come as a surprise that Michael Jordan was the player before Russell to not have a top 4 record in the league yet win MVP He did that in 1988. The other five  winners of the MVP were Michael Jordan, Moses Malone (2x), Kareem Abdul-Jabbar and Bob Pettit.
To talk about the MVP race, we have to talk about the competition for the award. First let's go with a popular answer to what seems to be every season, LeBron James. LeBron is averaging 25 points, 8 rebounds and 8 assists per game on 51% from the field and 37% from 3-point line. He was leading the Lakers without AD to a top four record in the tough Western Conference. The reason I think he won't win the award is because of availability. He's missed almost a month now and is going to be sidelined for a bit more. 
Next candidate would be Joel Embiid. Joel is the superstar Center on the 76ers and was another front runner candidate averaging 30 points, 11 rebounds on 52% from the field and 39% from the 3-point line while being one of the best defenders. He suffers from the same problem Bron has in this race for MVP which is availability. Joel has played 33 games out of 50 this season. That's only 66% of the season. If he can remain healthy, then he can recement his name back in contention. 
The next big canidate is Nikola Jokic. Nikola has an unworldly impact on Denver's offense this season averaging 26 points, 11 rebounds and 9 assists per game on 57% from the field and 42% from 3-point line. That is ridiculous, and it's even more astonishing that a center can shoot this well from all around the court and be this great of a facilitator for his squad. His only problem is that he isn't a top record league wide but he is a top 6 record league wide and top 4 in his conference. 
James Harden and Steph Curry are honorable mentions. Harden has two other superstars on his team and got two buyout studs in Lamarcus Aldridge and Blake Griffin. The way he forced his way out of Houston combined with his current stacked roster. I don't think the voters will give it to him. Steph Curry is putting up great numbers too, but he just doesn't have the wins to back it up.
So where does Damian Lillard fit in all that? Well currently the Blazers are the ninth best team in the league. However, they are about four games back from being a top four team league wise. This is pretty insane considering they were missing CJ McCollum for 25 games and prior to his injury he was averaging 27 points on ridiculous efficiency. So with CJ back in the lineup and with the acquisition of Norman Powell at the trade deadline, they can make a push for a top seed in their conference and top record overall wise. 
Let's talk about what Damian is doing this season statistically. Lillard with 46 game played is currently averaging 29.9 points per game, 7.8 assists and 4.3 rebounds on 44.9% from the field, 38.1% from 3-point line and 93.6% from the free throw line. That is ridiculous. To be averaging such a high number of points, assists and remain so efficient is remarkable. He is almost averaging 30 points and 8 assists per game. If he were to do so, he would be one of only 5 players to ever do so. Those being Oscar Robertson (6x), Nate Archibald, Michael Jordan, Russell Westbrook and James Harden.
It's almost impossible to talk about Lillard without bringing up Dame time. Dame time is of course a reference to his play in big moments, or most commonly known as in the clutch. Clutch is defined in multiple ways but the stat most commonly used is when it's the last 5 minutes of the game and the point differential is 5 points or less. Damian has been insane in the clutch this season leading the league with 5 points per game in the clutch with a 27 game sample size. He has been doing this on 55.9% from the field, 44.4% from three and 100% from the free throw line. He also won 21 of the 27 games when the game came down to the wire. Safe to say that Dame is the clutchest player in the league.
Dame is truly having an incredible season and many others think so as well. Senior Amari Shearer has this to say about Damian's season:
"Lillard has been playing phenomenal this season. He honestly surpassed what I expected from him. Whenever he touches the court, I see a straight go getter. He goes out there and does what he's supposed to do no matter what."
Damian has been truly special to watch this season and has put the Blazers on his back. It's time for the rest of the NBA world to recognize this and bring his name up there in this stacked MVP race.
Leave a Comment
About the Contributor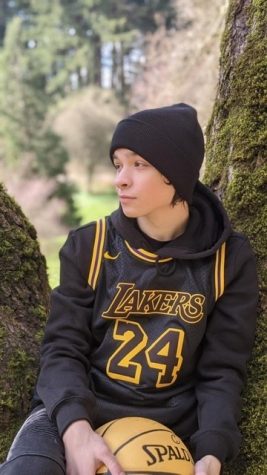 Kaeden Giles, Social Media Manager
Kaeden is a senior, and he is passionate about basketball, video games and fashion/clothing. People describe him as kind, funny, caring and wise. He loves being a journalist because he likes to talk about his opinions on any topics, but mainly basketball. Basketball has been around him his entire life so to talk about it is always fun.