Friends of Noise is a local organization working to platform youth musicians, get them booked and train a new generation of sound engineers.
Senior Hayden Hardy, a producer and rapper in hip-hop group Burbya, first got into contact with the organization through open mics between him and his friend and fellow Burbya member, JJ. They would go on to meet executive director and founder André Middleton and start working together as well as playing shows.
"The open mics definitely kinda gave us a taste of what community music is like and just being a part of the community," Hardy said. "Once we kind of got a taste of that, we wanted more. So Friends of Noise definitely helped with that."
Hayden mentioned that the organization is beginner friendly and supportive even beyond the music.
"Outside of just a music context, Friends of Noise is really supportive to you as a person," he said. "I've learned a lot from working with André and the Friends of Noise community, not just about sound but also just interacting with people there."
These feelings of support and care for budding musicians were also felt by guitarist and backup singer Hanuri Kim of Gated Community, a local female-angst, alt-rock band. Kim feels that the organization helped Gated Community navigate the challenges of musical hierarchy.
"[Middleton] just really believed in us, and especially as you get deeper into the scene, you kind of face this hierarchy that a lot of musicians hold," Kim said. "And so just having the love and knowing that he had potential in us and saw potential in us and pushing that was just so motivating. And I think that's what kept us going for a while."
Friends of Noise's influence on the youth music scene also extends beyond the bands performing and all the way to the fans and community as a whole.
Concerts facilitated by Friends of Noise have an emphasis on safety, with signs posted detailing their rules and expectations of acceptance as well as reminders on keeping the scene safe.
"We don't want the police or a security guard keeping an eye out for us, we want to be keeping it out for each other," Middleton said. "And we think that that is a way of keeping the DIY scene safe, is where we are all invested in protecting and nurturing it."
Singer True Ware of Gated Community expressed how culture is a very crucial part of a youth music scene often encroached on by older generations, unintentionally or otherwise. Friends of Noise has taken an approach that she feels does not follow this trend.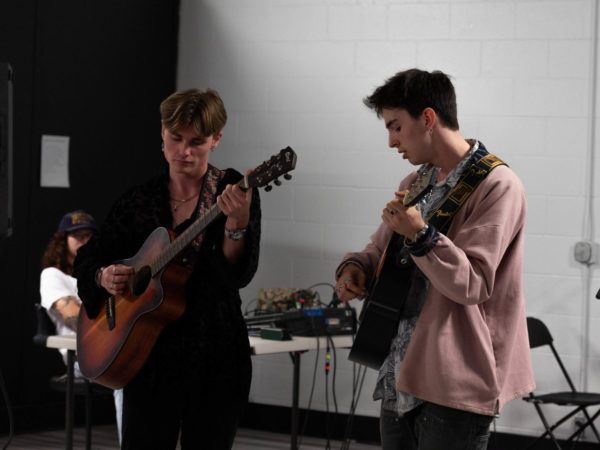 "They do not interfere with [punk culture] at all, in the way of messing it up, I guess," Ware said. "They allow punk culture to thrive in a space that's safe and accessible to a young audience especially. Because a lot of the times attending a punk show, especially when you're young or even people who are more femme-presenting, it can be a little bit intimidating as a young person."
Further extending their efforts to keep their concerts safe spaces for everyone, the organization is selective about the bands they platform and works with those which reflect their values.
"We try to find artists that reflect our values," Middleton said. "We try to find artists that are cool, that are chill, that are about building community with us." 
Middleton first had the idea to start Friends of Noise when he was working on the Regional Arts and Culture Council. Tasked with facilitating a town hall relating to the music industry, Middleton heard discourse around the lack of all-ages venues in Portland. From there, with the help of some friends and a $2,000 grant from the Multnomah County Cultural Coalition, he founded the organization in 2016.
Now the organization sees grants in the hundreds of thousands and has around 15 teens working concerts with at least 20 bands booked or waiting to be at any given time. When booking artists, Friends of Noise has multiple venues to consider. Among them are Oregon Contemporary and PICA Warehouse and Lobby. House venues like Gloomhouse and Honey Latte Cafe are also considered yet often less consistent or long-lasting due to issues stemming from capacity and noise.
"Obviously, a lot of house venues come and go depending on how cool the landlord is, how cool the house owner is," Middleton said.
Currently, the organization is in the process of leasing its own venue and collaborating with Honey Latte Cafe to support one another and set up a permanent all-ages venue without the limitations of a landlord.
Friends of Noise will be hosting three all-ages benefit concerts in November and throughout December: one at the Mission Theater on Nov. 29, Polaris Hall on Dec. 16, and their annual Icebreaker at Holocene on Dec. 27.