The volleyball team had a strong season last year, earning a 12-4 record in league and 15-8 overall. They finished 25th in state last year, which landed them in a playoff game. They lost to McNary , but this year they are hoping to do even better.
"I feel like we could go undefeated in our league [the PIL]," head coach Kyla Henry said. 
However, it won't be easy, as there will be some hard fought games this year. 
"Grant and Wells are our toughest competitors," setter/ right side hitter Lilly Mae Buerkle said. 
Grant and Ida B. Wells were the team's toughest challenges last year, with both teams giving them their main league losses. 
Losing seniors has also been tough for the team, but there has been a lot of young talent that is willing to step up. 
"With new players coming in to replace the other seniors, I feel like there's been a lot of growth," outside hitter Anna Gladwin said.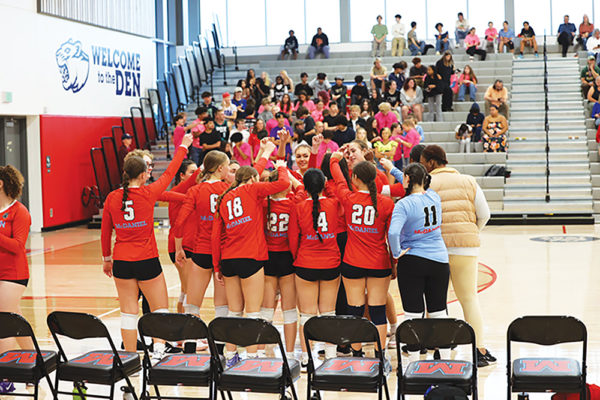 The team chemistry has also gotten stronger during the offseason with summer workouts and players participating in club volleyball. 
"Our group chat goes on year round, so we're always talking to each other and supporting each other with club tournaments or pretty much anything," Henry said. 
The fans have also been a huge help in the success of this team last during both this season and the last.
"[The fans have] been a big difference.  I think it really gets everyone really excited to play and wanting to go out there and try their best and help our players swing harder and get more hyped," Gladwin said. 
Gladwin hopes the fans will continue to support the team at upcoming games.
High expectations for this team could be an understatement, but with the gain of a ton of seniors, this season feels like a time to make a big playoff push. The team has nine seniors, and all of them are returning players. 
According to Henry, some players to look out for are Madison Schaefer, Riley Harwood, Olive Helms, and Buerkle.     
After coming off of a great season for the program, Coach Henry and her team are looking to get even better and make a good run in the playoffs. With the help of her current team, it looks very possible.