Build a Better 82nd brings new opportunities for students
Lining the hallways are colorful, eye-capturing posters for something called "Build a Better 82nd". But what does that actually entail, and why do we need to make 82nd "better"?
History of 82nd
The Portland Bureau of Transportation (PBOT) reported in the 1930s that 82nd Ave. was designated as a state highway. The Oregon Department of Transportation (ODOT) continued to own 82nd Ave. but directed maintenance funds to actual state highways instead. While 82nd was still classified as a highway, it was no longer functioning as one.
On June 1 of 2022, ODOT transferred jurisdiction of 82nd Ave. within the City of Portland to PBOT. The jurisdictional transfer includes $185 million in project funding from the state legislature, ODOT and the City of Portland. This will be used to upgrade and repair 82nd Ave.
Work on 82nd is underway; PBOT invested $80 million dollars to address critical fixes.
Students' involvement
Sophomores Daniel Bui and Lila Joseph created a form as a part of their Linked Multimedia classes, to better understand how safe the community feels on 82nd. They collected 112 responses: 85 Percent of results were from students; the rest were those who use public transportation near the street.
Bui and Joseph also went around asking students and some adults about how safe they felt while commuting on the street and what they wish there was on 82nd to feel safer. This was research for their childrens' books that they made about topics of change for the neighborhood. They then took the books and read them to Harrison Park second graders to engage them in the conversation too.
They also found out about how people commute. Bikers are 6.5 percent, and pedestrians are 41.7 percent of people along 82nd. Both of these groups reported feeling unsafe around 82nd, in the student-created form.
According to the form, drivers and passengers take up 67.6 percent of people on the avenue. PBOT reported that in the past five years there have been nine fatal crashes and 59 serious injuries resulting from crashes along 82nd.
Students' perspective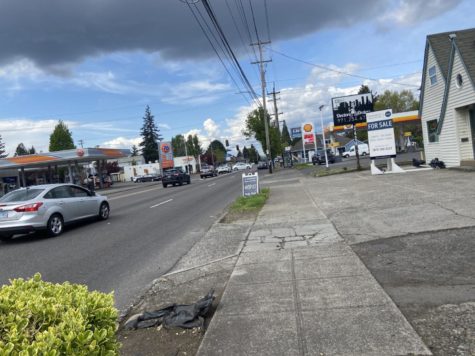 Being that  McDaniel is along 82nd, many students are excited for the new repairs and curious about what it will entail for them.
"I do not believe that 82nd is safe for people, especially at night," sophomore Jorge Sanchez Bautista said. "During the day it looks to be alright."
Sanchez Bautista expressed how he feels safe on the street, but he can see how women may feel unsafe on the street.
Sanchez Bautista has had negative experiences while on 82nd: a man carrying a weapon, someone coming up to him who seemed to be on some kind of substance, a person sexually harassing him on the bus, and seeing people do drugs on the street.
"[All] these things have made me feel uncomfortable in some way, and it's definitely something I do not wish for in our community," he said.
Sophomore Anna Gladwin also has hopes for the avenue.
"I definitely think 82nd has the potential to be a walkable artsy street," Gladwin said. "Adding small businesses, artwork, small gardens and unique features would really help."
Lucky for Gladwin, these are all promised in Build a Better 82nd.
"I think the city can do better making the street a safer place," Gladwin said. "I love the idea. I believe 82nd holds a lot of potential."
PBOT's input
Hannah Schafer, the communications director for PBOT, has insight on the ideas PBOT has for 82nd avenue.
"Street trees will be planted in medians and along the sidewalk where possible to help mitigate the impact of extreme heat," Schafer said.
Schafer added that riding a bike to school, a friend's house, the grocery store, or to your job on 82nd Avenue can be a difficult and stressful experience.
"PBOT seeks to find creative ways to advance the City of Portland's goals around increased bicycle use city-wide," Schafer said.
The agency promises safer transportation for bicyclists. Recent planning efforts were able to incorporate high-quality protected bike lanes without creating major trade-offs for transit and other vehicles.
Bikers on 82nd have felt unsafe especially since there aren't bike-friendly crossings. Schafer shared PBOT's ideas for making 82nd safe for bikers by creating a pair of north-south parallel neighborhood greenways within a quarter mile of 82nd Avenue on both the east and west sides. There will also be a series of frequent and evenly spaced bike-friendly crossi
ngs every half mile or less for people traveling east-west all throughout the 82nd Ave corridor.
For drivers, changes will also be made for their safety. This includes traffic signal upgrades, new street lighting, median islands and traffic separators in select locations to improve safety for drivers.
82nd Ave. will be repaved, and curb ramps will be added and improved to meet Americans with Disability Act standards so that people using mobility devices, wheelchairs, and strollers can safely access sidewalks. This will greatly improve the accessibility of 82nd for all pedestrians.
None of these projects' construction will greatly affect McDaniel students from getting to school, Schafer claims.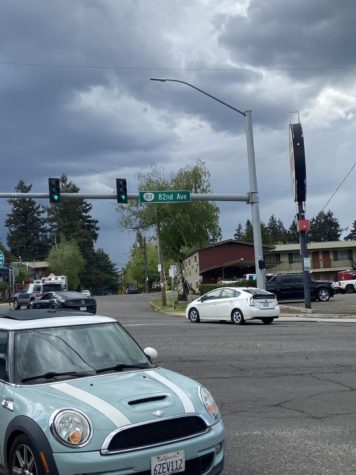 "PBOT has been working closely with the McDaniel PTSA and the Safety Committee to understand the transportation safety concerns and the various ways people get to and from the campus," Schafer said.
Students and staff should not worry about being left out of the discussion.
"During construction, we'll continue to work with McDaniel PTSA, school officials, and students to mitigate construction impacts near McDaniel and maintain access to the campus," Schafer said.
But how can 82nd maintain its progress after this plan is complete?
"After making the most critical repairs, PBOT will identify and prioritize additional safety and maintenance needs to implement in the long-term," Schafer explained. "Funding will be available to support some of these projects, but there won't be enough funding to immediately address all the needs on 82nd Avenue. We'll continue to seek funding for additional projects to address safety, maintenance, and other community priorities."
Many students are going to be lucky enough to see the end of the PBOT's project on 82nd Ave. in 2026; others will watch from afar with the memory of what once was. Either way the new developments will create a new level of safety for future students and staff.
If you are interested in learning more and helping in our community go to  "82nd Avenue Community Conversations" at 5:30 pm on June 12 at the Grotto for more information email [email protected]. Bring your family and friends!
Leave a Comment