Junior's Coffee brings equity-conscious cups to Cully neighborhood
Whether you're just dropping in for your morning caffeine boost or sticking around to enjoy the spring weather on the picnic benches outside, Junior's Roasted Coffee offers delicious specialty drinks you can enjoy with a clear conscience.
Over the winter, Junior's opened their first cafe in the artsy remodeled gas station on Prescott and 72nd Ave. By grounding their business model in building a fair and transparent supply chain, where no one–from the farmer to the customer–is exploited, Junior's encourages coffee lovers to think before they drink. 
As winners of the 2021 Oatly "Big Idea Grant" for coffee, founding husband and wife team Caryn and Mike Nelson have created ways for consumers to learn about the hidden costs of food systems. The Ask Me About the Cost of Production comic book, created in collaboration with coffee farming and import experts and the illustrator, Jim Kettner, is one such project. Available in English and Spanish, the comic is an accessible introduction to the global coffee market, both its problems and hopeful solutions. You can pick up your own copy at the cafe, or read it online on their website. 
In a time where so many world issues feel completely beyond the control of everyday people, this is an excellent way to empower consumers and remind them how impactful seemingly small actions can be. 
The superior quality and flavor of the drinks served at Junior's reflects the care which they put in behind the scenes. If you're looking to experience Junior's coffee at its purest, the cold brew is sure to satisfy; the rich, earthy acidity of the coffee packs a punch with or without milk and sweetener. Ranging from around $4-6 (with no additional charge for non-dairy milks), all drinks are available in one standard size, hot or iced. 
Fresh pastries are also available, including vegan and gluten-free options from local bakery Shoofly. The offerings rotate daily, including classics like croissants and chocolate chip cookies, as well as more unique treats like a savory scone with tomato jam, which perfectly balances out a sweet drink. 
Open seven days a week, from 7 a.m. to 3 p.m., you can count on Junior's for friendly faces, artsy atmosphere, delicious drinks, and behind it all, an exciting ethos.  
Leave a Comment
About the Contributor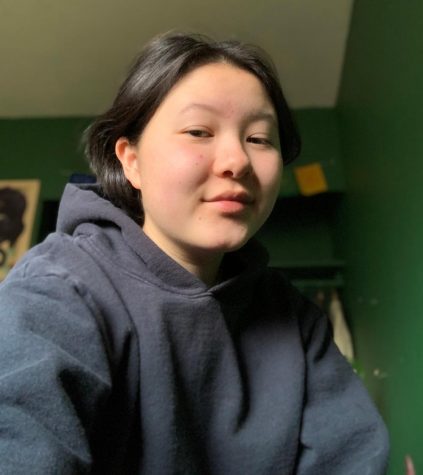 Grace Oh, Column Editor
Grace is a junior whose interests include trees, indie comics, and the history of marginalized peoples. Some people describe her as passionate, free-spirited and creative. They love being a journalist because they get to share stories from the community and have their voice heard.