Gish remains alternative rock perfection three decades later
The Smashing Pumpkins burst onto the alternative scene three decades ago, releasing Gish, Siamese Dream and Mellon Collie and the Infinite Sadness throughout the early '90s. While Siamese Dream popularized the band's powerful wall-of-sound style and Mellon Collie expanded on it, Gish remains in a unique space in the band's history.
Even after 32 years as of May 28, the album is one that can be related to in its unbridled anger and frustration for nearly every aspect of existence. It's stripped back, with all of the angst of lead singer and guitarist Billy Corgan at the forefront, minus the flashiness and distinct sound that the band would go on to find and perfect. In other words, Gish is all bite and no bark, even after all these years.
"I Am One" is the perfect summary of Gish. Clean, energetic drums kick the track off while a funky bassline mumbles in the background. A lazy guitar riff rolls over each snare hit before a peppy lead guitar comes in, restrained. Everything about this track is spitefully lethargic, as if even the instruments are fed up. The lead interludes are also a miniscule peak into the fast and overwhelming solos that Corgan would write throughout his career. Additionally, Corgan's voice is rough and grating, like it's balancing on a tightrope, each gust of wind pushing it dangerously towards collapse. As he calls out the words "See you/don't you just want to/See you/I am one," his voice rips through the instrumental, painting a picture of a '90s teen sitting around the family stereo, realizing that this was the start of something massive.
"Siva" comes next and waits for nothing, jumping straight into a catchy distorted guitar track as Corgan harmonizes cryptic lyrics. Lead guitar shines again as it bursts through the breaks between verses, squealing. The chorus sees a softer side to Corgan's voice, yet equally emotive with the lyrics "I don't live, I inhale/I don't give, I unveil/Don't want to live in your misery/I don't live, I inhale." Then, a sudden break as Corgan whispers over a quiet, almost jazzy drum track. Then a fill like bullets breaking the silence on an otherwise ordinary night leads the listener into a storm of cathartic fury as a solo louder than every rings out. Before anyone can process what has happened, the song cuts right back to a quiet, isolated vocal track. "Siva" is two very different types of insanity, it's ups and downs and most importantly, it showcases a trope that would become common throughout the rest of the band's discography: their use of the deepest tension imaginable, chipping away slowy at the listener's nerves, and its most overpowering release.
"Rhinoceros" is the third and most appealing track of the album in terms of catchiness and being straightforward. Static builds up and gives way onto wobbly and dreamy guitars riffing over each other. Between the guitars and Corgan's soft, almost motherly whisper, the song's first half is a soothing lullaby. Despite the lack of a traditional hard rock chorus like those present throughout the album, the song's first chorus is still a cathartic experience. As Corgan chants the phrase "She knows," his tone is tranquil and at ease yet satisfying, like watching water drip from a faucet. This doesn't last long, however, as the second chorus indulges in deep and dark rhythm guitar while Corgan whines, only to be mimicked by perhaps the most emotive and powerful solo of Gish. The final chorus follows, calmer again, closing an unforgettable track with a choir of abstract alien noise.
Gish is not an album devoid of flaw, though. It's repetitive, and without the grandiose heavy noise of later albums, the tracks have little novelty. Songs melt together into a grating drone of soft verses with Corgan's sandpaper voice followed by a shouting chorus intertwined with fast guitar solos. Gish is not an album to sit down and listen to beginning to end. However, the final track, "Daydream," manages to break from this mold.
Unlike the vast majority of the Smashing Pumpkins' discography, "Daydream" is not sung by Corgan. Instead, bassist D'arcy Wretzky sings the track over stripped back, soft instrumentals that complement her cool and lovely voice without overpowering it. It's a pleasant yet eerie track that is quite ahead of its time, as it comes very close to harnessing the folksy, laid-back sound of today's indie music. This track is also the only one to feature musicians outside of the band's main four members. Cello drones with deep humming sorrow early into the track, as if to emphasize this fact. As the song's coda repeats a final time, violin and viola join in for a triumphant close to a unique song before a hidden track begins.
The hidden track, referred to as "I'm Going Crazy," feels like a haunted take on the prior track, including Corgan's voice heavily distorted over a rolling lead guitar. This unusual track ends on a particularly dissonant chord, leaving the album unresolved, a fitting choice for a band that can never seem to get its anger out.
Gish, despite its repetitiveness present throughout, is still an incredibly expressive and powerful listening experience, giving a molecular scale view of the feelings and emotions that make up the Smashing Pumpkins as a band. As the album recently turned 32, there is no better time to indulge in Corgan's seemingly unending fury.
Leave a Comment
About the Contributor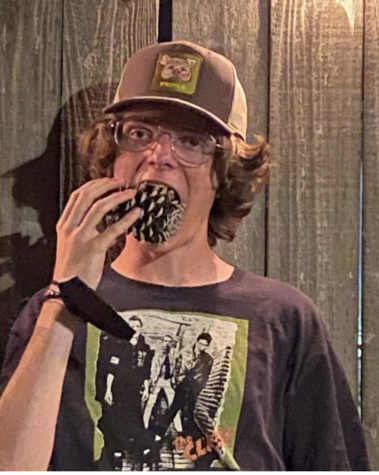 Lincoln Wheeler, Editor-In-Chief
Lincoln Wheeler (he/him) is a senior who loves playing hockey and guitar. He enjoys being a journalist because he wants to bring new perspectives and ideas to people.