Toyshop Ramen owner develops a new way of enjoying a restaurant
Toyshop Ramen, a flashy and fun new ramen restaurant on Killingsworth St., is making headlines after getting featured in Portland Monthly, Eater PDX and Good Day Oregon. 
The restaurant's menu includes a lot of classic ramen flavors, such as miso, spicy miso, sea salt and soy sauce. It also has other items like agedashi tofu and chicken karaage. Some starters to choose from are Popcorn, Katsu Korn Dogs, Pickle Plate, and a Cabbage Salad. 
The owner, David Sigal, said that the idea of the restaurant started with a food cart and make-your-own ramen kits supplied by his partner, Isaac Ocejo. Once restaurants started to open back up later during the COVID-19 pandemic, there was more freedom in what they could do.
Gabbiano's is another restaurant that Sigal owns. It happens to be right next to Toyshop Ramen and has also become very popular. 
"When we started doing Gabbiano's [Ocejo] started doing full on pop-ups in the restaurant. They were going very well, and we had a lot of fun doing them," Sigal said. 
The popularity of the pop-ups gave Sigal the idea of opening up Toyshop Ramen. The idea of the arcade games in the restaurant came from both their childhoods and Portland's culture. 
"We grew up playing a lot of arcade games as kids and also Portland is a big pinball town so we just wanted the space to be really fun and goofy and that's what the name Toyshop came from," Sigal added. 
The inside of the restaurant is decorated with toys, a stylistic choice by Ocejo, the chef.
"Isaac, our chef, he's a big time toy collector, and he really loves vinyl toys so we kinda snowballed from there," Sigal described. 
Students here have experienced the restaurant, including sophomore Jackson Hyman De Young.
"It was really cool that they had arcade games, and they have an ATM in there, so you can get quarters from there," Hyman De Young described, "and they also have standing tables where you can wait for a seat." 
Sigal's career began in 2011. He initially wanted to be a chef, but his career shifted to bartending.
"I quickly realized that bartending is much more lucrative and much less dangerous than cooking in the kitchen, so I kinda fell in love with bartending," Sigal explained. He also added that bartending is a more on-the-job learning experience than cooking. 
COVID-19 has affected a lot of small businesses, but in Sigal's case, it inspired him to create his own restaurants.  
"I think COVID was really horrible for the restaurant business in a lot of ways and in some ways it created new opportunities for people like me. I wouldn't be able to open a restaurant if it wasn't for COVID," Sigal said. 
When he opened his first restaurants he made a change; he believes that staff should get 20 percent gratuity when you order from the menu. 
"I think there's this new priority to it that's really important, we do a 20 percent gratuity automatically on all checks, and we did it at Gabbiano's and we do it here," Sigal explained.
The restaurant doesn't focus on just ramen; it changes into a bar after 9 p.m. 
Sigal doesn't plan on opening another Gabbiano's or Toyshop Ramen, instead focusing on making more restaurants. 
"My thought is like I wanna use other opportunities to open new things," Sigal added. "If someone wants to eat at a Toyshop, they have to come to Toyshop, I want this place to feel special."
Something that Sigal believes is unique about Toyshop Ramen compared to other ramen restaurants is that it's experience-oriented, more of a dinner place than a lunch place.
"I'm not a chef, so my part of it is I really wanna make sure when people come here they're having a unique experience they like that's fun and goofy," Sigal said.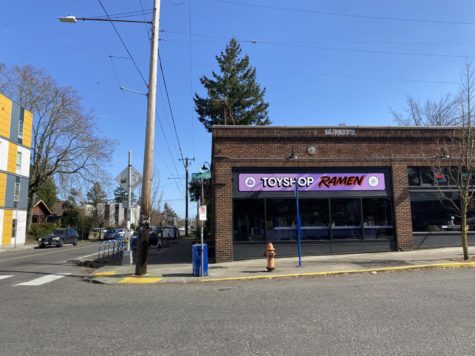 Leave a Comment
About the Contributor
Jackson Mailey, Sports Editor
Jackson Mailey (he/him) is a sophomore and his interests are sports, movies and sports cards. People describe him as funny, smart, and caring. He loves being a journalist because it can help him into the future and what he wants to do in the future.