New club provides religious safe space for Jewish students, allies
The Jewish Student Union (JSU) held its first meeting on Nov. 1. Since then, meetings have been held every other Tuesday, focusing on a variety of activities related to Jewish culture and religion. The club focuses on providing a trustworthy place for Jewish students and allies to be, where their identity can be celebrated and current events can be discussed.
"[Our goal is] to get Jewish students and allies in one place and to have a place for students who want to connect to Judaism or want to know more about it [and] want to be an ally," Jennifer Edelson, an ESL teacher who is Jewish, said. "Because, you know, there's a lot of discrimination against the Jews."
The club formed when Edelson and senior Marley Sussman were introduced by Spanish teacher Marisol Rodriguez. They found common ground with their Jewish identity and soon decided to begin a JSU.
"Ms. Edelson mentioned that she wanted to start a JSU and I was like, 'I want to start a JSU too,'" Sussman explained.
With the help of Moshe Carr, the JSU Oregon Director, a club was established. Since then, the JSU has begun to build momentum.
"You know, I would say for the first year, I'm pretty impressed with the number of students that are coming," Carr said. "Also the level of engagement."
The club mostly involves activities organized by Carr and led by Sussman. While oftentimes the club revolves around food and holidays, there have also been discussions about current events related to antisemitism. So far these discussions have centered around acknowledging current instances of antisemitism on a large scale and have yet to focus on personal experiences, according to Carr.
"When we did have those sorts of talks, it was more like recognizing what's going on in the world around us and understanding that some things people might say as a joke," Carr said, "and other people take that as an opportunity to boost their feeling that it's acceptable to say these types of [antisemitic things]."
Even in more lighthearted activities, club members like senior Eli Watnick-Wizeman have taken away valu-
able learning experiences.
"So, I went to JSU for the fi rst time, and I'm not gonna lie, I learned a good amount about Jewish holidays and heritage, and I thought I knew a lot about, you know, my past and our history," Watnick-Wizeman shared, "but it turned out there was a bunch more holidays that I had no idea were actually a thing…I've learned a lot, and I wasn't
expecting to."
In addition to inviting all Jewish students to participate, the JSU also welcomes non-Jewish allies to their club. This allows for Jewish culture to be shared with students who otherwise might not experience it.
"Not only are we just celebrating our culture, but we also get to share it," Sussman said about the JSU's inclusion of allies.
Senior Sam Greene is a non-Jewish ally who attends the JSU. Greene talked about how his takeaways may differ from those of Jewish members.
"While other people might be going there more to maybe celebrate or talk to people who celebrate, I'm kind of going there to learn about it and get information," Greene said.
As for the future of the club, Sussman hopes to see the addition of a board of students leading the club, as well as the collaboration of the JSU with others at a city level.
Leave a Comment
About the Contributor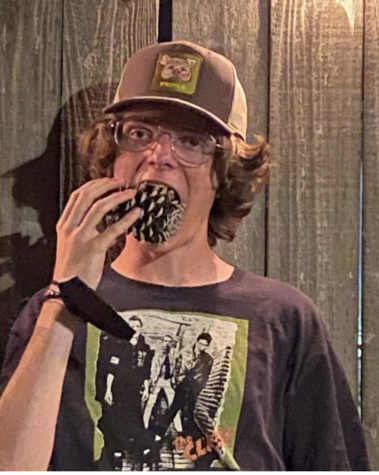 Lincoln Wheeler, Online Editor-In-Chief
Lincoln Wheeler (he/him) is a junior and his favorite things are guitars, online newspapers and the beach. People describe him as friendly and cheeky. Lincoln loves being a journalist because he likes bringing new ideas and perspectives to people.