Escapism: Songs to distract from reality
The definition of escapism is "the tendency to seek distraction and relief from unpleasant realities, especially by seeking entertainment or engaging in fantasy." There are many forms of escapism, such as books and television. Music is a big one for people of all ages, but specifically teens, as they explore their taste in music and deal with new responsibilities. 
This playlist will cover a few songs enjoyed by young adults that help them escape from everyday life. Personally, as I am trying to escape from my laundry duties, these songs really help. 
Sympathique
Pink Martini
Despite Pink Martini being based in Portland, this song is entirely sung in French, something that the band is known for. It is slightly more cheery than other songs on this playlist, but the lyrics when translated to English are still about forgetting or escaping something. For example, the lines "I don't want to work/I don't want to have lunch/I only want to forget it." The singer does not want to do anything, something I can relate to in my final semester of senior year.
Whether it be school, work or a plethora of other responsibilities, high schoolers tend to want to escape from a variety of inevitable growing pains. An upbeat song such as "Sympathique" might help them do so. 
Exist for Love
Aurora
This song by Norwegian singer-songwriter Aurora is a calmer track. It delves into the feeling of being protected by one person that truly loves you: "And then I learned the truth/How everything good in life/Seems to lead back to you." Aurora continues in the chorus to say, "And we exist for love/Only for love." This expresses the escape that finding someone to love can be, having one person to run to as a form of escapism.
I've experienced this with friendships. Sometimes you get so caught up in loving someone that everything else fades away. This is helpful, especially when you have a feeling you want to escape from.
Fidelity
Regina Spektor
This is another song surrounding the idea of love, but in a different lens than "Exist for Love." "Fidelity" feels more like being stuck in a love that isn't healthy, but ignoring it until it becomes too much. The line, "Suppose I kept on singin' love song/Just to break/My own fall," captures this idea that Spektor just kept pretending in order to protect her heart. She searched for distractions as a way to escape what she was feeling: "I got lost/In the sounds/I hear in my mind." 
This is a good song to listen to if you are going through a rough patch in a relationship, whether it be romantic or platonic.
A Great Design
Black Marble
"A Great Design" is an alternative indie tune that has the intention of making everyone who listens feel a little less alone in the world. To me, it feels like having a connection with one person that makes everything else fade into the background, someone that understands how you view the world. The line, "Shame the world/Shame it with your words and I'll smile" expresses that well. The artist is using this person as an escape or comfort from whatever is bothering them.
Birdhouse in Your Soul
They Might Be Giants
This catchy song by alternative rock band They Might Be Giants tells the story of a nightlight that looks out for people. "Blue canary in the outlet by the light switch/Who watches over you/Make a little birdhouse in your soul." This line in the chorus represents the meaning of the song, which is being protected by the little things in life. Escapism is similar in the way that people focus on the details to get away from the big picture that might be overwhelming. 
The metaphor of having "a birdhouse in your soul" is a sweet sentiment of shelter, or having a sort of guardian angel always protecting your emotions. "I'm not your only friend/But I'm a little glowing friend" explains that the person being watched over has other people to confide in, but the nightlight will always be the second line of defense for the soul.
These are just a few of the many songs that teens relate to in the veil of escapism. Each one has its own unique melody and topic. My hope is that someone finds a new song to escape to through this playlist, happy listening!
Leave a Comment
About the Writer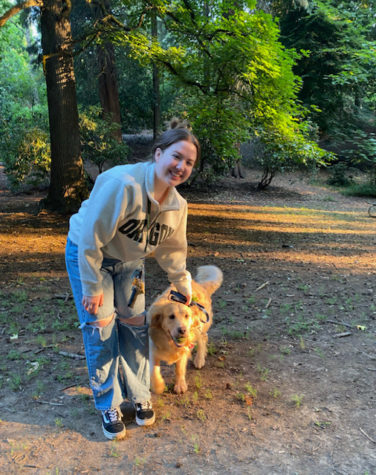 Eva Andrews, Print Editor-In-Chief
Eva Andrews (she/her) is a senior and her favorite things are live music, print newspapers and rain. People describe her as thoughtful and compassionate. Eva loves being a journalist because she likes interacting with and writing for the community.