A look into the high school life of Mr. Maves
From classes, sports, clubs and more, there was nothing in high school that CTE Digital Media teacher Randall Maves wasn't willing to give a try. As a teacher, he's encouraging others to do the same. 
Maves teaches intermediate graphic design, intermediate printmaking, CTE Capstone, and CTE print shop class.  He attended Middleton High School in Middleton Idaho, and he's currently in his 34th year of teaching. 
Maves enjoyed a lot about high school. His favorite classes were language arts, history, and art class.  
"My language arts teacher… he always had this place where you can come in and you always felt like you can just be who you are," Maves said. "I kind of pattern my own teaching to be very much like that." 
Maves was a varsity athlete as a freshman. He was fully committed to sports, playing football in the fall, powerlifting in the winter, and track in the spring. 
His funniest high school memory was during football practice, when his coaches were participating in a scrimmage against the team. 
"So Mr. Mather was this huge guy, he bent over to hike the ball and his pants just split wide open and it was pretty good," Maves described. 
Mr. Mather had hung the shorts in his room after that.
 "I went back and taught at my old high school for a couple of years, and he still had those shorts hanging up in his room with the big torn out *ss crack." 
Maves didn't just enjoy playing football, he was also a very talented athlete. He was voted most likely to be a professional football player for his class superlative and was recruited to play in college. He would have rather done track in college, but he had a full ride to Idaho State for football, which he ended up taking. 
Things started changing during his senior year, though.
Whenever something changes in your situation, you have to report it to the school. Maves' situation changed quite a bit during his last year of high school.
 "Yeah I got married March 17 of my senior year, and so then I had to change my NCAA personal status form… you have to report any changes in your situation so I had to change that," Maves states.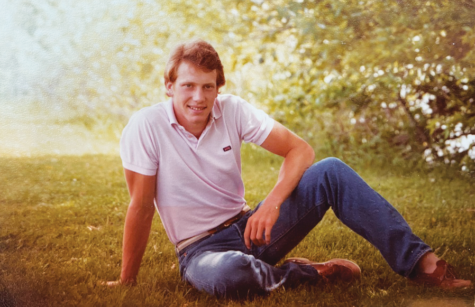 The coach from Idaho State ended up calling him. 
"He called me and said, 'Hey, I noticed something changed, you got married.' So they said 'Why don't you walk-on', you know, cause I can't go down there with a wife and a little kid," Maves explained. "She was pregnant, so safe sex always. Be smart." 
He instead went to a much smaller school which he enjoyed more, being able to run track. To this day, he is happily married and has six grandkids. 
Winning four gold medals at the state track meet as a junior was his favorite memory from high school. A close second would be when he, as student body vice president, was in charge of putting on their junior prom. He and his friend decided to do a "MORP" dance.
"It was all backwards, so we played songs backwards and we invited every single student personally," Maves explained. "It was insane, the craziest dance of all time, it was fun."
Maves can remember the exact moment he knew he wanted to become a teacher. After being misplaced in an advanced math class, he chose to do art instead. At the time he enjoyed art, but would never imagine himself taking it as a class. However, once he finally attended one, art became a passion. 
Eventually his teacher asked him to be his aid for a 7th grade art class. After his first day helping out, something clicked.
 "By the end of that class… I just knew that I wanted to be a teacher somehow," Maves said. 
Looking back on those four years, Maves only has good things to say. Living in a small and connected community, he remembers high school being a great experience.
 "If the lights were on at the school, I was there. I loved it," Maves said.
His final piece of advice would be to try everything, since you never know what the outcome might be. 
"Take risks, jump in there and try things," Maves said. "Don't be afraid just because you don't have any experience with it." 
Leave a Comment
About the Contributors
Amelia Davidson, Reporter
Amelia is a junior, (she/her) and she is passionate about reading, soccer and her cats. People describe her as friendly and funky. She loves being a journalist because she enjoys writing stories for the community.
Lilah Carey, Reporter
 Lilah is a junior, and she/they are passionate about writing, softball and sleeping. People describe her as funny, chaotic and caring. She/they loves being a journalist because they like telling people's stories.