The Little Mermaid: The importance of Black representation
The new Little Mermaid movie coming out in May of next year has caused quite a stir. Despite being the target of overwhelming criticism, it is important to recognize the impact the movie will have on young Black girls when it's released.
A common theme throughout Disney's movies is a lack of diversity, particularly in princess movies such as Beauty and the Beast or Snow White, with the exception of Tiana from The Princess and the Frog. It supports the false idea that being a princess requires a fair skin tone. 
Having a Black mermaid is important for the Black community, specifically young girls. Seeing themselves portrayed in movies along with being able to relate to a princess like Ariel is a huge step forward. 
In an interview done by Variety, Halle Bailey, the actress who will play Ariel, talked about a conversation she had with her grandparents regarding the new movie. 
"It was an inspiring and beautiful thing to hear their words of encouragement, telling me, 'You don't understand what this is doing for us, for our community, for all the little Black and brown girls who are going to see themselves in you,'" Bailey explained. 
These reactions go to show just how helpful the new production will be. 
Bailey wonders how her younger self could have been positively influenced by a person of color playing Ariel.
"What could that have done for me, how could that have changed my confidence, my belief in myself, everything," Bailey reflected.
Sophomore Aaralyn Bowen enjoyed the original Little Mermaid movie.
"I remember watching it and actually liking it," Bowen remarked, "I like the underwater theme. I thought it was creative."
Bowen also believes that to all viewers watching the movie that will come out, it will affect them.
"A part of anything that you watch, you're influenced by, so it must be nice to have that representation," Bowen explained.
Following that, Bowen also commented on the mermaid being a different skin color than the previous movie. 
"I think it's cool that they're adding diversity," Bowen added.
Bowen shared some thoughts on the people fighting back against the movie. 
"I mean it's just racism," She said, "I think it's horrible that people are acting like the movie is worse because there's a black female lead."
Freshman Janiah Ferguson, a Black student  who goes to Parkrose, offered more thoughts. This topic impacts her as she loves Disney movies and grew up watching them.
"I think that the backlash is ridiculous. If you have an issue with Ariel being Black then it is obvious that you have something to work on yourself," she pointed out. 
Referring to the actress herself, Ferguson had some thoughts about Bailey being the new mermaid. 
"I….think that it's awesome that it is being played by Halle Bailey. She is gorgeous and has such an amazing voice," Ferguson stated. 
Ferguson also agrees with the idea that the new movie will certainly make young girls of color feel satisfied with themselves. 
"I think the new movies will make young colored girls feel more comfortable to be themselves. And help them believe they are able to do and be anything they want. There aren't any limitations," Ferguson said. 
Even though there are many people excited for the upcoming movie, social media can be a dark place, with negative thoughts about the movie also swirling around. On Twitter, there has been a #NotMyAriel hashtag, with numerous users finding issues with the new movie and attacking Bailey. 
All in all, despite backlash, this movie has the potential to do spectacular things to the community of young girls of color. They will finally be able to look up at a screen and see someone with their skin tone beaming back at them.
View Comments (2)
About the Contributor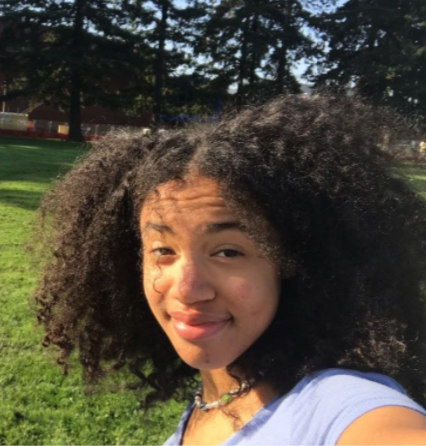 Odessa Berry, Opinion Editor
Odessa Berry (she/her) is a junior who enjoys playing soccer, baking and hanging out with friends. She is a journalist because she likes reporting on important stories and sharing information and ideas with the community around her.