Finding comfort in an emotional environment
Head coach Jamie Minkus is leading a group of students who have a passion for movement to be a part of a dance company here that focuses on performances. 
Meeting two times a week after school, the team learns a plethora of dance styles, including salsa, afro-contemporary and hip-hop.
Each practice starts out with a check-in before diving into stretches in the middle of the yoga studio. They then move in front of the mirrors to follow Minkus's lead in learning and practicing new pieces of choreography. 
Sophomore Samantha Regis appreciates that the whole team works together during practice.
"My favorite part of the team is probably the fact that we do a lot of things in unison," Regis expressed.
They also shared how Minkus pushes the team. 
"As we're practicing she'll go up to us personally and mention how to change what we're doing to better match the choreography," Regis said. 
Minkus is open to teaching the group whatever they are interested in, even if that means her having to learn something new.
"My avenue with the kids would be like 'What do you guys want?' and we'll go there even if I don't know how to do that," Minkus explained. "I will learn with [them]."
Recently, Minkus has been teaching them a type of Cuban-style salsa called Casino as well as an afro-contemporary piece. The group is moving away from the idea of competing, opting for a dance company approach. 
Minkus's goal for the team is to have a performance in the theater composed of choreography they all put together. While that's the end goal, this is the first year the school has had any sort of dance program. 
"This is like starting at ground zero. There's no foundation for this, so I'm seeing what works as I go," Minkus shared.
As well as this being a new program, the team is trying to find comfortability with each other. Dance can be very emotionally expressive, they need to feel comfortable in the space. One of Minkus's top priorities is making sure the whole group feels safe.
"We need to have an environment where we are trusting with each other," she said. "Where we can express ourselves and create authentically."
Freshman Kathy Nguyen said that Minkus has achieved her goal. 
"It's a great creative outlet and a revitalizing environment," she shared. "[Jamie] makes the dancing room feel like an open free space."
Minkus has been teaching dance for about 10 years, mostly with younger children. She's excited about leading a group of teenagers that can do more than elementary-aged kids.
"I really missed moving with older bodies, bodies that have more fine motor skills," she explained.
Minkus has a piece of advice that has helped the team: 
"Keep going, even if you think you've messed up. If you stop you aren't giving yourself a chance to learn." 
Leave a Comment
About the Contributor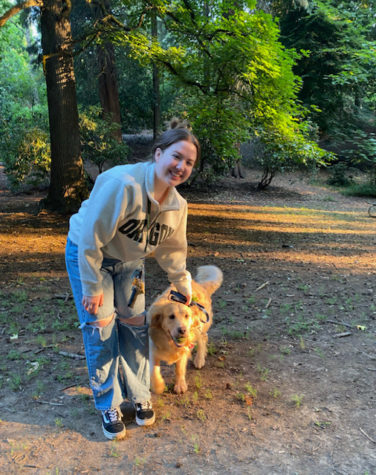 Eva Andrews, Print Editor-In-Chief
Eva Andrews (she/her) is a senior and her favorite things are live music, print newspapers and rain. People describe her as thoughtful and compassionate. Eva loves being a journalist because she likes interacting with and writing for the community.