Former City Commissioner Jo Ann Hardesty gives students insight into successes, struggles of term
On Halloween, incumbent City Commissioner Jo Ann Hardesty (Democrat) attended a town hall meeting with senior inquiry (SINQ) and government classes, in which she addressed students' concerns, specifically in connection to her re-election campaign. 
The meeting, held in the library, was intended to be a panel for students to engage with both City Commissioner candidates. However, newcomer Rene Gonzalez (Democrat) canceled last minute due to personal circumstances. Gonzalez's team communicated with SINQ teacher and event co-organizer Matt Reed that he was open to rescheduling for another date. 
The topics which Hardesty was questioned on include mental health and housing services for the houseless community, public safety–specifically on 82nd Ave. and public transportation– and her personal experience in city government. The questions asked by students were organized by the SINQ class, who surveyed and compiled their highest priority issues in preparation for the event. 
During her presentation, she brought attention to the hypocrisy of the past four mayors, all of them declaring a housing emergency yet failing to take effective action to address it. 
"The difference between what elected officials tell us and what the data shows is that we have not been well served," she said. 
Hardesty then shared with attendees her alternative to addressing the houselessness crisis. 
In contrast to Mayor Ted Wheeler's plan, which notably includes criminalizing street camping and initially relocating 150 people into city-sanctioned camps, Hardesty proposes enacting eminent domain to grant the city the authority to zone and build affordable housing.
Houselessness was a major topic on which Hardesty was questioned on. 
SINQ teachers Reed and molo had surveyed the class on what local issues they care about. Over 90% of the class included houselessness in their response. 
When students asked Hardesty why she cares about houselessness, she shared that she was motivated to take action from witnessing rampant drug use: "You're seeing it on the street because people don't have doors."
Elaborating on this response, she brought up one of her key achievements as City Commissioner: the creation of the Portland Street Response (PSR) to help houseless people in crisis. PSR is a non-armed emergency street response team intended to be a safer alternative to police in critical mental health situations. Initially serving only the Lents neighborhood, the team expanded coverage to citywide in March. 
When called to situations which fall in their jurisdiction, PSR sends an emergency medical technician, social worker and a mental health professional trained in de-escalation. This system was designed with houseless people's needs at the forefront, Hardesty explained, including at one stage simply talking with houseless people, asking "What do you need?" 
A topic which arose often throughout the meeting was public safety, specifically as a concern of the McDaniel community on 82nd Ave. This issue is particularly fitting for Hardesty to discuss, since she was a major advocate for the transferral of the ownership of 82nd Ave. from the state to city government. With this successful transfer came a modernization and safety improvement fund of $185 million, which Hardesty hopes to put towards improving public transportation and equitable development.  
"This will be one of those transportation projects that I am committed to making sure that the people that live, work and worship on 82nd Ave. will be able to do it after the improvements happen," she said.
Students like senior Luna Cummins, a Trimet rider, and Hardesty agreed that there is much to do in order to make public transportation safe and accessible. 
"She takes Trimet like us," Cummins said, "she has all these experiences that all of us have."
While Hardesty admits there is not much City Council can do to push public transport companies to improve, as a frequent Trimet rider she has many concerns. She wholly disagrees with fare raises proposed within Trimet, saying raising fares is "the stupidest thing to do." 
When it came to concerns of human trafficking on 82nd Ave., Hardesty was clear to assert the difference between human trafficking and legal sex work. She acknowledged and showed support for the efforts of sex workers towards unionization and decriminalization, and said that what happens between consenting adults is "none of our business." Cracking down on legal sex workers is clearly not one of her priorities. 
Since the meeting Gonzalez has won the position of City Commissioner by a nearly six point margin. On Nov. 6, Joseph Santos-Lyons, Hardesty's campaign manager, released her concession statement to KOIN 6 News. In the statement she wished Gonzalez well in his new role and exited her position on a sobering note:
"…My hope going forward is that our city will be a place where people of all backgrounds can thrive, where no one is scapegoated because they are poor. This place we call home is suffering. This is disproportionate and remains rooted in [inequity] and exclusion. We have made real progress, and now my colleagues on the council and across our community must shoulder the responsibility to create systems of care. My mission remains to help make it so."
The outcome of this election will surely bring about major changes to city politics and policy.
"I think Portland went so far left that we see and feel that the future of our city's at stake," Gonzalez said in an interview for OPB.
In the same interview, Gonzalez shared that he intended to pursue a "tough love" approach to addressing crime and unsanctioned camping. This would include hiring at least 400 more police officers in order to ramp up arrests for low-level crimes and misdemeanors, and ticketing houseless individuals who refuse to enter shelters.
While Gonzalez will be facing re-election in just two years due to the redesigning of the city commission, it is unclear whether Hardesty will attempt to regain the position.
Leave a Comment
About the Contributor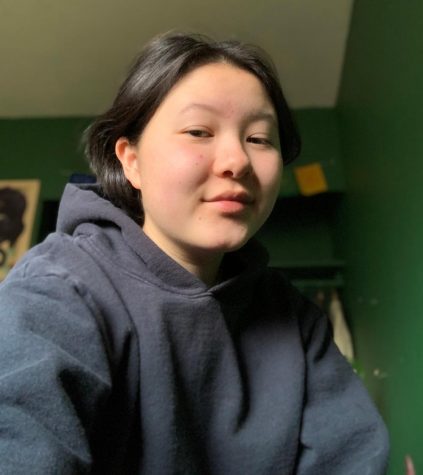 Grace Oh, Column Editor
Grace is a junior whose interests include trees, indie comics, and the history of marginalized peoples. Some people describe her as passionate, free-spirited and creative. They love being a journalist because they get to share stories from the community and have their voice heard.