There's a first time for everything: Camacho's Teacher Spotlight
Fresh out of graduate school, first year physics and chemistry teacher Rihanna Camacho quickly learned the highs and lows of teaching in a high school.  
Since graduating from the University of Portland in July with their master's degree, Camacho began their science teaching career this year.
Despite the long hours and tiring amounts of paperwork, Camacho reflects on their job positively.
Camacho quickly learned who their biggest supporters are within the school. 
"Mr. Kane is super awesome, I really appreciate him and what he has helped me a lot," Camacho explained. "Ms. Tiet, she's also super awesome and amazing and willing to help out when needed." 
Aside from Kane and Tiet, they praise the entire science department for their warm embrace as they transitioned into teaching high school science. 
However, not everything is as cheerful as it may seem, Camacho admitted. 
"Sometimes I wish there was a little bit more support in terms of helping out a first year teacher," they noted. 
They mentioned how grateful they are for the administration's support during their transition. 
 "Admin also does a really good job of being awesome and supportive when they need to be," Camacho said. 
Camacho also works through the struggles of being a teacher.
"I am also a human being, and my weekends are your weekends and sometimes things just don't get done because I am just tired." 
Camacho looks forward to gaining more experience in the classroom, as they believe that the more years under your belt, the closer you are to being the ideal teacher you want to be. 
Although their time has been short, Camacho has already discovered their favorite part of being a teacher.
"I love seeing [students], as students get really excited about learning and when [they] get really excited about the outcome of something," they explained. "When [students] have a good time with it and really be hands on." 
Witnessing students' curiosity grow has been the most remarkable thing for Camacho's career thus far.
No matter a person's background, Camacho believes everyone has potential for great things. 
"Every person no matter who they are can be a scientist," they said. 
Camacho's love for science holds strong as they continue to teach their students and collaborate with other educators in the science department.
Leave a Comment
About the Contributor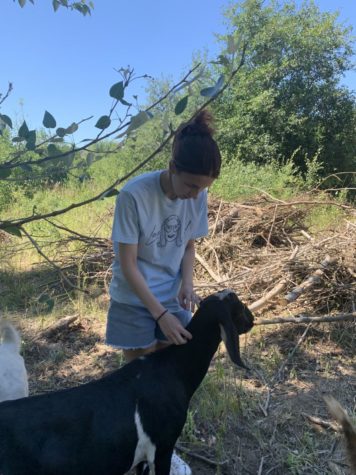 Lilly Santangelo-St. Martin, Online Associate Editor
Lilly Santangelo-St. Martin (she/her) is a senior, she is passionate about her job, friends and family. People describe her as witty, smart and compassionate. She loves being a journalist because she likes to report topics in creative ways, not just through writing.