Profound respect for students: Matt Reed's Teacher Spotlight
Social studies teacher Matt Reed recently explored his passion for teaching, as he became an educator and discovered his care and admiration for students while working with them in a classroom.
Matt began his career fighting for social justice for over a decade after his childhood in Ripon, California. Now, as a teacher, he still fights for social justice in a classroom setting.
After graduating high school, Matt attended the University of Washington in Seattle. Being that an available union organizing position in Portland, he decided to make the move down here.
As a union organizer, aside from assembling protests and rallies, he met with people and talked with them about their experiences being underpaid and mistreated at work.
"I realized that the people I worked with really lacked any critical education about the way politics work," Matt explained why he decided to shift to a career as a teacher.
It had been Matt's goal to try teaching at some point in his career. He started teaching in 2015, while his career here started in August. Before becoming an educator, he had almost no expectations for what the job would entail.
Even though he did not know what to expect, he still persevered and found help from other teachers.
"I spend a lot of time working with other educators to build curriculum," he said.
He even spends time outside of work collaborating with other educators.
Matt was first introduced to a teacher that made him passionate about educating when he was in high school in a small rural town. Matt described this educator as a mysterious and incredible Ukrainian man.
"He was the first person that really introduced me to the idea that it's a privilege and an honor to have access to thinking critically about the world and that with that privilege and honor comes responsibility," he explained.
What stood out to Matt about his teacher was the way he took learning seriously, but not a traditional shoving-information-down-your-throat way.
He quickly learned how the connection between teachers and students can affect a learning environment.
"The magic of the classroom is between students and teachers," Matt noted.
Although he had little expectations for teaching before he stepped into the classroom, he now experiences many moments of joy working with students.
"It's not just when they have an a-ha, it's when they do something with the a-ha that they have," Matt said.
Knowing that his students take what they learned in class into the real world is one of the best parts of teaching for Matt.
Matt noted that the most rewarding part of his job as a teacher is when students start student groups or clubs based on what they learned in class, or when they do something for their community.
As a teacher, he is surrounded by rules and guidelines he is expected to follow, which he feels should not be the case.
"I try very sincerely to not teach things I don't believe in," Matt said.
Matt believes that an A through F grading system is antiquated and does not set up students for success. He mentioned a grading system should be rooted in trust, not distrust as it is now.
So now he works very hard to make every part of his job delightful, even when he disagrees with the rules and policies he has to follow.
"Even with the best intentions… at the core, rules are rooted in the distrust of students and the distrust of teachers," Matt said.
Matt tries never to hide anything from students, he wears his heart on his sleeve.
"I really do have profound love and respect for my students, and I believe in their brilliance and I know that they have the capacity to do great things," Matt admitted. "I just see myself as one facilitator on their path. And all I'm trying to do is help them open new doors and new windows."
Right now, Matt has no plans to change his career, working with students and other educators has made him feel satisfied.
Leave a Comment
About the Contributor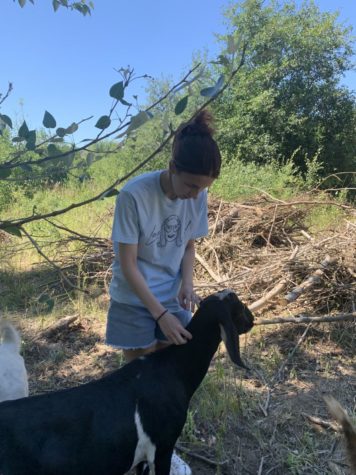 Lilly Santangelo-St. Martin, Online Associate Editor
Lilly Santangelo-St. Martin (she/her) is a senior, she is passionate about her job, friends and family. People describe her as witty, smart and compassionate. She loves being a journalist because she likes to report topics in creative ways, not just through writing.