A look into the high school life of Mr. Heath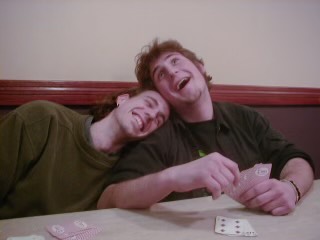 High school is a whirlwind of emotions and milestones wrapped up into just four years. We each have our own unique high school experience, but have you ever wondered what it was like for your own McDaniel staff? 
Derek Heath is the social studies teacher and debate coach. He attended Washington High School in Sioux Falls, S.D.
Heath did not particularly like high school, but he enjoyed his AP classes such as US History, Government and English. Other than that, he doesn't recall his high school career being particularly engaging or enjoyable.
"I was like the kid who was really into Dungeons and Dragons in the 90's, and the town that I grew up in a lot of ways was maybe not an ideal place for a not athletic Dungeons and Dragons kid to grow up," he said. 
Heath struggled with math due to being put in advanced classes he was not prepared for. He had not mastered the background concepts needed for the kind of math he was placed in. Because of this, he recalled falling behind in class and not being in a position to be able to get caught up. 
"It's a fantastic reason to not cheat yourself into a position where you can't succeed," Heath said.
Although Heath did not particularly enjoy Speech and Debate back then, his favorite memory from high school comes from a debate tournament. Heath attended the country's biggest national circuit tournament, with teams from all different states. Heath was not the top seated person on his team, which is what made his winning of the whole tournament that much more surprising to his debate coach.
 "I was like the round out team, and I ended up winning the tournament and my coach was mad," Heath said, "cause he didn't care about that, he had like a couple of hand-picked kids that he wanted to do really well, and they did well, but they got knocked out." 
The tournament was about 16 rounds, and by round 12, everyone at his school had been knocked out. After around 12 hours, it ended and Heath took first place.
Heath recalls that his funniest high school memory was when he got to snub the future governor of South Dakota Kristi Knoem, not once but twice. He was not the biggest fan of Knoem. After winning the debate tournament he got invited to a young Democratic/Republican future leader event for a business organization. 
Knoem had just finished up a speech, when Heath had a chance to interact with her.
"She's going to shake hands afterward, and I refused to shake her hand. But like very smuggly I was like, 'I don't think so,"' Heath said. "Then I did that again two or three summers ago at a buddy of mine's bakery…she's shaking hands and she got to me and I was like 'no thank you.' I got to snub her twice in my life." 
At the end of his high school career, Heath was voted for two superlatives.
"I was voted most likely to help you dispose of a body. And then I was voted–, it was something about disappearing and living in the woods. It was something about who is most likely to flee to the woods to escape the FBI or something," Heath stated.
When Heath reflects back on his high school career, he remembers how truly fast those four years went by, even if it didn't seem that way in the moment. He feels he could have had more fun in high school if he had just existed in the moment rather than inside his own head so much. 
As a final thought, Heath added, "Experience things, enjoy things, take advantage of the fact that I had comparatively very few responsibilities or obligations. That's what I would have done."
View Comments(1)
About the Contributors
Amelia Davidson, Reporter
Amelia is a junior, (she/her) and she is passionate about reading, soccer and her cats. People describe her as friendly and funky. She loves being a journalist because she enjoys writing stories for the community.
Lilah Carey, Reporter
 Lilah is a junior, and she/they are passionate about writing, softball and sleeping. People describe her as funny, chaotic and caring. She/they loves being a journalist because they like telling people's stories.