We're all humans: Ms. Cinti's Teacher Spotlight
Second year teacher Cinti Tuan recently discovered her fondness for teaching because of her taste for learning after spending years as a designer. 
"Liking learning is what makes me passionate about teaching…I get to learn still," Cinti explained.
The design teacher has developed an appreciation for learning that she credits to the teachers she's had throughout her life. In high school, her history teacher would encourage her to question the material put in front of her, which ended up being one of Cinti's first experiences with a teacher that encouraged her passion for learning. 
Cinti worked with Nike, Adidas, Google Fiber, Wildfang, New Seasons and other big and small nonprofits creating brand campaigns. After a 20-year long career in design, she realized that the path she was currently on was no longer her calling. 
"This [teaching] came to me after spending a career and a lifetime being a designer," Cinti said.
Born and raised in Houston, Texas, Cinti moved to Los Angeles, Calif. at 15. She began attending college at the Art Center College of Design in Pasadena, Calif. and then finished graduate school overseas at the University of Art and Design in Basel, Switzerland. 
Since she was a teenager, Cinti knew she wanted to become an artist. Her parents encouraged her passion for art and design and created a supportive environment as she navigated through her career.
"My parents really pushed me into design," she said. "They thought it was a little bit more practical [than art]." Cinti's parents did not want her passion for art to go away, they would rather her channel it somewhere else.
For her parents, a compromise for a career in art was a career in design.
After spending two years in Switzerland during graduate school, she moved to Portland.
"I really fell in love with Portland," Cinti noted after Nike flew her out for an interview in Portland. She loved the vibe and people of Portland.
Twenty years later, being a designer was not her calling anymore. After Cinti's daughter was born in 2009 and she began attending school, Cinti noticed that her daughter's school had a lot of racial diversity within the student body. The lack of representation among the staff, however, pushed her to pursue her career in becoming an educator. 
"Having been in design for so long, I know what that feels like," Cinti said. "I firmly believe we need to see representation [of] ourselves in order to be able to see ourselves in positions of leadership and possibilities." 
During her time as a student, Cinti recognized how fortunate she felt to have teachers that represented her as a person of color, and she wonders where she would be right now if growing up she did not have teachers that looked like her. To her, representation is important for kids learning about the world. 
Cinti confesses that she experiences some loneliness as a teacher, even with a room full of students. She really enjoys the back and forth conversations between students and herself. For her, the connections she makes with students is the most rewarding part of teaching. 
When she reflects back on those moments when students have had personal conversations with her, Cinti admits she becomes emotional. 
"Treat us like human beings, you know? That makes us feel a lot less lonely," she said. "We are all human, we all have stories, we all have strengths, and we all have weaknesses. I think we are all here to feel accepted." 
She wishes students would always remember that she is on their side and there to support them.  
She is passionate about what she teaches her students.
"[Design] was about being curious, being able to communicate with people," she said, "Design is everywhere, the seat you're sitting in right now… the pen you're holding."
She prefers that students care more about what they are doing than the grade they might receive, and she wonders if grades should even matter to students. 
"I much rather students care about what they are doing," she said, "that they find satisfaction in that." 
 Her colleagues and the support she has received and experienced during her time here, has made her time here so much better than she could have imagined. 
"I feel so fortunate to be at McDaniel, we have such an awesome group of teachers here," Cinti said.
Leave a Comment
About the Contributor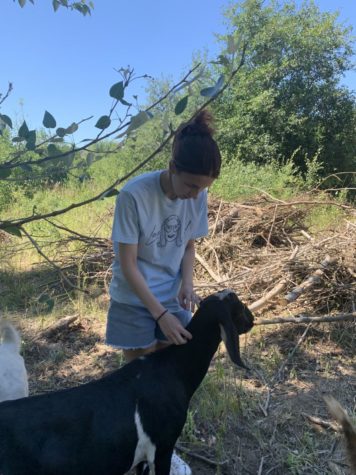 Lilly Santangelo-St. Martin, Online Associate Editor
Lilly Santangelo-St. Martin (she/her) is a senior, she is passionate about her job, friends and family. People describe her as witty, smart and compassionate. She loves being a journalist because she likes to report topics in creative ways, not just through writing.