Highlighting local musicians
Since the '90s, Portland has been a hub for many musicians, some even getting their career started here. From folk music to rap, Stumptown is a good place to be for music creators and consumers alike. This playlist is just a few of the talented artists that have a connection to our city.
Amine
E Turf
If you are a teenager in Portland, you have most likely heard about Amine. Not only because he is a Grammy-nominated rapper, but also because he is a graduate of Benson High School. Even after moving to Los Angeles, he continues to memorialize his life in Rip City through his lyrics and music videos. 
In the music video for Amine's 2017 song "Turf," he stands in a local grocery store. In the song he raps and sings about his life here and why he left, but also why he misses it. Lines like, "Not satisfied don't think I ever want to stay for good" and "Everytime I'm home I catch emotion like a seizure" capture some of his complex emotions towards Portland.  
The Decemberists
Down By The Water
This band originated in Portland when they began playing gigs at McMenamins to raise money for their first demo. They have continued to stay in the Rose City area while recording music and in-between tours. 
The folk song "Down By The Water" is off of their sixth studio album, The King Is Dead. This song is like a camping trip or a mountain getaway, exciting and slightly educational. The lyrics match the dense forest feel of most folk music, with lines like "See this ancient riverbed/See where all my folly's led." This pulls into the subject matter of maritime history, as does the rest of the song.
Elliott Smith
E Rose Parade
If you live in The City of Roses, enjoy alternative music and don't know about Elliott Smith, you might be living under a rock. Smith might be one of the most well-known musicians that started their career in Portland. 
With the help of the thriving music scene in the '90s, his song "Miss Misery" was included in the soundtrack for the critically acclaimed movie Good Will Hunting, and later got nominated for an Oscar for the same film.
Elliott Smith's song "Rose Parade" is a slower, melancholic song about Portland's own Rose Parade. I can imagine that this would be the perfect song for a teen movie montage, with friends smiling together even when the rain is pouring.
The lyrics tell the story of Smith being dragged to the parade by a friend, but enjoying it even though he didn't plan on it. Lines like "Ridiculous marching band started playing/ Got me singing along" show he had a good time at the parade. This calm tune was a way for Smith to share a part of the city with his listeners.
Pink Martini
Hang on Little Tomato
Pink Martini was established in 1994 and has continued to play music since. The "mini orchestra" began at Portland's very own Oregon Symphony in hopes of making inclusive music anyone could enjoy. Since then they have gone on multiple world tours, sharing their sweet-sounding creations.
The song "Hang on Little Tomato" is a lullaby to whoever needs it. The melody is created by a plethora of instruments played by the 13 members of the band, and the lyrics are sung by the angelic voice of China Forbes. The lyrics are just as calming as the tune, "Hang on, things will be alright." This song feels like a warm hug on a rainy day, as does most of Pink Martini's music.
Esperanza Spalding
Dancing The Animal (mind)
Esperanza Spalding is a Portland local who grew up in the King neighborhood, near Alberta St. She started out as a violinist for the Chamber Music Society of Oregon and ended up winning four Grammys and performing for former President Barack Obama. 
The song "Dancing The Animal (mind)" is about the internet and how it has affected society. This is shown in lyrics, such as, "Searching an engine for the ghost of truth." This line conveys that people in the present day search on Google for answers that can only be found through the unique human experience. Much of Spalding's works capture big ideas like this, so give her a listen if that is something you have been searching for in music.
Portugal. The Man
Modern Jesus
Originally from Alaska, Portugal. The Man moved to Portland before recording and releasing their debut album. Since then the band has been based out of Stumptown. Most well known for their Grammy-award winning and radio hit "Feel It Still," the band has been heard playing on local radio stations for years.
Their song "Modern Jesus" is a classic on many alternative Portland radio stations, most well known on KNRK, or 94.7. 
The upbeat indie song is a perfect summer jam; I still remember listening to it on 94.7 on the way to swimming lessons when I was in elementary school. Lines like, "They got a pill for everything" might have not been the most appropriate for a third grader, but nevertheless, I listened to and enjoyed it.
Pete Miser
E Scent of a Robot
Pete Miser was born and raised in Portland before moving to New York to further his musical journey. While in Portland, he was a part of a hip-hop group called Five Fingers of Funk that performed at local venues such as the Roseland Theater. 
Miser's upbeat rap song, "Scent of a Robot," tackles the gloom of everyday life while making you want to get up and dance. Lyrics such as, "I'm a robot programmed not to know that/ I'm a robot," show that Miser was writing with the perspective that we are all being controlled by someone. Some, but not all, of his songs capture deeper topics such as this one, but they all deserve a listen, especially if you enjoy hip-hop.
Leave a Comment
About the Contributor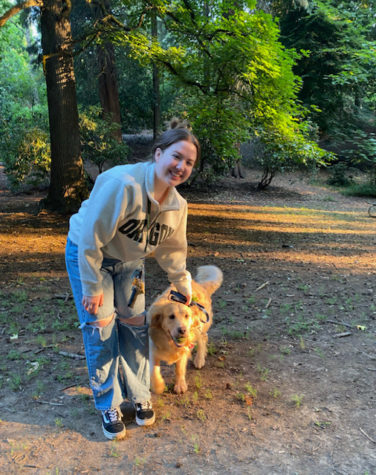 Eva Andrews, Print Editor-In-Chief
Eva Andrews (she/her) is a senior and her favorite things are live music, print newspapers and rain. People describe her as thoughtful and compassionate. Eva loves being a journalist because she likes interacting with and writing for the community.