On Avery Island–an indie classic–holds up after 26 years
Content warning: This story, along with the songs referenced, contain discussions of sexual topics and suicide.
Neutral Milk Hotel's debut album On Avery Island turned 26 this March. It is a lo-fi, hazy folk album filled to the brim with melancholy horns, distorted guitars, and the amateur–but hypnotic–voice of Jeff Mangum. The album is memorable still as the precursor to In the Aeroplane Over the Sea, the band's magnum opus album that scored a ten from the review site Pitchfork. 
On Avery Island was the torn and beaten sketchbook in which the beginning of a masterpiece was crudely yet charmingly sculpted. The eleven-song album is packed with an undeniably indie atmosphere and meaningful, vivid lyrics.
It begins with a track unapologetically called "Song Against Sex." Immediately Mangum shows the listener that this album will be an intimate, honest experience. No topic, no matter how taboo, will be ignored, whether it be the influences of media on sexual intimacy or even suicidal thoughts and actions. As far as instrumentation goes, "Song Against Sex" summarizes the album's sound well: crashing drums, strained vocals, loud guitars and horns like lullabies. All of these components are crucial to the album and Neutral Milk Hotel's sound, so it's only appropriate that a track so integral to the band's history reflects them.
The fourth track, "A Baby for Pree," is a glimpse at the sound that Neutral Milk Hotel would embody later in their short discography. With an extremely large emphasis on acoustic guitar and vocals, the track is more folksy than anything. Like wheat fields and creeks flying by at the side of a highway, "A Baby for Pree" flows with simple, beautiful sound. The song tells the story of childbirth in extreme detail, yet another occurrence of Mangum's unabashed writing. Fans of In the Aeroplane Over the Sea will no doubt love this quick track.
Perhaps the best example of the experimental side of On Avery Island is the fifth track, "Marching Theme." It is a complete and total diversion from the indie rock feel of the album. Instead of Mangum's comforting voice, there is a lead synth that whistles like songbirds in spring. The previous basslines are replaced with an apocalyptic, dark revving one. Tension builds up high and collapses throughout the track as a flurry of foreign sounds flood the listener. "Marching Theme" is a dinner-date with a 6'5" biker, a little bit intense but also sweet.
"Gardenhead / Leave Me Alone" is the eighth track and is part of a trio of songs toward the end of the album that truly stand out. Its opening is dark and grungy with classic, fuzzy Neutral Milk Hotel bass and lyrics like: "This time we ride roller coasters into the ocean/We feel no emotion/as we spiral down to the world/And I guess it's worth your time/Because there's some lives you live/And some you leave behind." Then, suddenly, stepping out of a dark room into the bright sunlight, the song switches to its second phase. It is far more grandiose and flashy with even more emotion and unusual lyrics: "Follow me through a city of frost covered angels/I swear I have nothing to prove/I just want to dance in your tangles/To give me some reason to move." This track is one of the album's most memorable songs.
Next in the trio of the album's best songs comes "Three Peaches." This piece doesn't necessarily stand out for its wild instrumentation, but more for its incredibly emotional lyrics and vocals. The album feels relatively upbeat and optimistic until this point, when the album begins to dip into sadder, more dark territory. Emotion is what makes Mangum's voice Mangum's, and it seems as though "Three Peaches" is the track in which it all spills out. At parts, his voice is resigned and hopeless only for him to break out into powerful and dramatic strength. The lyrics match the urgency and edginess of the vocals, telling the story of a failed suicide attempt. To finish off an impressively honest and compelling track, Mangum forces out the simple and heartbreaking line, "I'm so happy you didn't die."
The final track of On Avery Island's fantastic trio is "Naomi." One track prior, in "Three Peaches," Mangum comes across as kind and caring. In Naomi, he comes across as odd and stalkerish. Even more of a twist is that the lyrics and song as a whole are still incredibly endearing. 
The lyrics tell of Naomi, a woman that Mangum clearly is obsessed with, with lines like, "Your prettiness is seeping through/Out from the dress I took from you/So pretty." In this track, Mangum is like a strange hitchhiker whose motives are completely unknown. As far as instruments go, the chorus is extremely catchy and unique, focused around a soft, wobbly synth that is backed up by loud cymbals and guitar. "Naomi" and "Gardenhead / Leave Me Alone" are undoubtedly the champions of this eccentric and experimental album.
On Avery Island is a wonderful, surreal and experimental album that, while overshadowed by the more well-known Neutral Milk Hotel album, is just as pleasant and meaningful a listening experience. It's a truly bipolar album, with intense mania one track and quiet rumination the next, and it still holds up even after 26 years. Any fan of indie music or anyone fascinated by the '90s should definitely give this album a listen.
Leave a Comment
About the Contributor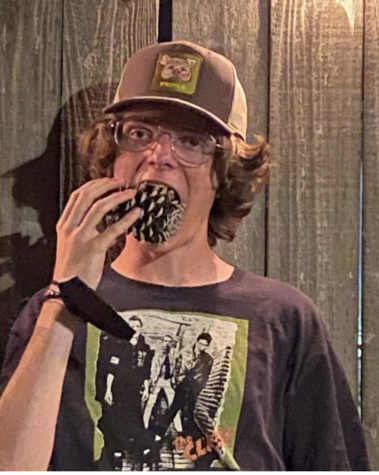 Lincoln Wheeler, Editor-In-Chief
Lincoln Wheeler (he/him) is a senior who loves playing hockey and guitar. He enjoys being a journalist because he wants to bring new perspectives and ideas to people.