Met Gala 2022: On-theme attire maintains atmosphere
This year's Met Gala has been the talk of the town on social media and news outlets. There have been mixed reviews and opinions on the wide variety of outfits worn by celebrities and New York politicians alike. Which leads one to start thinking, which ones are gaining praise and which ones are receiving more hateful comments?
The theme was American fashion with Gilded Glamor as the dress code, or guidelines for the night, in an attempt to steer attendees toward the Gilded Age of New York. This era was filled with massive downturn in the economy creating mainly negative ripples in society that benefited the wealthy. It seems very ironic for an event like the Met Gala, but most attendees didn't seem to follow the theme. This, in turn, diminishes the atmosphere of the event.
When thinking about what people wore during the Gilded Age, a period spanning the late 1800s, the mind shifts towards corsets, silk gowns with trains and embroidery, among other things. When imagining what present day style icons would wear to an event like the Met Gala, it is expected they would follow a similar concept so that the integrity and character of the gala is maintained.
Celebrities such as Kylie Jenner and Gwen Stefani did not even attempt to follow the guidelines, wearing somewhat unflattering and completely off-theme outfits. Their inability to follow the dress code impacts not only the ambience of the evening, but also the integrity of the occasion. 
For instance, Jenner showed up in a tacky-looking white dress with a mesh undershirt, accessorized with a veil attached to a backwards baseball cap. Not only did this not fit the Gilded Age theme, it was subjectively ugly. 
Junior Addie Jensen had some thoughts on Jenner's dress.
"It's so weird," Jensen said. "She is literally wearing a wedding dress…and she has a veil to go with it. So then she tried to switch that up with the mesh t-shirt and then a backwards baseball cap, which is a crashing of worlds. I can't handle that."
Jensen's response confirms that wearing an outfit like Jenner's throws off the worldly atmosphere created by the Gilded Glamor dress code.
Speaking of crashing, let's talk about Stefani's highlighter look. The singer walked the red carpet in a two-piece crop top and skirt in the brightest of bright yellow. It was accessorized with fake flowers made from the same neon color and detached sleeves, which presumably were meant to be seen as gloves.
This could have easily been a fabulous look, but the bright and monochromatic look really threw off the whole cohesiveness. There was no depth nor pizzazz added, and it was so far off from the Gilded Glamor dress code of the evening. 
Junior Siena Mrazik's thoughts were similar.
"I don't like the flowers very much, and the shape is weird," Mrazik said.
Again, by guests not wearing appropriate Gilded Age attire the whole aura is lost. 
Another celebrity besides Jenner that attempted the baseball cap look was Nicki Minaj. Just one question: who decided that duckbill hats were the right thing to wear to a gala? The rest of Minaj's outfit consisted of a black feathered dress and leather pants, tied together with a large golden belt buckle, none of which felt on theme in the slightest.
Jensen added to that, saying it looked like, "…a 2008 prom dress they just dug up."
Yes, there were plenty of off-theme, bad looks that night. But there were also wonderful and on-theme outfits; beautiful dresses with corsets and golden glamor that shone on the red carpet.
The outfit that created the biggest uproar was Blake Lively's. The Gossip Girl actress wore a dazzling, mirrored patchwork bronze Versace gown with an attached salmon-colored train, tied up in a bow. After walking onto the famous Met stairs, the bow was brilliantly untied to reveal an even longer train in a beautiful sea green. 
In a red carpet interview with Vogue, Lively shared her inspiration for the gown.
"This dress is an homage to New York City and so many of the classic iconic buildings," Lively said.
Lively's commitment to the theme allows for guests and red carpet viewers alike to be immersed into the atmosphere of this year's Met Gala. 
Pop star Lizzo showed up and showed out in a black and gold ensemble, including her golden flute which she played on the carpet. She wore a black dress with a split in the middle and an embroidered regal robe draped over her shoulders, which was tied into her outfit with her gold jewelry. The entirety of Lizzo's outfit was put together and on-theme, minus the fabric part in the middle of the skirt. 
Jensen tied into the conversation, giving her praise, "Queen. She literally looks like an empress. The robe thing, that's crazy. I love all of it."
We see in Lizzo's attire that the theme is elevated when attendees adhere to the dress code. It leaves all viewers more engrossed in the gala.
Speaking of royalty, rapper Cardi B walked the carpet in an outfit made entirely of golden coins and chains. While it didn't include a corset, this shiny dress was on theme in its own way. It tied into the wealth and gilded glamor of the target era, while still being extra in a very Met Gala approach. Mrazik explained the outfit well, saying "She looks like a treasure chest."
It is obvious that there was a wide variety of attire on the Met Gala red carpet this year. There were the awful, off-theme outfits that most people are in agreement should not have been worn. But there were also the elegant gowns and suits that encompassed the Gilded Glamor dress code of the event that should be praised. 
In the future, while planning the extravagant outfits, Met Gala attendees and designers should focus more on the dress code of the evening, instead of straying away from the well thought-out themes.
Leave a Comment
About the Contributor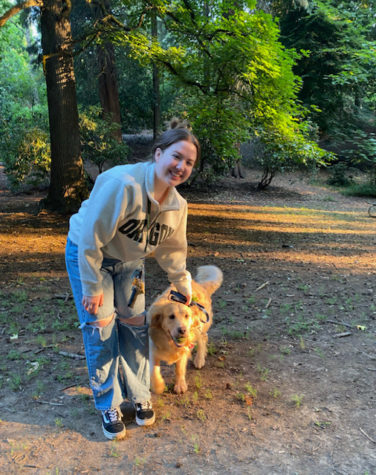 Eva Andrews, Print Editor-In-Chief
Eva Andrews (she/her) is a senior and her favorite things are live music, print newspapers and rain. People describe her as thoughtful and compassionate. Eva loves being a journalist because she likes interacting with and writing for the community.