Bridge over troubled friendships
The found family trope in literature and media describes a group of friends who have bonded to the point where they have a familial connection. They may have connected through similar trauma, or perhaps they went on a journey together that brought the group closer. One way or another, they have gotten to a point in friendship where they have linked on a deeper level. 
This idea is mostly found in books and movies, but here I have compiled a list of songs that have lyrical connections to the idea of close friends and getting to choose who you think of as your family. 
Dayglow, Dear Friend, 
This Indie song from the album Fuzzybrain illustrates how tough it is to say goodbye to someone you feel connected to and shows how this artist is coping with that loss by writing a song to that person. With lines like, "Some day, I'd love to know/ How you have grown since our last goodbye"  this song illustrates how difficult it can be parting with that person or people that you used to share everything with.
The frantic lyrics are a puzzle of Dayglow's mind, as his emotional stream of consciousness shows how he is truly feeling, "I hope you dont think im crazy/ If that's really what you think/ Sometimes I just feel so helpless/ I spend hours in my room/ Trying to formulate my feelings/ And clear the thought of you." But then Dayglow loses that melancholic emotion in his voice, as he sings the hook one last time, "Dear Friend, how have you been?/ I think about you from time to time."
Lorde, A World Alone
This 2013 alternative indie song by Lorde illustrates the awareness of everyone being against you besides one person: "You're my best friend, and we're dancing in a world alone/ World alone, we're all alone."  I think this can accurately be pulled back to the idea of found family, being that how when you are so close with certain people that it feels like you would be alone without them. 
There is one piercing lyric that Lorde repeats for the duration of the song, "The people are talking, people are talking." This represents drama or gossip that Lorde is hearing about her or the people she is closest with. The "people" being fake friends, "All my fake friends and all of their noise," or other people that may be praying for their downfall, "All the double-edged people into schemes." 
Overall, this song represents being connected to one person that you trust with everything, even if the rest of the world is against you.
Simon & Garfunkel, Bridge Over Troubled Water
Simon and Garfunkel's Grammy award-winning song about giving up yourself to help someone who you deeply care about can be easily connected to the idea of found family. The folk rock melodies of this song are comforting as the lyrics pull you into the theme. Lines like, "If you need a friend/ I'm sailing right behind" and "When you're down and out/ When you're on the street/ When evening falls so hard/ I will comfort you" show the listener how much the artists cherish whomever they are singing about. 
Conan Gray, Little League
This pop song off of Conan Gray's debut album Kid Krow is about how Gray wishes he could go back to his childhood with his friends. It is almost remorseful as Gray looks to his past adventures. "But lately I've been feeling strange/ And everybody's telling me to act my age/ I never thought that everything I had would fade away." 
This represents how Gray found his family when he was younger but then had to move on from their hometown. Gray misses the fun of youth and having that bond with a group of people, which is shown in the last line, "Why did we ever have to leave?/Little league."
Japanese Breakfast, Kokomo, IN
"I'm missing something I can't place, is that you?" 
The live recording of this song, with classical string instruments in the background, transcends you into the world of Japanese Breakfast, as she yearns for someone who has left her life. "Just know that I'll be her longing/ If ever you come back." This is another example of someone having to leave a person that really felt like family. People drift apart everyday, but it is not always easy and that is represented in this song well. "If I could throw my arms around you/ For just another day, maybe it'd feel like the first time/ Now that you're away/ I'll just spend my life not knowing." These lyrics showcase that there is a weight being carried at the end of this relationship, baggage that will stay there until unpacked.
Queen, Friends Will Be Friends
"When you're through with life, and all hope is lost/ Hold out your hand 'cause friends will be friends." This not as popular yet still fantastic rock song captures the idea that friends will always be by your side. 
The tune starts out with an electric guitar that fades into lead singer Freddie Mercury listing things that aren't going well for the main character of the song. "Got a pain in the chest/ Doctors on strike, what you need is rest." But then the mood of the song changes from disheartening to inspirational when Mercury sings, "It's not easy, love, but you've got friends you can trust." 
After that, the overall lyrics of the song are about how friends will be friends no matter what is going on in your life, which I think connects really well to the idea of found family.
Billy Joel, My Life
This upbeat tune from 1978 follows Joel as he tells anyone trying to control his lifestyle, "I don't care what you say anymore/ This is my life." The "you" may be referring to his family or boss, but Joel is making sure his point is seen by everyone. He is going to do whatever and be friends with whomever he wishes to be and won't let anyone break him down. With this attitude, it won't be hard for Joel to connect with past friends or make new ones that will be his family of choice as displayed in the line, "Got a call from an old friend/ We used to be real close." The musical background of piano, drums and guitar have the impression of a lighthearted adventure with friends as Joel continues to tell other people that he can make his own decisions.
Ashe feat. FINNEAS, Till Forever Falls Apart (E)
"'Cause you've got me and you know/ That I've got you and I know/ If the tide takes California/ I'm so glad I got to hold ya." This pop track off of Ashe's album Ashlyn illustrates two people being dependent on each other for emotional and visible support. More specifically, how friends will spend forever together, until forever falls apart. "I guess there's nothing more romantic than dying with your friends." 
It features FINNEAS, a close friend of Ashe's, who has helped produce her music in the past. Having a strong friendship like Ashe and FINNEAS's pushed the lyrics in this song to a further level that helps the listener visualize how close people can be. "I'd spend a lifetime giving' you my heart/ I swear that I'll be yours forever, till forever falls apart." 
The White Stripes, We're Going to Be Friends
This song off of The White Stripes' 2001 album White Blood Cells tells the childhood story of classmates becoming friends. The writer and singer Jack White does an amazing job describing the scene in his lyrics so the listener can immerse themselves in the story. "Fall is here, hear the yell/ Back to school, ring the bell/ Brand new shoes, walking blues/ Climb the fence, books and pens" is just one example of the many times White uses description to set the scene and tone of the song.
 Lyrics like, "We don't notice any time pass/ We don't notice anything/ We sit side-by-side in every class" display these children growing closer. Especially when White sings of not noticing their surroundings, it shows that the world fades when they are around that person they feel closest with, showing this idea of a found family.
Mitski, Old Friend
Mitski has been known to write melancholic music, and this song is no different. Other than her gentle voice, there are barely any background instruments while Mitski sings lyrics showing her longing for this past relationship. "I'll be around on Sunday, if/ You'll meet me at the blue diner/ I'll take coffee and talk about nothing, baby." As Mitski looks back on her past friendship, she captivates the listener by adding suspense to the story of the song. "We nearly drowned/ For such a silly thing." The lyrics show that Mitski has a weight from this former relationship that she hopes to get off her chest by speaking to this friend from her past. "I haven't told anyone/ Just like we promised/ Have you?" She leaves you with questions that are up to the listener to mirror to their own life. 
Leave a Comment
About the Writer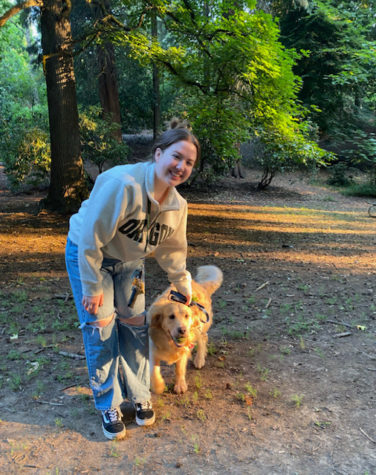 Eva Andrews, Print Editor-In-Chief
Eva Andrews (she/her) is a senior and her favorite things are live music, print newspapers and rain. People describe her as thoughtful and compassionate. Eva loves being a journalist because she likes interacting with and writing for the community.