Mall under new ownership with plans to preserve main attractions
Partial ownership of Lloyd Center was transferred to Urban Renaissance Group (URG), a west coast real estate company, according to a Dec. 20 press release.
This followed a Portland Business Journal announcement last November that KKR Real Estate Finance Trust planned to foreclose on Lloyd Center. KKR cited a debt of $110 million owed from a loan taken out by the previous owner, Cypress Equities, for renovations as their reason for foreclosing. 
Leading up to this announcement, discussions of a partnership between KKR and URG began early last year and eventually led to an agreement that, under new joint ownership, the mall's debt would be shed.
"[KKR] approached URG about a potential partnership after it became apparent that a foreclosure was likely to occur," Tom Kilbane, URGs Portland Managing Director, said.
Now the new owners intend to keep Lloyd Center a community gathering place, planning to maintain retail, ice skating and workspace.
"Our goal is to make sure that [the mall] continues to be welcoming to all Portlanders, although it is too early in the process to provide details," Kilbane said.
He added that their immediate goal is to "keep the existing tenants in place and improve the shopping experience."
While businesses have been leaving the mall, including Nordstrom in 2015 and Macy's in 2020, there are long standing shops and attractions that remain open, including Joe Brown's Carmel Corn and the Lloyd Center Ice Rink 
Tyler Harvey, the rink's manager, has watched the mall change since his employment over seven years ago.
"Working at a business in Lloyd Center has been fun, exciting, eventful and educating," Harvey said. "I have seen a complete renovation of the entire mall. I've seen how quickly a pandemic can change a business, let alone a mall like Lloyd Center. Most of all I have seen the Lloyd District change with businesses slowly shutting down or moving away in time due to various reasons." 
Lloyd Center Ice Rink's management has already begun interactions with the new owners.
"Our management company has had the most direct interaction with URG, and they have assured us and eased any concerns we originally had," Harvey said. "But we have not had any direct contact with the new ownership just yet."
Junior BreeAn McGlone-Shuell also works at Lloyd Center Ice Rink and learned how to ice skate there. She has seen a similar change.
"I remember at first it was, I don't know, I guess you could say a normal mall…" McGlone-Shuell said. "For what it was, it was okay, it was pretty good, like what you would expect. And then I remember there was a lot of excitement I guess, or just curiosity when it came to the remodel. And when it came out, it was like, 'Oh cool,' but then it just wasn't doing very well."
McGlone-Shull had one idea for how the new owners could support business at the mall, but she still had some reservations about whether or not it would be effective.
"Honestly, probably get bigger brands, but then again, I don't think that would necessarily work…I think some people are fine with going down to Clackamas just because it's a bigger area, it can hold bigger stores."
Sophomore Ciara Fragoso-Tovar has many memories from Lloyd Center. She learned to ice skate there and frequented it with her family.
"I really miss spending my whole afternoon just running around the place," Fragoso-Tovar said. "[Stores] that we used to go to were Ross, Marshall's and more."
She said her family stopped going to Lloyd Center for several reasons.
"First off, most of our favorite stores have closed down, so there is really no need to go there. Second, we don't have much time to go there anymore. And third, all the shootings that have happened in the parking lots have really made us a little bit worried about going there."
Fragoso-Tovar said that if the new owners "make the place how it was before," her family would likely return, although she is skeptical about this happening.
Kilbane said that URG is planning a visioning process for Lloyd Center's future to be their first course of action. He said they would incorporate community input throughout the process.
Leave a Comment
About the Contributor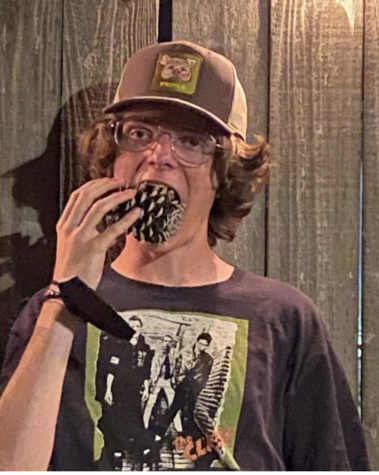 Lincoln Wheeler, Editor-In-Chief
Lincoln Wheeler (he/him) is a senior who loves playing hockey and guitar. He enjoys being a journalist because he wants to bring new perspectives and ideas to people.