The idea of individuality in the fashion community through the eyes of Portland locals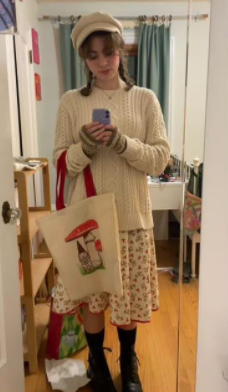 Fashion is everywhere. It consumes Portland and the people living here. Vibrant colors and unique brands guide locals about what to put out in the world to show who they are. Throughout Portland there are several individuals who have an discerning eye for trends, clothing pieces, and a sense of what is important for them to wear to describe themselves. 
Portland is a beautiful city, in the sense of fashion. Though they can impact locals, trends do not stifle them from branching out. Many people are individualistic in a way where they wear what they want depending on their mood or what they want to match their day. Through mixing different patterns, they recognize who they are within themselves.
Mia Caldwell is a freshman at McDaniel. While dribbling a soccer ball up the field during a game, she also loves to dress herself in the clothes she likes. For example, she hangs out with her friends in low rise dark blue jeans that flare out, a cashmere pink short sleeve sweater and a sun hat with roses to accentuate the brim. Fashion is a large aspect of who she is. 
 "My favorite thing about fashion is probably expressing myself through clothes. I want people to know that I'm fun and easy going and put an effort into my outfits," says Caldwell.
The thing about fashion is not everything has to match. Symmetry is not needed for the beauty and precision of it all.
"I love to put together pieces that wouldn't necessarily work together and make an outfit." Caldwell says, "The weather and what I am doing for the day impacts how I get ready."
 For example, Caldwell likes to play with mixing and matching certain articles of clothing like a short sleeve pink dress with ruffles and blue jeans. Also experimenting with a white, ruffled collar and shirt. 
 The most important and essential part of fashion is wearing what you like and want. 
 "Dressing for yourself is so important to help develop and maintain self esteem and boost confidence." Caldwell explains.
Adam Arnold is a fashion designer who works with the specific and individual needs for each client. His garments are regularly known for their clean patchwork and neat construction with a timeless appeal to each and everyone of them. 
"I'm the brand. The brand follows me." Arnold says. 
Arnold believes that fashion is all about dressing for yourself and only fitting the needs of what you like or don't like. 
"It doesn't need to be accepted to be really good." Arnold explains. 
With so much constant media and output from many different sources, it is important to maintain your own individuality, but also gain ideas and inspiration from the things surrounding you. 
"Developing a personal style has to do with exposing yourself to lots of different things." Arnold says, "Like music, movies, books, art."
The thing most needed in fashion is individuality. The difference between individuals and the use of different ideas varies. According to Arnold, every person has their own personality that expresses themselves and what they can offer to the world, resulting in endless benefits. 
"People are craving individuality." Arnold states.
Things can come and go quickly, especially fashion trends. There are many ways to avoid that, though. 
"If it is about personality and expression then everything can be timeless." Arnold says.  
On the other hand, Leslie Galvin has a more modern outlook on fashion. She moved here from New York where she was a fashion designer for her children's clothing brand called The Saplings Collection. 
"Growing up on the East side and going to school in New York City I really learned that it doesn't need to be expensive, it just has to be noteworthy, or original," Galvin says, relating to fashion. 
Galvin, herself, was interested in studying fashion. 
"I went to a school in New York and studied fashion. I wanted to be  a fashion designer because I knew at a young age, I was obsessed with color and cloth and texture so I wound up switching majors and fashion later found me."
Galvin's first interaction with the fashion preferences of different people was in school. 
"When I went to public school freshman year, I saw all these people and I'm such a visual person. I saw all these people making all this impact from just a color or a silhouette or a haircut or a lipstick and I was attracted to all of it." She says. 
Talking about Portland in itself, Galvin compares it to more major cities like Paris, New York and L.A. She explains how cities have different cultures and weather to which individuals can base their fashion off of. 
Glavin also points out how the individuality of fashion can also be shared amongst social groups. 
"I mean, even look in a high school. There are so many microcosms of fashion. There's the skaters, for example." 
Inspiration for outfits  can come from many different places. Galvin introduced the trickle up theory. 
"The trickle up is where it comes from the streets. An example is when I was living in Berkeley, I was making a lot of my own clothes. And I made this coat that I thought was so badass. It was made out of two corduroys. It had this huge wizards hood, but it was really tight on my arms and it swooped down long to the floor and had slits up the side so it was easy to walk in.  It was very dramatic. I had this designer walk up to me and ask me where I got it. And I knew who she was. She was Jaqueline West."
All of these people are so obviously different, but are they really? This community of design and outfits  can be so inclusive and hold so many bright souls. Bringing them together is necessary for the ebb and flow of fashion.
View Comments (1)
About the Contributor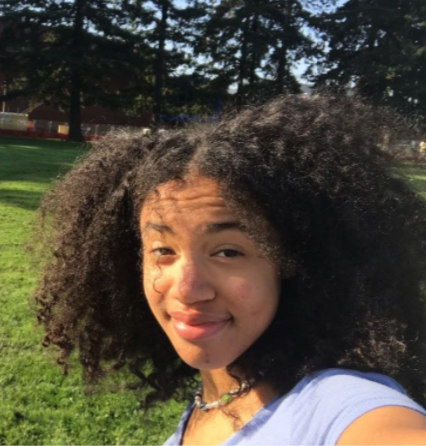 Odessa Berry, Opinion Editor
Odessa Berry is a sophomore and is passionate about soccer, writing and music. People describe her as interesting, funny and thoughtful. She loves being a journalist because it allows her to use her voice to inform the public and report on topics she cares about.