Student store offers countless opportunities for aspiring business owners
Just outside the commons, people line up at the snack window, excited to get chips or a granola bar. Inside the room, racks of clothing are flipped through by students delighted to get ahold of the new merchandise. 
This location in the new building is the student store, which has been updated to support students. It gives teenagers numerous possibilities to learn things like steps to owning a business and how to manage money.
Business teacher Frank Fields is the advisor for the teenagers who run the store. He has had students from the third-year business class, called Business Launch, managing the store since they learned how to take control through instruction and practice. They were taught many aspects of owning a business, things like communication and designing new products, as Fields prepared the students to take the lead. 
Senior Kristine Taphom, this quarter's Head of Human Resources for the store, enjoys the class and the wisdom she is accumulating. 
"I honestly do think that this opportunity of being a part of the store is helping prepare for my future in certain ways," Taphom shared. "If I ever consider opening a small business or perhaps know someone who is, then these skills might come in handy."
As the Head of Human Resources, Taphom has a few different jobs. 
"I create the weekly schedule for our staff members and also go through the applications that are submitted to the store. I'm also up front during lunch helping customers with their orders."
She also spoke about how much freedom the students have.
"Mr. Fields lets us have a lot of say in what [clothing] we bring in, designs/color ways, and just overall lets us use our creativity to make the store the best it can be and how we want it to be," Taphom stated. 
Fields shared how he is assisting the students as well, saying "My goal is to be the support person for the students who are running the store. I've told them I'm going to stop buying them things unless they tell me to buy something. I'm going to stop doing anything unless they ask me to do something."
Taphom also believes that the store is preparing her for future business ventures she might act on.
"If I ever consider opening a small business or perhaps know someone who is, then these skills might come in handy." 
Experience is not the only thing being offered to the juniors and seniors running the store. A portion of the money that is raised in the student store is going towards giving scholarships to some of the hardworking business students who are making the store possible. 
Fields revealed that he has a goal of creating two $1,000 scholarships by the end of this school year.
Certain opportunities also extend to the rest of the students here. Any student has a shot at having their creations sold in the store. Students in design or cooking classes can have their projects sold, or any student that has an idea they think is good enough to be sold to other students.
Anthony Vo, who has his own clothing company, Indu Portland, with classmate Andy Trinh, is selling t-shirts in the store. 
He says, "It is a big accomplishment and step towards getting recognition for our work. Representing a student made product hopefully inspires other creators as well."
Fields is very open to having student-made work sold side-by-side with McDaniel designs.
"I would encourage other students who are interested in selling stuff to come talk to me," Fields said. 
Junior Zandra Schwinghammer appreciates that she is given this opportunity to support fellow students on their business journey.
"It makes me feel good to support my peers in their journey to follow their dreams," Schwinghammer shared. 
The student store is more than just a place for snacks and sweatshirts, it is a place that is run by and dedicated to students.
Leave a Comment
About the Contributor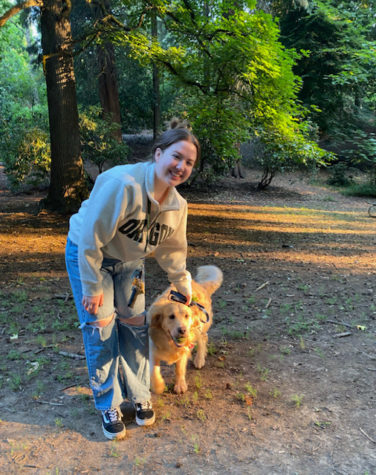 Eva Andrews, Print Editor-In-Chief
Eva Andrews (she/her) is a senior and her favorite things are live music, print newspapers and rain. People describe her as thoughtful and compassionate. Eva loves being a journalist because she likes interacting with and writing for the community.