PPS Board of Education to vote on student vaccine mandate Nov. 16, may face six month delay
The Portland Public Schools board is planning to vote on a district-wide student vaccine mandate to combat the damaging effects of Covid-19 tomorrow, but may be delayed again for six months.
The board members have yet to decide exactly what the mandate would require if it passes, but their options have been narrowed down to mandating vaccines for all students 12 and older involved in extracurricular activities, all students 12 and older, and all students 16 and older. The vote, originally set for Nov. 2, was rescheduled and is now planned for Nov. 16. Now though, it is facing pressure to be delayed again for six more months.
Jonathan Garcia, PPS Chief of Staff and facilitator of the board's consideration, released a statement last Friday. In this statement, he explained that falling cases and satisfactory vaccine uptake have led the board to consider delaying the vote.
At least 1 in 14 Multnomah County residents have been infected with the disease, according to The New York Times, causing widespread debate over the ethics and necessity of a vaccine mandate.
Jonathan Garcia, PPS Chief of Staff, is facilitating the board's consideration. Garcia feels that a vaccine mandate is important for public health.
"[The] more people are encouraged to get the vaccine and protect themselves and protect others, I think the greater off we all are," Garcia said.
Aside from considering a vaccine mandate, Garcia noted that the district is also aiming to spread education about the vaccine and possible strategies to fight Covid-19.
"And this is the desire here at PPS," Garcia said, "[how can] we continue to bring education about the vaccine, right? And about Covid-19, about mitigation strategies, to keep us all safe."
According to Jessica Guernsey, Multnomah County's public health director, schools have already taken great precautions to prevent Covid-19 and are not to blame for spread which she said occurs from within their surrounding communities.
"Covid-19 in the community drives spread in school," Guernsey said, "not the other way around."
Guernsey has been pleased by the number of cases in schools following this fall's resumption of in-person learning and the fact that they are not worse. Still, this wouldn't render a vaccine mandate unnecessary.
"We know that vaccine mandates, in general, as a concept, do increase the uptake of vaccines," Guernsey said.
Due to a variety of reasons, Black and Hispanic Americans are less likely to get vaccinated, according to the Centers for Disease Control and Prevention and the Office of the Assistant Secretary for Planning and Evaluation. As a result, a debate has begun about whether or not a hypothetical student vaccine mandate would further limit the educational opportunities of marginalized groups.
Danny Cage, a junior at Grant High School and a District Student Council member who is Afro-Latinx, said that he is confident that the school board will make an equitable decision.
"You know, I am extremely [confident in the board's ability to make an equitable decision]," Cage said, "…we have a brand new leadership this year and our board has already given lots of time for public comment, for public testimony and they aren't leading with their personal opinions on a vaccine mandate."
Still, Cage has a few ideas of things that the board could do leading up to the vote and if a mandate were to go into effect to minimize education inequality.
"I think that they can create a task force to examine how a vaccine mandate would disproportionately affect [certain families]. And then, from going there, create culturally-responsive practices and culturally-responsive knowledge packets to give to families [on vaccine information] and providing it to the communities that need it the most. Also, giving a very long timeline for families to get vaccinated so it's not rushed."
To better represent the district's community, several town halls and an information night with public health specialists were held by the board. A PPS memo listed common reasons given by community members for their support or opposition to the proposed mandate.
Arguments and opinions from the public in support included that the district's schools already require other immunizations and that a mandate would be beneficial from a public health perspective. Arguments and opinions from the public against included that the vaccine is too early for comfort and that children have locally had less serious illness.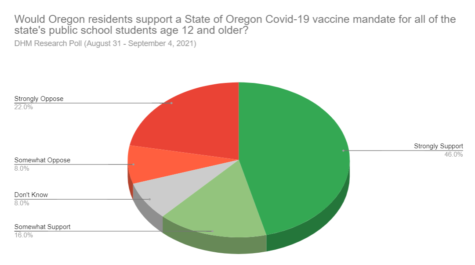 Covid-19 vaccine mandates for schools have been a divisive topic. In September, a poll from Davis Hibbitts & Midghall showed that 62 percent of Oregon residents who responded would support a mandate for all Oregon public school students age 12 and older and that 30 percent would not. The remaining 8 percent consisted of people who were unsure. Eilidh Lowery, a board member since 2019, said that more controversial items "wide-ranging ramifications" generally take more steps and time to be judged and voted on.
"When we voted on recognizing, you know, National Hispanic Heritage Month, we didn't have a work session or town halls…" Lowery said. "And, you know, the time allotted in the agenda for voting on the Nation Hispanic Heritage Month was five minutes…For this item, there will be a lengthy amount of time for the conversation and discussion before we get to the vote.
If the proposed vaccine mandate gets a majority vote from the board, then PPS will join a growing list of districts nationwide that have approved mandates in some form, including Los Angeles Unified School District in California, Phoenix Union High School District in Arizona, Cambridge Public Schools in Massachusetts and The School District of Philadelphia in Pennsylvania.
Leave a Comment
About the Contributor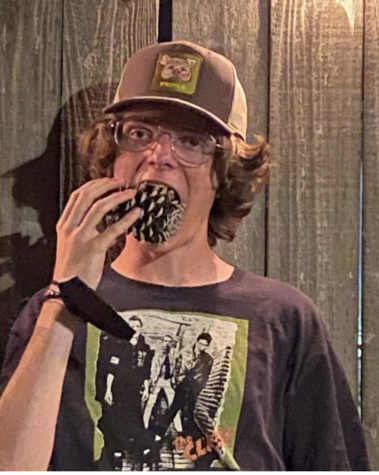 Lincoln Wheeler, Editor-In-Chief
Lincoln Wheeler (he/him) is a senior who loves playing hockey and guitar. He enjoys being a journalist because he wants to bring new perspectives and ideas to people.