An inside look into Max Peters and his life as an artist
Max Peters has been an artist and storyteller for a long time. It has given him a place for his expression. Being an artist also has influenced the things he looks out for in his own work and others. He is skilled at creating comics that draw inspiration from graphic novels and films.  
Max's love for drawing and creating comics started early on in his life. He has always drawn and doodled, but started to become invested in creating comics around preschool. Max started to draw when he was around five, for his younger sister, and transitioned to bigger things in fifth grade.  
His friend Diego Arias and his mother, Amy Larosa-Peters, have great insight into Max. 
Max has known Arias for a couple months and they both enjoy reading books, stories and comics.                
As his friend, Arias has a strong connection with Max and the two are able to bond and share thoughts and   feelings with each other.  
"He is very funny and nice." Arias said, "I feel safe when talking to him. He brings me comfort and he is just a good guy that cares for others and will always be there for you."
Amy and Max are close and enjoy watching movies, thrifting and going to plays and museums together.  They each have known Max for quite a bit and have different experiences with him.
Both Amy and Arias brought up aspects of Max that stand out to them the most.
"He is very insightful, intuitive, empathetic,"Amy said. 
Max also has his own reasons for creating comics and being an artist that Amy thinks are more specific than just liking to draw.
"I think it helps him to express himself–share his creativity," Amy said. 
Max also explained that in his comics, he has taken inspiration from the seasons.
"Because it's Halloween, I try and draw zombies or ghosts, that kind of stuff," Max said.
Max's inspiration for drawing and creating stories comes from other aspects too. Amy described one of her favorites. 
"My favorite is when he turns inanimate objects like Monster drinks into characters. I find it clever, and I like to hear him describe their character traits,"Amy said.
From comics he reads, he incorporates ideas for how to draw the things he is still confused about. Right now, this is drawing hands. Some movies he is inspired by include Marvel films and It.
Max also talked about how being an artist and making and reading comics has affected him and his own work.
"It did influence things I liked because I would go searching for different art styles and then run into new hobbies or interests," Max said.
Alongside Max, the rest of the Peters family also have an artistic side. Amy said Max's sister Aria enjoys painting, and the whole family loves to tell stories, while Amy likes theater. 
"One of our favorite family activities is to share shows we like," said Amy. "He shared Ghosts with me and I shared Over the Garden Wall with him. We both like Miyazaki films."
In his family, Max grew up being an artistic kid and his artistry has since developed. Arias explained the development and process of Max's comic creation that he has noticed as his close friend.
"He would draw random characters and draw the same characters to form a comic," said Arias.
Arias said Max sometimes tells him about characters that he draws and asks him for inspiration. 
Max is still debating a future career in art, but he still hopes to branch out with his skills and learn new ones. Max continues to draw and sketch and he hopes to be making comics in some form when he is older. It is what he has always known how to do, so he strives to keep making artwork and weaving stories, all while bringing life to paper.
Leave a Comment
About the Contributor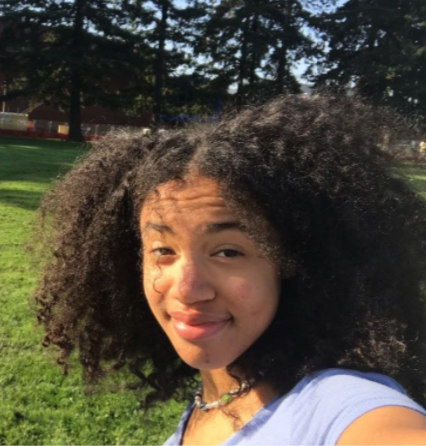 Odessa Berry, Opinion Editor
Odessa Berry is a sophomore and is passionate about soccer, writing and music. People describe her as interesting, funny and thoughtful. She loves being a journalist because it allows her to use her voice to inform the public and report on topics she cares about.