Madison changes its name to a more inclusive role model: McDaniel
The name "Madison" comes with a lot of positive and negative connotations. 
The name of course comes from James Madison, a Founding Father of the United States of America. While some say that he was a great philosopher and diplomat, as well as a huge influence on The Constitution, others will point out that he owned slaves and had a lot of views that clash heavily with our values as a school and a community. Regardless, an overwhelming majority of students (over 85%) said they would support the decision to change the name of our school to something more inclusive, according to the MHS Renaming Project website 
So here we are now, Leodis V. McDaniel High School. How did we get here? As you probably know, there was a committee that took on the task of changing the school name. The committee consisted of students, alumni, staff, as well as former staff members. Their main goal was to come up with a name that was more inclusive while focusing on student voices and leadership. Senior Cindy Nguyen was one of these students.
Nguyen is a Viet-American student here. She was one of 19 members (including 9 students) on the committee. They were led by our principal Adam Skyles and Maria Hernandez, who works with PPS as a community engagement specialist.
"Even though I'm a senior and won't be at the new building, I still wanted to be involved in the name changing process," Nguyen says. "A big reason is that I just didn't like the name 'Madison'. The name never sat well with me considering we're a pretty diverse school and James Madison isn't the best candidate to represent who we are."
After laying out their plan, the committee had to start collecting data to figure out what the new name and face of our school would be. Unfortunately, COVID-19 got in the way.
"There were definitely a lot of difficulties, especially because of COVID-19. One of our bigger struggles was gathering data from different groups, especially among students," Nguyen says. 
The committee ended up gathering the data they needed through messaging, email, and online surveys.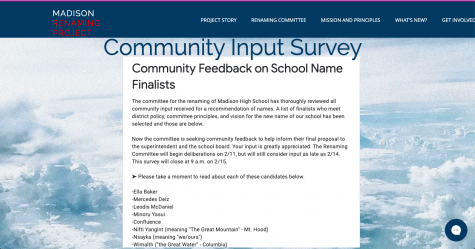 The next step was to narrow down possible names based on the results from surveys. This was another difficult task because of how heavy the topic was and all of the emotions that surrounded the decisions. 
"It's not always fun and easy, sometimes it's stressful and there's a lot of hard decisions that have to be made," Nguyen said.
Since the name has changed there hasn't been much pushback from the students. Rather, the community has been hearing appreciation.
"I really like the new name," sophomore Emily Hazzard says,  "It's cool that our school is now named after someone who worked there in the past and made a positive difference in the community." 
Leodis V. McDaniel was a highly respected educator and leader. He worked at McLaren and Adams High School before becoming the vice principal at Madison and then transitioning to the principal. At Madison, he was extremely popular with students and staff. 
McDaniel also won a multitude of awards for his work as an educator. He represents all of the CREED values well, especially the community being an avid supporter of sports and the arts.
"Every individual that we spoke to was overwhelmingly supportive of him as a choice and as a human being," principal Skyles said. "What we kept coming back to in the committee is how often do we have the chance to represent someone who was in our  community?"
For specific details about the process or if you have any questions that still need to be answered visit https://mhsrenamingproject.wixsite.com/home.
Leave a Comment